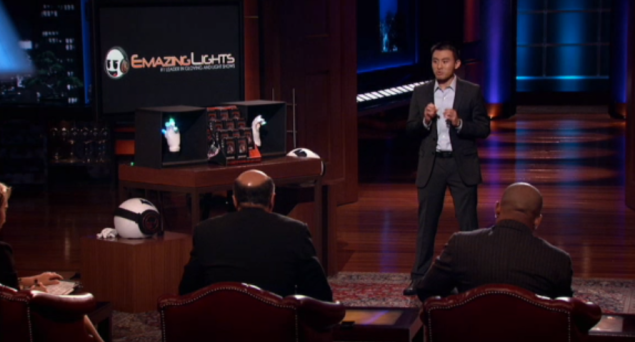 When charming and well-spoken Brian Lim stepped into the Shark Tank with a $17 million dollar rave glove company and a unique and creative business plan, he blew the sharks out of the water. Robert Herjavec deemed him the best entrepreneur they've ever had on the show, all of the sharks made offers, and then a bidding war ensued.
Mr. Lim took a deal with Mark Cuban and Daymond John ($650,000 for 5 percent equity plus 20 percent commission on licensing deals), and it sounds as if he got the strategic partners he was seeking. Business is booming, he has a great partnership with his sharks, and he's getting the sport of gloving in front of new eyeballs, as he would say.
The New York Observer caught up with Mr. Lim the other day, and he told us about his Shark Tank experience and his immense success with his company EmazingLights since the show.
We have to do it. We have to begin by talking about your experience on Shark Tank. I'm sure people ask you about it everywhere you go. Are you sick of it or still basking in the huge success that was your visit to the tank?
Overall, the experience has been wonderful. I couldn't ask for a better experience overall. It was a long process—about a year from sending in the application, to the audition tape, to actually pitching and then waiting for the show to air. We were in there for about an hour and a half, and the sharks were just fighting the whole time. They really make the scene very, very friendly and nice on the show, but they were definitely a lot more fierce.
You were so confident and really impressed the sharks. Robert said that you're probably one of the—if not the best entrepreneur they've ever had on the show. What was running through your mind at that moment, throughout the negotiations and after you made the deal?
It kind of stopped me in my tracks when he said that. It was like 'oh wow, that is the nicest thing anyone has ever said to me.' The other sharks said great things too that didn't make it into the show. I think what set us apart from others is that we had proof of concept before going on. Thinking about it from an investor's standpoint, would you want to invest in someone just starting out or with no sales? No, but we already did that.
We were really on there to help scale our business, accelerate our growth and find a partner to help us navigate those water, not to have someone run it for us. So it really put us in a different position. I eat breathe and sleep this company everyday, so being able to answer any question was pretty easy at that point.
Were you confident you would close a deal before the pitch?
Yeah, I think we valued our company very generously with the $13 million evaluation. We were on track for $7.5 million for that year, and we were asking for less than two times revenue. I went in there with the purpose of finding a strategic partner as opposed to trying to get money, and that's why i said no to Lori and robert.
All of the sharks wanted in, and you ended up having to decide between two amazing offers. Did you make the right decision by choosing Mark and Daymond? What has working with them been like?
Absolutely. Mark and Daymond—Daymond especially—is all about the nightlife, like clubs and festivals. He talks to Steve Aoki and top DJs on a regular basis. One thing that stuck out to me was when he asked, 'Who are you going to hang out with here?' I built this from the ground up and the people I get along with and hire are people I would get along with outside of work. Obviously Mark is a tech guru, and e-commerce is where we make our bread and butter. Robert and Lori couldn't make up for it with money alone. The experience of working with them has been awesome. I could email Mark right now and he'd get back to me in two hours.
What have you began or accomplished with the help of Daymond and Mark? Have you done the Mavs halftime show Mark promised you yet?
Yeah, we did that back in October. I'd say some of the highlights include opening up licensing stores all around the U.S. We did one in Florida, Denver, Minneapolis, San Diego and one in Canada. We're growing out competitions. We have our International gloving Championship—basically the Super Bowl of gloving competitions— and Boss gloving competitions at our stores, which are like preliminary competitions for the ICG. The other big thing is our brand new Elite Element glove set. The technology there is definitely more advanced; it has the speed detection, so it know when you're going slow or fast and will automatically change your patterns as you change speed. It also has a tilt function and will change if you're moving up or down.
How has business been since the show?
Sales have definitely grown. The day of the airing we had about 40,000 hits on our site—about eight times typical traffic.  Since, we've had three times our normal sales.
What are your plans for continuing to grow the company?
It's really about the community and creating new gloves and putting gloves in front of new eye balls. We estimate there are 150,000 glovers internationally. They're picking it up by going to festivals and our stores, so we're really growing organically. We're spreading from just gloving to other products like LED hula-hoops too. It's really growing the competitions.