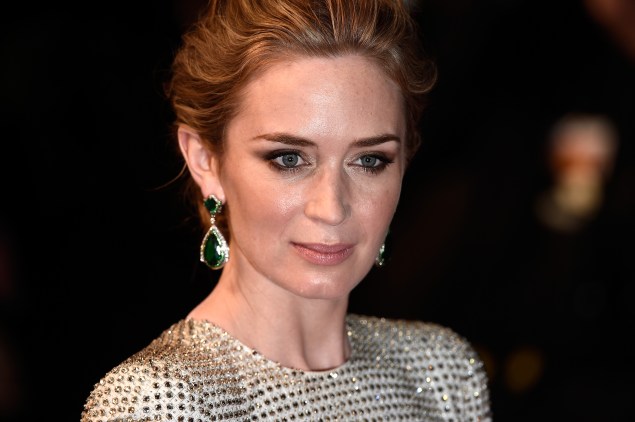 CANNES, France — Cannes may turn up its nose at the slightest fashion faux pas, but this time the festival's sartorial snobbery backfired in a big way. At the black-tie premiere of Todd Haynes' lesbian romance Carol (already a feminist coup de coeur), some women were refused entry because their footwear was vertically-challenged. High heels only, ladies—no matter if you're in your 50s or even have medical conditions (a few, in fact, did). Those rhinestone flats will not cut it on the red carpet.
Emily Blunt, here with Benicio del Toro and Josh Brolin to promote the pitch-black police thriller Sicario, was asked about the tapis rouge controversy and lived up to her last name with an answer that did not mince words. "That's very disappointing, obviously," she said during her film's press conference. "I think everyone should wear flats, to be honest. We shouldn't wear high heels anyway. I just prefer wearing Converse sneakers."
Her director, Denis Villeneuve, chimed in with a note of solidarity—and levity. "In a sign of protest, Benicio, Josh, and I will walk the stairs in high heels tonight," he said, making the room convulse with laughter. Later that evening, of course, Blunt's shoes were dutifully elevated while the men's were not. Plus ça change, plus c'est la même chose.
A glamorous festival like Cannes thrives on the young and the beautiful (properly-soled, naturally), and yet this year's competition slate is rife with characters battling the ravages of time. This morning saw the premiere of the hotly anticipated Youth, Paolo Sorrentino's follow-up to his 2013 Oscar-winner The Great Beauty and featuring a starry English-language cast that includes Michael Caine, Harvey Keitel, Rachel Weisz, and Paul Dano. The uneven but worthy film, a heartfelt rumination on the nature of passing time, amorous regrets, and unfulfilled ambitions, won cheers and jeers in equal measure from the press—a sure sign that the film both met and subverted expectations in equal measure.
Caine plays an 80-year-old retired conductor-composer staying at a posh Swiss spa along with his longtime best friend Keitel, a director in pre-production on an elegiac film that will serve as his creative "testament." The Queen of England wants to coax Caine out of retirement to perform a special concert in return for a knighthood, but he keeps refusing for personal reasons, about which he refuses to elaborate. And Keitel's movie rests squarely on the shoulders of its aging actress (Jane Fonda), who appears towards the end in a brief encounter that aptly and vivaciously illuminates all the film's central themes. A brittle Weisz, in the midst of divorce, is looking for a love that will literally sweep her off her feet, while Paul Dano's ennui-filled method actor soaks it all in for his next role. The supporting narratives never really gel into resonant subplots, but the main rapport between Caine and Keitel is irresistible; the two men have an easy rapport that captures a subtle melancholy heavily laced with a boyish appreciation for life's little pleasures. Oscar prognosticators are always murmuring about the actors' chances for nominations.
Nanni Moretti's well-crafted Mia Madre also captures this bittersweet mix of comedy and pathos in the face of time's relentless march, as it depicts a filmmaker (Margherita Buy) and her struggle to direct a new movie while her mother is slowly dying. The film within a film, a drama about factory worker's rights, keeps getting sabotaged by its artistically myopic and professionally spurious American lead (John Turturro, in a hilarious turn). And all the while, the director, scrambling to keep her own life on track, watches helplessly as her mother slips away.
But the festival's most ambitious look at aging is Jia Zhang-Ke's Mountains May Depart, a structurally stirring and thematically haunting look at one woman's love for two men over the course of 25 years (in 1999, 2014, and 2025, respectively, each time period distinguished by a different aspect ratio). Jia's latest film uses the hoary tropes of melodrama (the rich but heartless boyfriend, the kindly alternate suitor later struck by malady, the son who becomes adrift without his mother's love) as a through-line for illuminating larger ideas of an eroding Chinese identity in the face of Western modernization. Compromised by its narrative shortcomings, the film still manages to resonate as a deeply felt elegy to a culture that seems to be slipping away in real time.