NEWARK – From every corner of Essex County, they came to honor D. Bilal Beasley this afternoon, singling out the late dapper, kindly and always politically engaged gentleman freeholder and Irvington Councilman with an honorary plaque in Governor Brendan Byrne Plaza.
The leader of Team Irvington and a vital county player in his adopted hometown, Newark native Mr. Beasley died last year at age 68, one of three outsized Essex County Democratic Party elders to take their leave in the last two years. Today, honored by his fellow freeholder board members, Essex County Executive Joe DiVincenzo, Essex County Democratic Chairman Leroy Jones, Irvington Mayor Tony Vauss, and many others, Mr. Beasley joined the late Essex County Democratic Chairman Phil Thigpen and State Party Chairman Ray Durkin as a permanent honoree on the grounds here, where DiVincenzo plans to site a crowning statue of Dr. Martin Luther King, Jr.
"He was the leader of all leaders, the man of all men," said Vauss, who last year, as the face of Team Irvington, won a mayoral election with Mr. Beasley's backing. "He taught people to be kind and he led by example."
A Muslim who was married to his wife Annette for 50 years, Mr. Beasley embodied the quality of loyalty not only to his own family, in attendance this afternoon, but to allies like Assemblyman Ralph Caputo (D-28), who sat on the freeholder board with the Irvington elected official. "There was a kindness deep in his heart, but also a quiet fearlessness," Caputo said.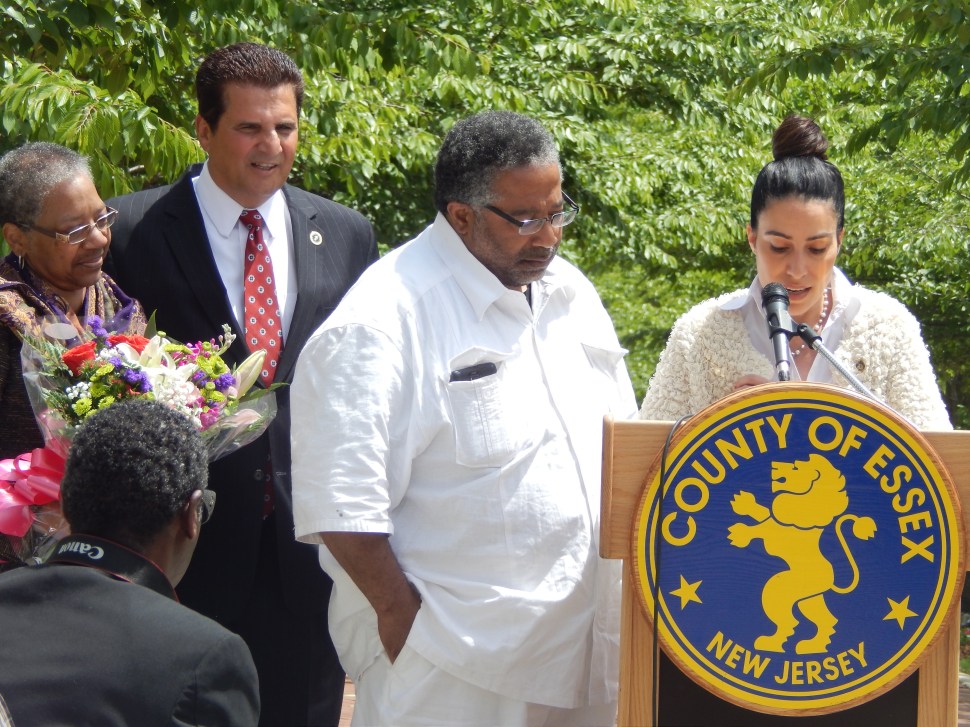 Emmy Award-winning singer Hunter Hayes, who met Mr. Beasley once in the Peppermint Lounge and ever after enjoyed a friendship with him, delivered a rousing rendition of the late freeholder's favorite song, "My Way." "I guess they went in his pocket and got my phone number," the singer said, grinning at Mr. Beasley's family in the front row.
Paying tribute to his friend's sense of public service, Jones lingered the longest in his eulogy. "This is a place," said the party chairman, "where someone like me will come to talk to Bilal or Ray or Phil, or many of the other heroes."
Others in attendance included emcee Phil Alagia; state Senator M. Teresa Ruiz (D-29); Essex County Sheriff Armando Fontoura; Essex County Clerk Chris Durkin; Freeholders Britnee Timberlake, Rolando Bobadilla, Pat Sebold and Brendan Gill; Newark Councilmen John Sharpe James, Carlos Gonzalez, and Anibal Ramos; East Orange Councilman Chris James; former Freeholders Blonnie Watson and Carol Clark; and former Irvington Councilman John Sowell.