For modern mobile shopping startups, customers' acceptance of push notifications has been the key, according to Thomas Rankin, the cofounder and CEO of Dash Hudson. Whereas established ecommerce and brick-and-mortar brands focus on getting customers on their email lists, mobile shopping ventures look to communicate with those tiny icons at the top of your mobile's display.
"Our customer is definitely comfortable being communicated with by push," he told us during a phone call.
The customer Dash Hudson is interested in has a strong interest in fashion and looks for inspiration on Instagram. Brands are willing to pay a lot to reach the followings of Instagram power users. For example, 22-year-old Danielle Bernstein can earn $15,000 from one photo on her feed, @weworewhat, according to Harper's Bazaar. Dash Hudson is helping Instagram influencers to quantify their influence and to connect with more brands.
"You're seeing the rise of—I call them Internet brands—but they are purely ecommerce," Mr. Rankin said. He credits Shopify for making it easy for entrepreneurs to set up an online store. Additionally, Shopify also makes it simple for these brands to plug in to other services, according to Mr. Rankin, creating opportunities for ventures like Dash Hudson.
Combining these forces, he argues, new brands are building themselves up almost exclusively on Instagram, both by setting up their own channels and recruiting popular users to show the new brands' stuff.
Dash Hudson can help a fashion line find the right influencer to approach with an item it wants to promote. The company has a curated network of more than 1,000 influencers using the Facebook-owned social network and they use proprietary graph search, internally, that can help a brand find newer influencers.
Once in the network, influencers us the Dash Hudson app to post photos to Instagram and tag the individual items that they have been sponsored to wear in the photo. The photo gets loaded tagged with a Dash Hudson link and message about buying what she's wearing using the app.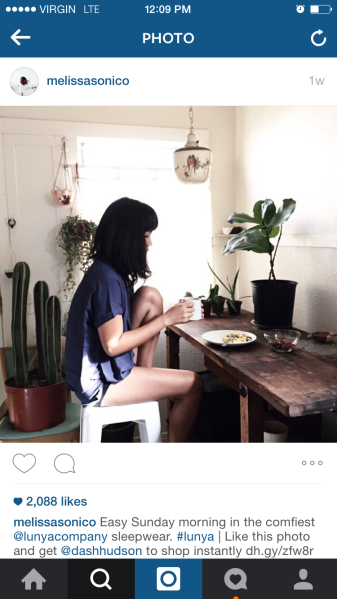 Users with the Dash Hudson app installed on their iPhone (no Android version) will get a push notification if they like a photo that has a product tagged with Dash Hudson.
Mr. Rankin says that the technology just isn't there yet for the app to automatically recognize products in its users photos. "We've talked to probably a dozen visual recognition companies," he told us. Instead, the company is focused on getting better at discerning which products and which photos their users respond to most strongly.
The company also sees opportunity in other social networks like Snapchat and Pinterest, but "We've got so much work to do on Instagram," Mr. Rankin told us. The team believes there is still lots of opportunity there.
That said, there are signs that the network has matured. Instagram is actively working to reengage lapsed users with email, according to Techcrunch. On Business Insider, a 15-year-old in Australian even said Instagram is over.
Ms. Bernstein probably hopes the app rides out a little longer, though. She crossed the million followers mark since the story in Harper's Bazaar. That count is a milestone that, she says in the story, should have an outsized positive impact on the kind of sponsorship dollars she commands.