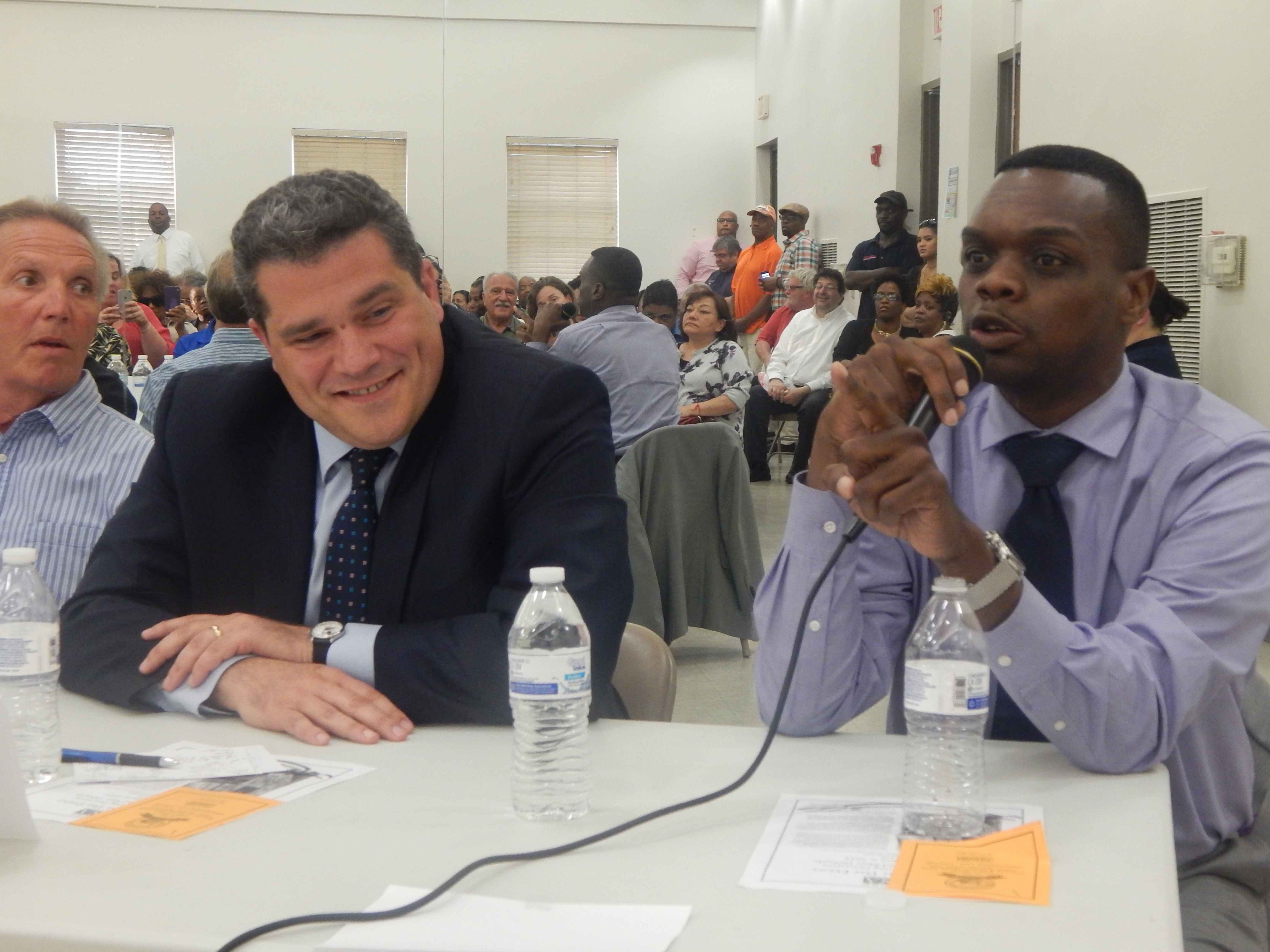 JERSEY CITY – Nicholas Chiaravalloti and Bruce Alston, two of the seven rival candidates for the 31st Legislative District state Assembly seat present on Friday night at the final candidate forum before Tuesday's primary election, joked amongst themselves at times during the 90-minute event. Then, in a rhetorical flash, the smiling stopped.
"Don't expect [Bayonne Mayor Jimmy] Davis or [Jersey City Mayor Steve] Fulop to allow these [Hudson County Democratic Organization] candidates to support that type of legislation," said Alston, a Jersey City Democrat, pointing to the mayors of the two cities which comprise parts or all of LD 31, in reference to whether public safety officials should live in the cities that they work in. "Both of those mayors ran on a commitment to this that each of then have broken. They're in a box right now."
Chiaravalloti, of Bayonne, running with HCDO support with slate mate Angela McKnight, boxed back.
"There's this myth that if you have the support of other elected officials that you can't think for yourself," countered Chiaravalloti before more than 150 people at the forum, held at the Mary McLeod Bethune Life Center in Jersey City and sponsored by Civic JC, a grassroots good government group. "I wouldn't want only public safety officials to live in the city. I would rather all of the employees do. But everyone in this room knows that we can say that, but getting the law passed, and getting it upheld, is darn near impossible."
Throughout the forum, the question of what is possible and impossible in Trenton was discussed as a series of issue questions were presented by the moderators, including queries about increasing the minimum wage, privatizing parks, the potential expansion of gaming in the district, regional transportation and public transit concerns and property taxes.
Matthew Kopko, a Republican, offered one solution to drive up the revenue needed to mitigate taxes in cash-strapped New Jersey.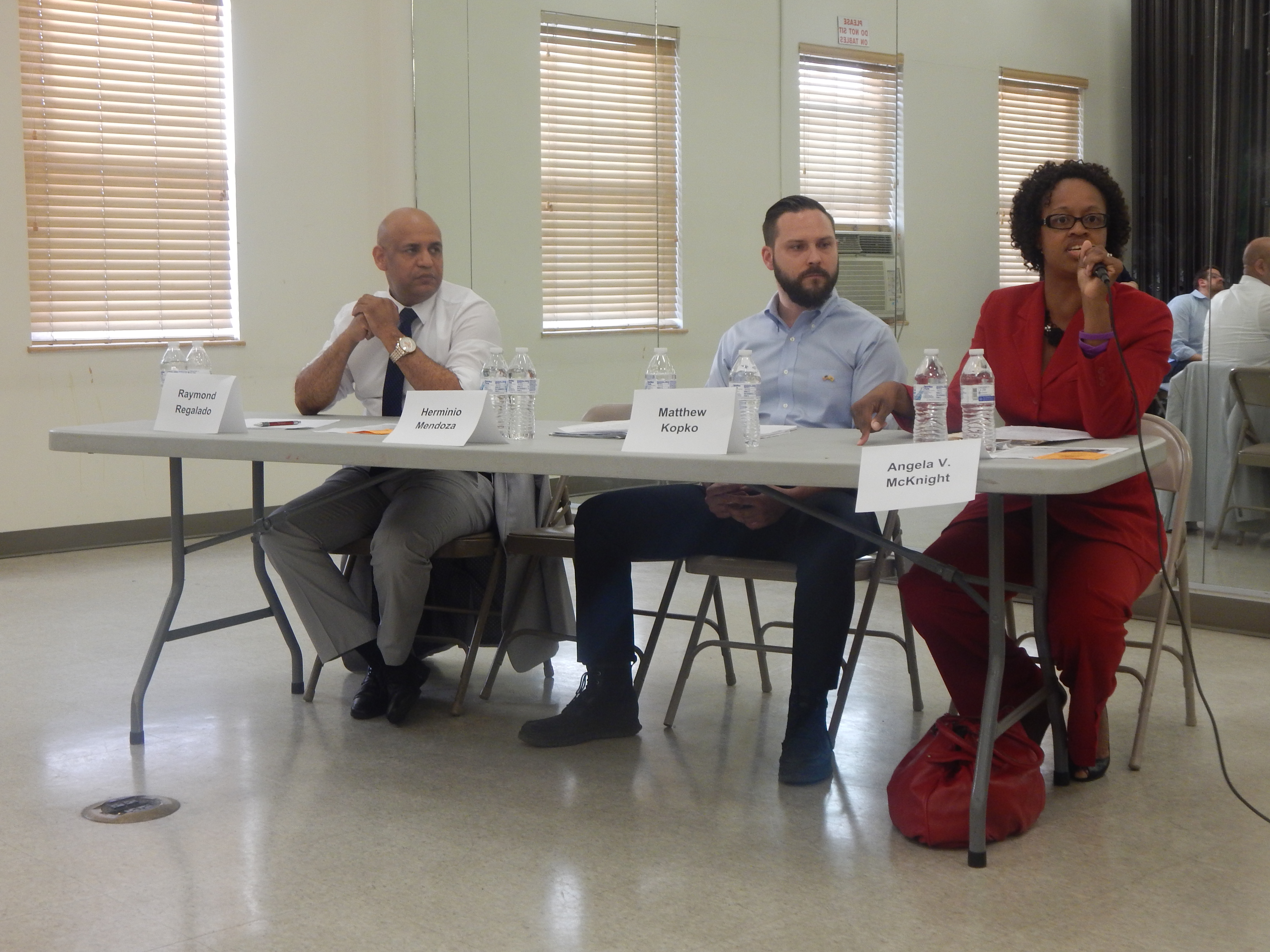 "I will legalize marijuana," said Kopko, of Bayonne. "We are locking people up unjustly in prison, and that's tens of millions of dollars in state revenue we'd be bringing in to Trenton."
Washington Flores, a Democrat running with Alston, suggested another potential economic driving force for the district.
"We should address the disparity between minority businesses in the community and the amount that they get from government contracts," said Flores, of Bayonne. "An ordinance in Jersey City stated that 25,000-square feet or under developments should be given to local, minority qualified contractors and bypass the bidding process. We want to make that statewide legislation so that minority contractors in any community have opportunities to get work in that community."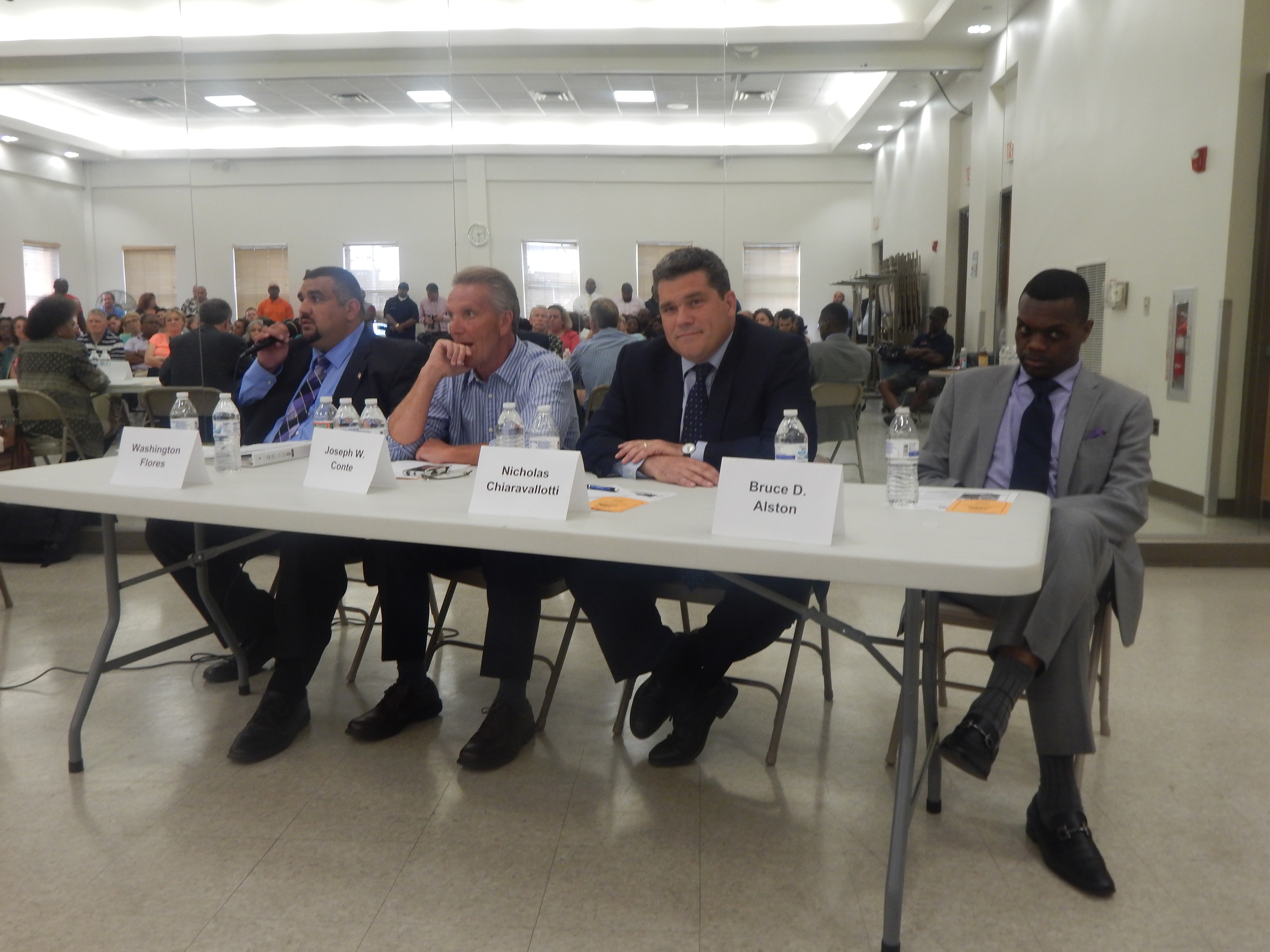 "We have to stop [tax] abatements," added Joseph Conte, a Democrat. "Those properties downtown on the waterfront, they're not paying any taxes. The rest of the city is paying those taxes, that's why our taxes are so high. Abatements need to be stopped or slowed down."
But as the evening wore on, the rival candidates began to turn away from policy issues and return to political attacks.
"It's not a myth that when the HCDO put you there, you're going to do what they say," said Ramon Regalado, a Democrat running with Conte. "It's the culture. That's what we need to change."
"I am proud to stand here with all of these men as a woman," responded McKnight, of Jersey City. "Column A all the way."
Earl Morgan, a journalist who has covered Hudson County politics for more than 40 years, watched the debate with a critical eye.
"What will decide this is partly street muscle, and partly muscle memory. In Hudson County, you vote the line," said Morgan, 73, of Jersey City. "I can remember every pole on my street with a block A on it when I was four years old. That's how ingrained it is. But while the HCDO still has a lot of clout, we're getting a different population moving in that doesn't adhere to the line. They've got to turn out their faithful, which is a smaller group of people."
Morgan pointed out that the 31st Legislative District, which includes all of Bayonne and the largely African-African Ward F in Jersey City, is on the cusp of greater change as Hudson County continues to undergo an influx of new residents.
"This is where people are hurting the worst and where people are panicked, because they wonder if this urban renewal or urban removal," Morgan said. "As new people move in, a lot of people are getting chased out as property taxes go up."
Tuesday's primary election will draw considerable attention to LD 31, as statewide politicos wonder whether Fulop will be able to show that he has built an effective enough machine that will experience a forced fire drill in preparation for Fulop's potential run as a 2017 Democratic gubernatorial candidate.
"Fulop can't afford to look weak. Politics is like a wolfpack. If you're the weak wolf, they'll turn on you," Morgan said. "The margin in favor of Chiaravalloti and McKnight has to be pretty high. If Fulop wants to be governor, he's got to make it look like he's done a wonderful job here. But although the minority community in Jersey City's Ward F doesn't have the vote to put someone in, it has the votes to keep someone out. These seasoned characters like Steve Sweeney (the state Senate President and a potential 2017 Democratic gubernatorial rival) and [South Jersey Democratic power broker] George Norcross III – they read election results like some people read the stock market or a tout sheet at the track. Fulop needs this election to show people that he's still in charge."