Scantily clad in Alexander McQueen and hand-sewn garments she made herself, Tahliah Debrett Barnett, a.k.a. FKA twigs, proved she could be worthy of being this generation's Björk. The creative ingenue began her three-night residency 'Congregata' (as part of the Red Bull Music Academy Festival) in the middle-of-nowhere part of Sunset Park, Brooklyn, last night marrying movement, dynamic costumes and breathy vocals in a one-of-a-kind performance. With FKA twigs' show taking place at the hot and (fake) foggy Brooklyn Hangar, you could feel fans sweating out their anticipation for the songstress to begin her unexpected show. Opening with a gorgeous violin introduction with surrounding dancers, FKA twigs' arrival was comparable to greeting royalty. And fittingly, her performance was met with reverence—especially when guests raised their phones for photo and video content. At that point, it was obvious 'Congregata' wasn't going to be like any other concert experience in New York.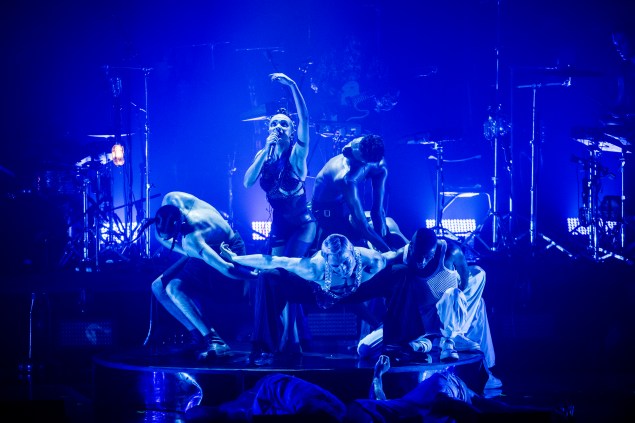 For each intricate and experimental sound heard on FKA twigs' tracks, there was emotional choreography and light direction to complement. From the electro-R&B singer's "Water Me," to "Lights On" and "Papi Pacify," FKA twigs showed off her sexual control with one of her male dancers, taking the "Papi Pacify" video one step further on a rotating floor. FKA twigs' ability to shape her own creative concept and incorporate her own style of interpretive voguing fared well at the first night of her performance. The costumes of fellow dancers were just as carefully crafted and versatile as hers (some male dancers flashed sparkling bustiers during costume changes).
FKA twigs' ability to move with her music along with her facial expressions and bondage-couture costumes often made you forget that she was human; she moved so gracefully and effortlessly, she could have been a doll. 'Congregata' was more than a concert—it was closer to a theatrical production. The FKA twigs team even took a bow at center stage to round out the evening of surprises. If you had attended one of FKA twigs' previous New York City shows, it was nothing in comparison to last night's 360-performance, a bright spotlight for the live realization of FKA twigs as singer, songwriter, producer and dancer, a new renaissance artist befitting the 21st century. All we can do now is wait for FKA twigs' next surprise, but we won't have to wait long. (There's an encore at Brooklyn Hangar tonight).