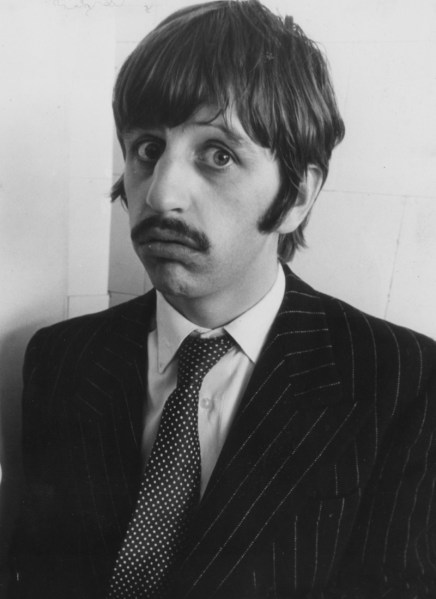 The Beatles are a lot like Christianity, except that only some people get mad at you if you question Christianity.
It has become commonly accepted that everything about the Beatles—their music, their musicianship and their legacy—is above criticism. Now, the Beatles are freaking amazing. They have a catalog inarguably full of extreme aural delight, and their influence on the course of music and culture is beyond comparison. But looking at the "big" picture (and it's very hard to see the big picture, since the Fabs' story is full of canonical recitations, legend, and Crusader-like defenders), I suspect we have missed the prime meaning of the Beatles. Ultimately, I posit, the extraordinary quality of what the Beatles recorded matters less than fallout of their ubiquity. And this is one of the factors of that ubiquity:
---

I truly expect a hailstorm of fury when I pronounce that the Who are better than the Beatles.

---
The Beatles alone cemented the relationship between rock and roll and traditional post-Stephen Foster/Brill Building/Tin Pan Alley pop music.
If I am going to throw around phrases like "Post-Stephen Foster Pop," let's stop to define a term or two.
American music is the child of two parents: One has its roots in clearly immigrant forms and their subsequent assimilation—that is, what people brought with 'em from the old country, whether they came here willingly or not. This would be a gorgeous mofungo made up of the musical DNA of African slaves, Acadian, Ukranian, Irish, Yiddish, Norwegian and German immigrants, and about 1,008 etceteras (not to mention the contributions of indigenous Native and Mesoamericans). Seriously, man, consider the fact that you can verifiably trace Louis Armstrong's scat-signing on his 1926 recording of "Heebie Jeebies" to Yiddish folk songs, and you get an idea of how luscious, wonderful, and crazy that road is.
Then there's the other parent: Fey but full-bodied, this s/he has its' roots in the politely-organized Stephen Foster (and post-Stephen Foster) evocations of these manifold influences. Tightly structured and harmonically defined by the limitations of the front-room piano, American pop was harnessed into moon/June rhyme scheme and a convenient verse/chorus/verse/chorus/bridge/chorus-repeat framework. This Post-Foster way of doing business picks up steam in the mid and late 19th century via the proliferation of Minstrelsy, and really takes hold as Tin Pan Alley (and later the Brill Building) begin to build the Temple of The American Songbook using the bricks of these memorable melodies.
Now, that's a grotesque simplification, but let's just go with it for now, O.K.?
So… You got the slurring and sliding, hoarse and humping, droning and drumming, chiming and thumping sounds of the evolving ethnic, and the far more polite sounds of Stephen Foster and his 10,000 offspring. The hairy and the smooth, as it were.
---

If we are going to do any serious or accurate thinking about rock music, we have to get over this idea that everything the Beatles did is sacrosanct and artistically infallible.

---
Prior to the Beatles, there was absolutely no clear sign that the Foster/Tin Pan/Brill faction would become the dominant gene in the family tree of American rock and roll. Although plenty of pre-Beatles rock and r&b musicians adapted the Post-Foster mode for semi-rockin' use (Buddy Holly, the Everlys, not to mention all the Ricky Nelson/Bobby Darrin/Pat Boone types), there was a lot, and I mean a lot, of rock out there that had firm fucking roots in the other model: Bo Diddley, Jerry Lee Lewis, Little Richard, Ledbelly, Robert Johnson, Louis Jordan… all these children of Basin Street, Beale Street, Congo Square, and Clarksdale (and a 1,008 others) had been doing damn good business without being significantly infected by the slightly Asperger-y mode of Post-Foster pop. Translation: Find a bridge in "Who Do You Love" or "C'mon Everybody" and I'll dress up as Corky or Patti Lupone and come over to your house and watch a Life Goes On marathon. But after the Beatles, pretty much every mainstream American pop-rock song is structured like a Rodgers and Hammerstein composition (again, a slight exaggeration/simplification, but far more accurate than you might think).
What was lost because of this shift was incalculable. What would American musicians have come up with if they had used Aaron Copland, D.L. Menard, LaMonte Young, Eddie Cochran, the Sonics, or Huey Piano Smith as a starting point, without the infection and inflection of the hyper-Fosterism of Beatleism?
If we are going to do any serious or accurate thinking about rock music, we have to get over this idea that everything the Beatles did is sacrosanct and artistically infallible. If you can't treat the Beatles' music (or legacy) realistically, you might as well be telling me that Santa Claus is running for president or that Fun. are better than the Undertones (have I mentioned that whoever thought of putting that fucking period at the end of 'fun' ought to have their head stuck on a pike outside of King's Landing?).
So… I truly expect a hailstorm of fury when I pronounce that the Who are better than the Beatles.
I believe rock and roll is a sometimes ephemerally subtle, sometimes gruesome and grotesque she/he-animal capable of transcendence. I believe that rock and roll should reach for the Golden Ring, hot, sexy, lissome and coy, even if it falls in the attempt. I believe that the ability to hear rock and roll is a gift that deserves not just moments of grace, but moments where the fusion of volume, energy, and meaning appear to have the power to split the atom. That's why I prefer the Who to the Beatles.
The Beatles rarely failed, and left the game before either their catalog or their bellies swelled to the point where either would engender much criticism. But the Who (who far overstayed their welcome), fail all the time. In doing so, they plant their erratic flag into some screaming peaks that the Beatles never reached during their time as an ensemble.
By transforming the ordinary (the semi-prescribed rules of harmony, melody, and structure) into the transformative, the Who achieved moments of sonic resonance far beyond anything the Fabs achieved—which is to say I wouldn't trade the opening chord of "Won't Get Fooled Again" or the sequence stutter of "Baba O'Riley" for anything in the Fabs' catalog. And by subverting and ass-fucking the same (i.e., using tradition toward remarkable ends), the Who also achieved album-length achievements, like Quadrophenia or the extended version of Live at Leeds, that dwarf the ambition and execution of any Beatles album. The Who's formula of power + ambition + the despair of searching for perfection unachievable and beauty unobtainable leads to human achievements, volcanic and amoebic, that humble any effort by the Beatles to perfect the marriage of rock and pop.
And don't get me started on how Ringo's penchant for riding quarter-notes on the crash cymbal ruined rock drumming forever. Let's save that for another time.
[youtube https://www.youtube.com/watch?v=gY5rztWa1TM&w=560&h=315]
***
For Your (Re)Consideration: In the Beginning There Was My Hatred for Eric Clapton