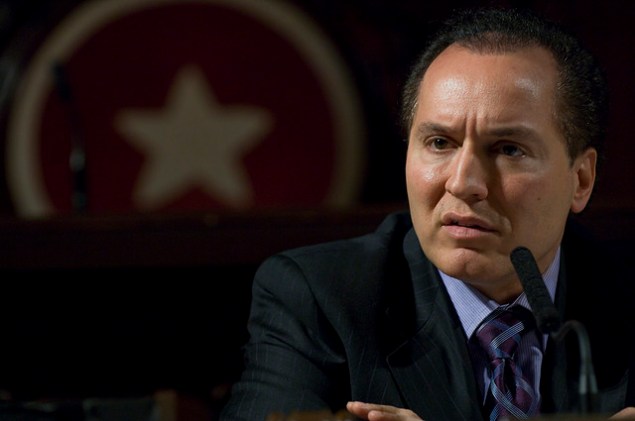 One of Queens' most colorful politicians may soon be on the bench.
Peter Vallone Jr., who served as Astoria's city councilman for 12 years, was nominated for a civil court judgeship this morning, he confirmed to the Observer. Term-limited out of office in 2013, Mr. Vallone had taken a position with the Cuomo administration.
Mr. Vallone is now the Democratic nominee in a judgeship election that will be decided in November. Judicial races are rarely competitive and the Queens Democratic Party's decision to nominate Mr. Vallone could be tantamount to him winning the election.
Mr. Vallone, the son of former Council Speaker Peter Vallone Sr. and the brother of Queens Councilman Paul Vallone, told the Observer his grandfather served in the same position before him. He said via text message that Charles J. Vallone was a civil court judge for the last 12 years of his life "and died in his chambers" in the courthouse in Jamaica, Queens.
Known for riding his motorcycle around the borough and aggressively challenging the Bloomberg administration on a host of measures, including renaming the Queensboro Bridge for former Mayor Ed Koch, Mr. Vallone was more conservative than many of his City Council colleagues. He was a tireless defender of the NYPD and opposed efforts in 2013 to add more oversight to the department.
A few years ago, Mr. Vallone would not have been the most likely Democrat to be nominated by the county organization to serve as a judge. He was rarely a party loyalist and unsuccessfully challenged their pick for Queens borough president, Melinda Katz.
After losing that race, Mr. Vallone was a rumored candidate for Queens district attorney. But his nomination to a judgeship effectively takes him out of the running and allows the current Queens district attorney, Richard Brown, to seek another term. He is up for re-election this year.
As a civil court judge, Mr. Vallone can serve a 10-year term and earn $159,000 annually.