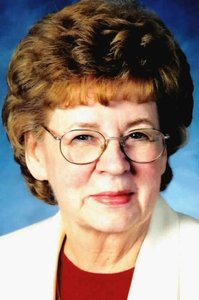 Former state Senator Martha Bark of Burlington has died.
A Republican, Senator Bark represented the 8th District from 1997 to 2008. She also served in the General Assembly from 1995 to 1997.
Senate President Steve Sweeney (D-3) issued the following statement in response to the sad news:
"This is a sad loss for Martha's family, her friends and those she served with in public office. Her years of service reflected a commitment to improving the lives of others, including on the local school board, town council, as a Freeholder and in the Legislature. Her work to preserve natural resources and to spur economic growth will have a lasting impact. I extend my heartfelt condolences to Martha's family and loved ones."
Senate Minority Leader Tom Kean, Jr. (R-21) issued a statement of mourning.
"My thoughts and prayers to Martha's family, loved ones and neighbors during this tough time,' Kean said. "Martha was a devoted public servant who made a positive impact on all levels of government and people across the state. Her various service efforts gave children and teens a second chance, improved our environment, enhanced agricultural efforts and promoted economic growth. She will be sorely missed."
Assembly Minority Leader Jon Bramnick (R-21) also released a statement.
"Our state has lost a dedicated public official whose service spanned four decades," Bramnick said. "Sen. Bark served on the local Board of Education and as a mayor and freeholder before her election to the Legislature. We appreciate her commitment and service to the residents of New Jersey. On behalf of the Assembly Republican caucus, I offer our sincerest condolences to her family and friends."
Assembly Speaker Vincent Prieto (D-32) released the following statement Monday on the passing of former Senator and Assemblywoman Bark:
"Martha Bark will forever be known as someone who put New Jersey and her constituents first. She dedicated her life to helping others and will be missed. On behalf of the New Jersey General Assembly, I offer my prayers and condolences to her family and friends and pause to remember a life devoted to public service."
More statements on the death of Senator Bark, these from the Republican lawmakers currently serving the 8th District:
State Senator Dawn Addiego:
"Burlington County has lost one of its most accomplished public servants with Martha's passing. She was one of our county's most dedicated and effective leaders at every level of government that she served. Martha was a champion for property tax reform, prescription coverage for middle class Senior Citizens, and she helped Burlington County become a national leader in farmland preservation. Our prayers go out to her family and loved ones."
Assemblyman Chris Brown:
"Senator Bark is a shining example of a life dedicated to public service. Having spent decades working for the people of Burlington County and the state of New Jersey, Martha was a role model to all of us serving in the legislature. She will be greatly missed by all of us who continue her work in the 8th district."
Assemblywoman Maria Rodriguez Gregg:
"As one of the first female Republican Senators from Burlington County, Senator Bark was both a trailblazer and an inspiration to future female political leaders. A debt of gratitude is owed to her not just because of her legislative accomplishments, but for opening the door for tomorrow's women. I offer my condolences to her family and friends."