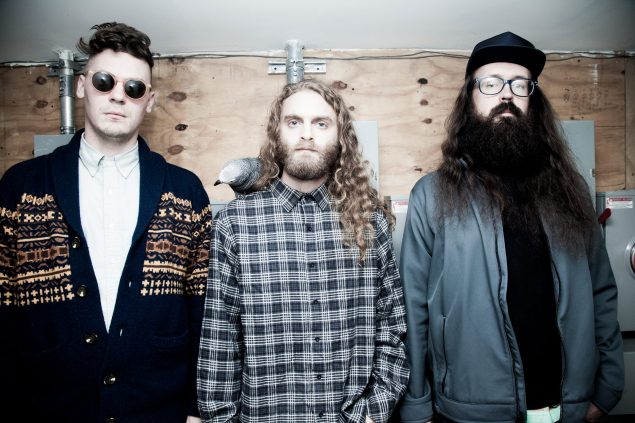 A monumental act in New York's avant-garde scene, Zs is a vigorous musical adventure that voyages deep into the confines of dizzying, abrasive experimentation. Founded by Bushwick-based saxophonist Sam Hillmer in 2000, Zs has undergone numerous lineup changes over the years. Currently playing as a trio—with Hillmer on tenor saxophone, Patrick Higgins on guitar and Greg Fox on drums—the band's members list ambitious resumes with a clear reverence for progressing their respective creative processes (Higgins is an avid composer who holds an extensive list of credits, including film scores and concert pieces; and Fox has drummed for artists like dark-wave soloist Ben Frost and, most recently, heavy avant-rock outfit Liturgy).
This past January, Zs let loose Xe, which follows the band's 2010 LP New Slaves. Xe has a natural, fluid free-jazz vibe in the pedigree of Sun Ra, but Zs is merciless. Slicing, dicing and re-animating this vibe with thunderous musicianship and effects pedals, the album explores stupefying territories, notably with the 12-plus-minutes of tense, tremulous instrumental melodies on centerpiece "Corps."
The Observer recently spoke with the trio about their excellent, head-spinning album Xe and inter-band vibes:
With all of your individual solo projects, what prompted Zs to start working on Xe? How did you find time to devote to the band?
---

'A great deal of our music derives its rigor even more from the semi-conscious states of mind involved with moments of deep focus.'


---
Patrick Higgins: Xe emerged over a long period of composition, rehearsal, workshopping and live performance. In particular, we found that the best way to compose and refine this record was to do so live, by touring the material around the world for almost two years—this allowed the pieces to mutate, intensify and focus themselves by presenting them in concert. We were able to feel what worked, what didn't, where to extend, where to shorten, and so on. This also brought a very tangible sense of energy to the writing itself, so when it came time to record this music which we'd been performing so much already, the live energetic element of performance was natural to capture. Our decision to record an un-edited record straight to tape was also a function of this body of work being about and coming out from our performance practice.
Greg Fox: In between the cracks, here and there, getting out of town to dedicate time to writing and brainstorming, hunkering down in a shipping container in the winter, lucid dreaming about the set, opening doors and walking through them…
Sam Hillmer: Well, in my case, Zs had always been my main thing, so having solo projects and other projects going on did not take the place of keeping Zs active. There is a sense of progression in the band's releases, and there was an idea for the next step in that progression, and it felt necessary to me to manifest that idea so that this lineage could continue. So Pat, Greg and I got together and that's what we did.
According to your website, Zs aims to connect with the listener via "near telepathic communication." Is this communication with the listener strengthened by how you connect with each other while playing?
PH: Yes, absolutely so. A large part of the depth and dynamism of these works comes from our sharing a kind of musical, gestural and unidentifiable language with one another while playing. I think that in its best moments, this almost linguistic interplay between us during concerts is a strong feature of performance for the audience.
SH: I'd have to reread that statement, but I believe that refers to the communication between the members of the band. The listening that goes on in these, the communication, it's almost on a neurological level. Like everyone's body produces some kind of field of energy, and it seems to me that it may be possible to become tuned into that field of energy and the manner in which other people's bodies and energies affect it to the point where subtle shift in one or the other's energy could be taken in as a form of communication. That's what it feels like to play in Zs at any rate.
---

'Zs doesn't concern ourselves all that much with logic, nor illogic while creating. It more has to do with discovering and learning to speak alien languages that we invent together.'


---
On "Corps," Greg comes in right after Patrick does the F-A-C-D walk-up riff. What are some other kinds of segues that you guys use to cue in a member and/or shift from section to section?
PH: Snaps, crackles, pops, metaphysics.
GF: Head nods, footwork, specifically timed rim shots, winks and eyebrow gestures, counting in our heads … there are various techniques.
I saw that Greg practices Taoism—in which the illogical is celebrated. Does Zs strive to look beyond logic with its own creations?
PH: Yes. A great deal of our music derives its rigor even more from the semi-conscious states of mind involved with moments of deep focus. The sheer length of form in many of our pieces also instances a kind of plane of collective unconscious communication between us.
GF: To clarify, I don't practice anything in particular, at least not something specifically nameable—my practice is constantly shifting and being adjusted. I definitely have a non-exclusive strong interest in Taoist science and philosophy, inner alchemical work, Tai Chi, Qigong, etc. I also am interested in practices derived from Kaballah, Tantra, Buddhism, Zen, yoga, psychology, the Moeller technique, eating hot dogs, vaping, walking around New York City, Instagram and Twitter, sex magick, slap bass, petting dogs and cats, Ableton Live, and other things like that. It all adds to the toolkit, all contribute in their way to doing The Work … in my experience personally Zs doesn't concern ourselves all that much with logic, nor illogic while creating. It more has to do with discovering and learning to speak alien languages that we invent together.
Being veterans of the NY music scene, which local venue has consistently been the best performance platform for Zs' sound?
PH: This changes over years, there have been so many venues and spaces, both commercial and DIY, that have been important to us, both as Zs and as soloists. What I like most about this group, however, is that we find the material able to adapt itself well to a wide array of situations, without losing its meaning and its ferocity—from concert halls to clubs or basements.
GF: At this point, the most consistent thing about the Zs performance platform has been our collective thinking. We enter groupmind very quickly and easily these days and it seems to matter less and less where we are playing, what gear we are using, etc. I feel like we are the local venue; the importance of the particulars continues to recede.
SH: There are a lot of venues in New York City that have great sound. And there are also some venues that have a really vibrant spirit that supports artists and communities of listeners. Often those are not the same places. I am thankful for both, and look forward to greater unity between ideology and execution.
Sam, who've been some influences on your approach to the saxophone? How did you get into using effects pedals in your playing?
SH: Getachew Mekuria, the Texas tenors—Gene Ammons, Tina Brooks, Willis Jackson, the Indian master Kadri Gopalnath, and I like all of the saxophone playing on the old Studio One recordings from Jamaica.
Patrick, is there resemblance between how you come up with guitar parts for Zs and how you arrange concert pieces?
PH: To some extent yes, and to others no. The most interesting or un-obvious relationship is that with much of my concert music, I don't consider the work to be finished just because the score is finished. I prefer to work closely with ensembles and musicians I write for, and to allow the work to refine and adapt itself through the musical work of rehearsal and performance and re-imagination. This, in turn, of course, often results in changes to the score itself, but more importantly reflects the notion of a mutable composition, even one that is rigorously notated. In other words, allowing a work to continue beyond its initial idea, to realize itself most fully in the inherent transformations that performance produces.
Zs opens up for Lightning Bolt May 15 at The Wick.
[youtube https://www.youtube.com/watch?v=CQHOsWvY23g&w=560&h=315]
***
Noise Rock Legends Lightning Bolt: 'Fuck Vice … They Blew It'