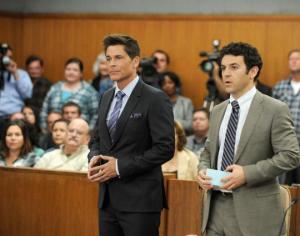 If you attend an Upfront presentation from FOX at the Beacon Theater, like I did yesterday, you learn two things. One, FOX is SO PROUD of Empire. From a musical performance from the entire cast to an appearance from the creators to every sentence mentioning the fact that Empire is the most popular thing since fire was invented, FOX is just so, so happy to have Empire on their schedules
But the second thing I learned is that FOX has some new, somewhat promising content coming down the pipeling for Fall 2015 and beyond, on the heels of the Great Cancellation that saw the network losing Backstrom, The Following, The Mindy Project, and the DOA Weird Loners. 
Now, the one show whose full trailer is not available to the public yet is Ryan Murphy's Scream Queens, the American Horror Story creator's horror comedy with a massive cast (one of which will be killed off every episode, we were told) that includes the likes Jamie Lee Curtis, Emma Roberts and Nick Jonas. We few gathered at the presentation were allowed a look at the show, and it appears to be basically what would happen if American Horror Story was a little less horrifying and a little more like Glee (although Mr. Murphy did say that Scream Queens won't feature any actual singing which, depending on how much you enjoyed stuff like this, is a bummer?). With that said, Scream Queens actually looks like it could be fun.
Also, there isn't any footage quite yet for FOX's X-Files , but David Duchovny and Gillian Anderson did show up to build excitement for the six episode return of the sci-fi classic. If anything, both of them have apparently been stuck in blocks of ice, not aging, since the show ended in 2002.
As for the rest, here are the trailers in full, ranked from most promising to most likely to be axed in two weeks:
1) Minority Report
[youtube https://www.youtube.com/watch?v=_fLl-DMzxrk]
Minority Report, a follow up to Steven Spielberg's 2002 movie, not only is the most visually impressive of the new batch of shows but also has the most interesting premise. Also, it pairs up pretty perfectly with the absurdity of Gotham when that show returns for its second season.
2) The Grinder 
[youtube https://www.youtube.com/watch?v=9mybEO-Hb0Y]
I don't know, maybe I'm just not over the end of Parks and Rec yet, and maybe I'm just happy to have Rob Lowe back in another comedy, but The Grinder seemed like the strongest of the new comedies FOX plans to roll out. Mr. Lowe's portrayal of a lawyer-show actor turned actual lawyer makes up for the randomness of seeing Fred Savage in anything in 2015.
3) Grandfathered
[youtube https://www.youtube.com/watch?v=1V7u8Jdo63A]
This one actually went over the best with the Upfront crowd, but I found Grandfathered to be the weaker of the two "comedies starring handsome men in their 50's." John Stamos stars as a restaurant owner who finds out he is not only a father (to Josh Peck) but a grandfather.
4) Lucifer
[youtube https://www.youtube.com/watch?v=X4bF_quwNtw]
This one could go either way, really. Based on the Vertigo comic book series and characters created by Neil Gaiman, Lucifer tells the story of a bored Satan leaving Hell and coming to live in Los Angeles. Which is in itself a promising premise. But Lucifer has the smell of Constantine all over it, a show that, like Lucifer, was based on an successful, edgy Vertigo series but failed to utilize anything that made the title successful or edgy. Tom Ellis is a pretty great Devil, though.
5) Bordertown
[youtube https://www.youtube.com/watch?v=AjXjqC-1Kvg]
Your enjoyment of the trailer for Bordertown, from Seth MacFarlane, basically varies based on how mad you were when Family Guy was cancelled for the third time. Because that's how Seth MacFarlane do.
6) The Frankenstein Code
[youtube https://www.youtube.com/watch?v=qNq25SEUTPQ]
Listen, throwing up a quote from Mary Shelley's original Frankenstein does not give this trailer the gravitas needed to overcome this kind of silly idea for a show. And really, a show like this might actually work if its cast gives into the idea and makes it work, but it doesn't look like True Blood's Rob Kazinsky is interested in doing that.
7) Rosewood
[youtube https://www.youtube.com/watch?v=FhhYJXV508A]
I just saw this trailer yesterday on a giant screen, and I just watched it again a minute ago, and I'm still struggling to remember what Rosewood is about.
It's worth noting that FOX also screened a preview for the comedy The Guide to Surviving Life starring the Hangover series' Justin Bartha (you know, the one that's never actually in most of the movie), a show the network is giving very little fanfare and I'm afraid has a very Weird Loners-esque future ahead of it.