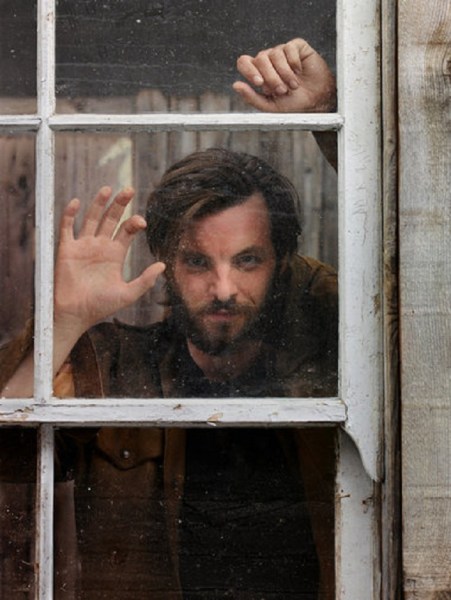 NBC's new drama Aquarius, set in the late '60s, stars David Duchovny as a homicide detective who agrees to look for an ex-girlfriend's missing 16-year-old daughter, who has taken to hanging out with wannabe rock star, and future convicted murderer, Charles Manson.
Portraying Manson, who at the beginning of the series—two years prior to the Tate-LaBianca murders—is just cunning criminal still perfecting the charm that will gain him his committed followers, is Gethin Anthony. Many fans will recognize Anthony from his work as Renly Baratheon on Game of Thrones.
The British born Anthony explains that he was immediately drawn to the project, saying, "My first reaction to reading the script was to the authenticity of the dialogue for the Manson character, and the characters around him in that world. I was aware somewhat of that era in U.S. history and so it made me want to dig deeper into understanding the late '60s as well."
To better understand that decade and the man he would be interpreting for this series, Anthony began to do his own unique research. "One of the useful things about playing such a notorious man is that there's a wealth of information out there, so I could have almost gotten sort of snowed under with reading and watching everything. But, for me, it really became about listening to his voice. There's an interview that Manson did in 1967 and I found that very useful to take me back to the point where our story takes place."
Digging in further, Anthony studied Manson's upbringing to get more of a handle on how he was able to ascend to such a leadership role within his community. "I tried to educate myself about how a human being can get to a position in their life where they are viewed so publicly as some kind of mythological villain. So, for me, it was really important to try and understand as much as possible about what his life was like, and I learned that there were definitely some surprises in there. Things I didn't know at all about him."
One thing that Anthony didn't do was reach out to the real Manson. Carefully explaining the reasons why, Anthony explained, "I very seriously thought through the implications of doing that. As an actor I sort of aspire to be as authentic as I can and meeting him at the end of his life when he's been incarcerated for most of it, I didn't think it would serve me in any particular way or enhance my performance in the series. So that's not something I pursued."
When asked if he was at all hesitant about playing such an iconic character, Anthony quickly responded, with a slight laugh, "I guess I'd be lying if I said there wasn't, at some point a feeling like, 'Oh, is this a weird place to be getting into.' "
He's also ready to answer to anyone who is critical of the project, inferring that the series is glorifying Manson and his violent rampage. "Well, the first thing I would say about that is we're not—certainly not in this season—we're not depicting any of that. Aquarius is really about a police officer in the late '60s. The story is about David (Duchovny's) character and everything else that was going on in Los Angeles and the United States in the late '60s. There are huge story lines about civil rights and feminism and how young people were dealing with those issues. So there's a lot going on and it's not solely about Charles Manson. He plays a large part of telling the story, but it's not just about him."
While this season of the series doesn't depict the grisly crimes of Manson, Anthony admits that someone clearly thought about keeping the production environment free of negative vibes as he reveals, "The very first morning I was on set someone organized for a Shaman to, I guess the word would be, 'bless' me or sort of clear my aura or something.  I mean, it's really sweet that someone thought to do this for me and apparently they'd done it for the whole set and all the cast and crew and everyone—just sort of to remove any bad energy from our production, which was a nice thing to do."
In giving just the slightest hint about what's to come on Aquarius, Anthony says, "There are some scenes in the series, which I don't really want to spoil, but I'll say that there're about some interesting family relationships that come out, and by 'family' I don't mean the Manson family, but I mean real family for all the characters. There's true family drama for every character that kicks in and I think that was pretty challenging for all the actors to get involved. I think people are going to be really surprised by that, and a lot of other stuff as well."
The two-hour premiere of Aquarius airs Thursday, May 28 at 9 p.m. EST on NBC.
Immediately afterward, Season 1's 13 episodes will be available for binging on NBC.com, the NBC app, and video-on-demand platforms.