A palm card for Councilman Vincent Gentile, a candidate for Congress, has sparked yet another war of words between his campaign and his Republican opponent's.
Several weeks after the Observer reported that Staten Island District Attorney Daniel Donovan's campaign signs and palm cards lacked the required disclaimer that says they were paid for by his campaign, a palm card for Mr. Gentile has surfaced without the same Federal Election Commission-mandated disclaimer.
The two-sided palm card, with photographs of Mr. Gentile, a link to his campaign website, a brief biography and a description of his left-leaning campaign platform, neglects to include the disclaimer that Mr. Gentile paid for it. With few exceptions, disclaimers are always required. A source close to Mr. Donovan's camp said an individual unaffiliated with their campaign has filed a complaint with the FEC.
Candidates can eventually face civil penalties for violating FEC rules. The FEC considers campaigns on a case-by-case basis, so determining exactly how steep the potential penalty could be is difficult. "Willfully" breaking FEC rules can lead to civil penalties in excess of $10,000, according to the FEC guidebook.
But Mr. Gentile's campaign doesn't intend to pay a fine. They claim the palm card didn't come from their campaign, and even blamed the Donovan camp for manufacturing it. (The palm card, however, does have some of the hallmarks of the campaign literature Mr. Gentile sanctions.)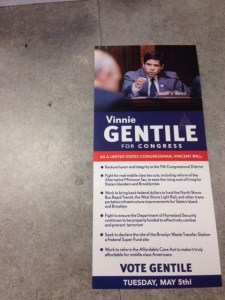 "Looks like Camp Donovan is spending the day before the election doing arts and crafts at Kinko's," Justin Brannan, a spokesman for Mr. Gentile, said yesterday. "That lit was not made by our campaign and I've never seen it before. But I admire their imagination and creativity. I guess they're still upset we caught them breaking federal law."
Jessica Proud, a spokeswoman for Mr. Donovan, mocked Mr. Brannan's claim.
"The absurdity of their lies is getting worse by the day. Tomorrow we'll hear the Easter Bunny hijacked the election," she said.
It's entirely unclear if either campaign will ever face a penalty from the FEC. The six-member commission, split along partisan lines, has been deadlocked on most rulings, making enforcement of federal election law all but impossible. Ann Ravel, the FEC chairwoman, recently told the New York Times that "the likelihood of the laws being enforced is slim."
The special election will be held today.