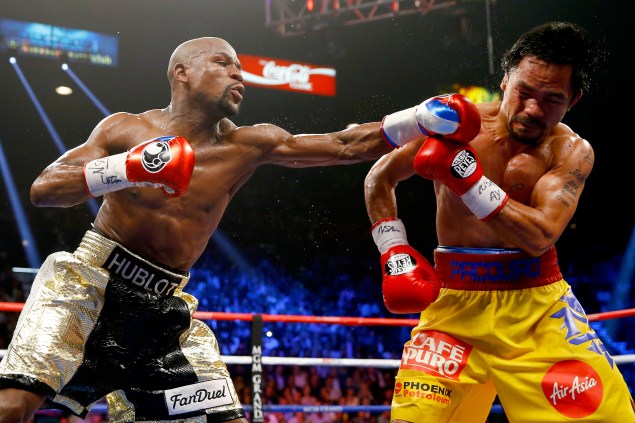 Brooklyn Councilman Vincent Gentile, now an underdog Democratic candidate for Congress, compared himself yesterday to Filipino boxer Manny Pacquiao—just hours before the fighter lost a unanimous decision to Floyd Mayweather Jr. in a hotly-anticipated bout in Las Vegas.
At a Brooklyn event celebrating both the long-awaited welterweight match-up and the New York State Young Democrats' extensive phone-banking operation for the candidate, Mr. Gentile drew parallels between himself and Mr. Pacquiao. Both stand shorter than their opponent, with Mr. Pacquiao two and a half inches below Mr. Mayweather, and Mr. Gentile roughly a foot under lanky Republican Staten Island District Attorney Daniel Donovan—and experts gave both of them small odds of winning their respective battles.
"I think I'm Pacquiao, I'm the short guy, I'm the little guy, and it's perfect, because they tell me I'm the underdog in this race, too," he told the Observer. "
Mr. Gentile again highlighted the similarities between his contest and Mr. Pacquiao's when he thanked the Young Democrats and their downstate region president and vice president Michael Corbett and Corey Ortega for their support and endorsement. He encouraged the crowd in the Lone Star Bar in his home neighborhood of Bay Ridge to stay tuned until the special election for the congressional seat on May 5.
"Tonight is a prizefight, have fun, enjoy the prize fight, but on Tuesday, we have another prizefight," he said. "And tonight it's Pacquiao/Mayweather, Tuesday it's Gentile versus Donovan. Just as the prizefighters aren't in the ring alone tonight, each prizefighter has their team, I'm not in the ring alone Tuesday either, I have my team behind me, this team."
Yet later that evening, Mr. Pacquiao found himself outboxed in the 12-round fight. Mr. Mayweather ducked and evaded most of Mr. Pacquiao's punches, not unlike how Mr. Gentile has accused Mr. Donovan of skipping a series of recent candidate forums—though the two have debated twice.