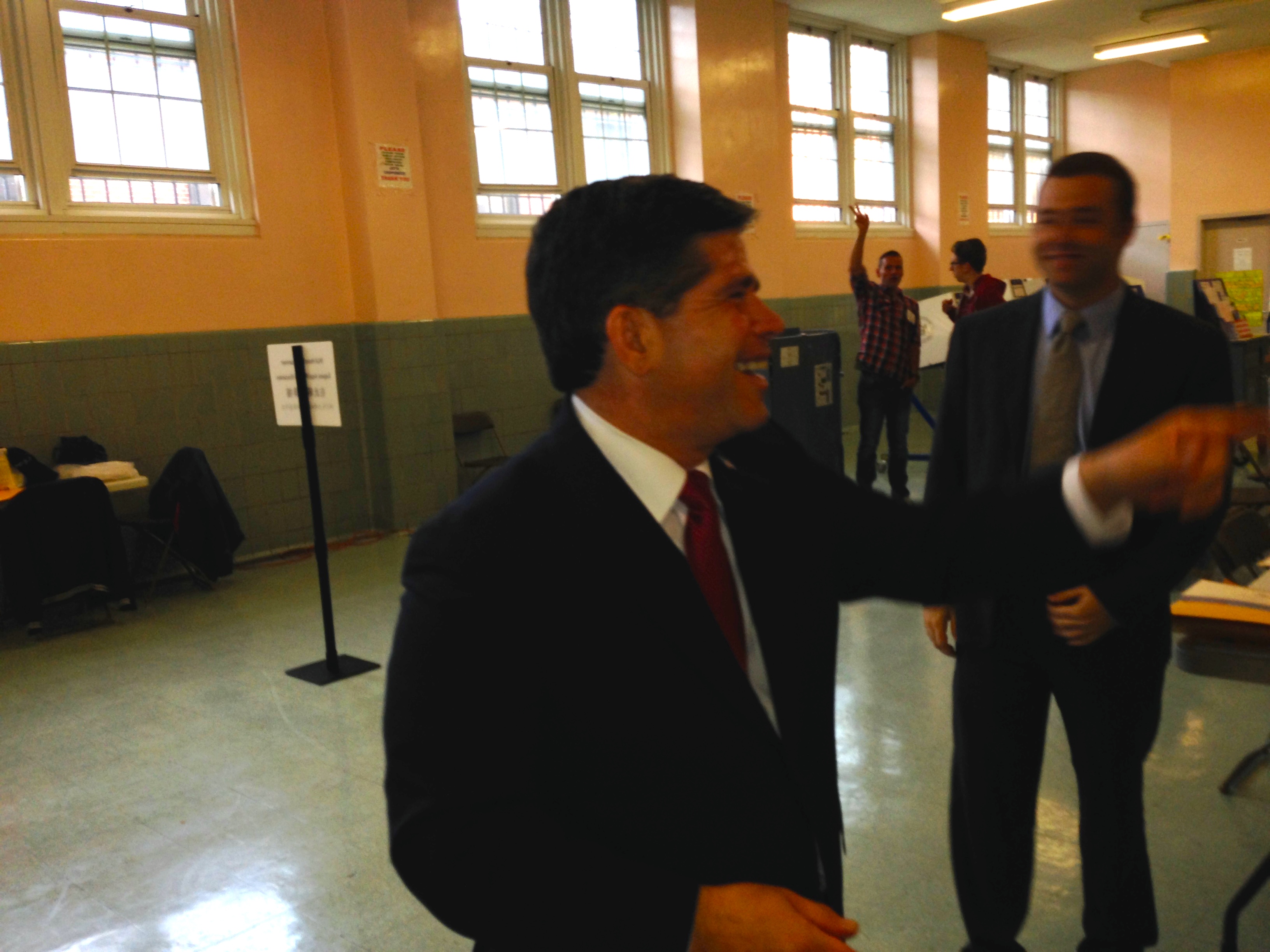 Brooklyn Councilman Vincent Gentile, casting a ballot for himself in today's congressional special election against Staten Island District Attorney Daniel Donovan, said his anecdotal observations led him to believe more residents would come out to the polls than projected—though he did not anticipate that would award him a large margin of victory.
Mr. Gentile—the Democratic underdog against the heavily favored Republican, Mr. Donovan—turned out to vote at his alma mater, Fort Hamilton High School in Bay Ridge, Brooklyn, after campaigning at a train station and several polling places in the neighborhood. He reported seeing more people out voting than his campaign anticipated, though he would not say what their predictions had been, and related that several passersby had wished him luck as he left his home.
"Beautiful day, people are out there voting, I saw some joggers and bikers today who said 'good luck' on their way as they were jogging and biking, and people all over, I've been to a couple polling sites, people are excited and I'm excited to," he told reporters. "The turnout should be, you know, in this good weather, should be higher than expected. And I can't predict, but I think the numbers we saw this morning were higher than we expected."
Mr. Gentile received applause from students as he entered and left the school, and argued constituents across the district—most of whom reside on Staten Island—to reject electing another Republican to succeed former Congressman Michael Grimm, who stepped down in January after pleading guilty to a federal tax evasion charge.
"I think people know it's time for a change. We need someone who's going to go down there and not be part of the Republican agenda that is anti-New York City," he said, arguing the House GOP budget would deprive the city of some $14 billion. "We need someone to go down there not to join that group but to fight that group, and say 'you can't play politics with New York City. You can't hurt the middle class, you can't hurt seniors, you can't, you can't, hurt college affordability.' The Republican budget does all those things."
But he still foresaw at best a squeaker victory for himself.
"Listen, I'll take a one-point win. I don't, that's, that's fine with me. Anything, anything more than my opponent, we win," he said.