Credit: Gant Rugger Luxe et Veritas Cordster Jacket: $147 and Hopsack Smarty Pants: $118
Few garments are as synonymous with warm weather, cool dudes, and bad behavior as the denim jacket. See: Brando, Marlon, Dean, James and Swayze, Patrick circa The Outsiders. But more importantly, even fewer garments are as easy to wear or go with as many things. And this season, the simple jean jacket has been given an overhaul in the form of a fabric upgrade by some of our favorite designers—both high-end and high street—meaning if you're keen to get in the game but not quite ready to rock a full matchy-matchy Canadian tuxedo, this is your time to shine.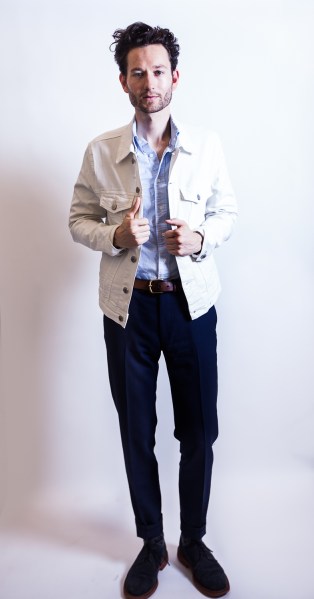 Credit: Joe Fresh White Denim Jacket: $29.94, Kamakura Blue Oxford Button-Down: $79, Gant Rugger Hopsack Smarty Pants: $118, and Mark McNairy Navy Bucks: $340.
At Joe Fresh, the trucker jacket comes in white denim, and looks just as good with your classic indigo denim jeans-and-graphic T-shirt combo as it does with a pale blue oxford cloth button-down and dark blue dress pants. Gant Rugger's version is rendered in corduroy and features a play on the Latin light and truth—try it with a pair of stonewash jeans and a classic white T-shirt, or crisp gray schoolboy pants and some heavy-soled Doc Martens shoes. But the piece de resistance comes courtesy of the English label Reiss: It's cut in buttery soft suede and looks amazing paired with black and navy—all the better to allow that cornflower blue to speak for itself.
Credit: Reiss 1971 Menthe Suede Jacket: $520, Club Monaco Wave Crew: $98, 3X1 M3 XX133 Slim Straight Jeans: $285, and Burberry Prorsum shoes (POA).
But regardless of which one you choose, don't forget to wear it with just as much vigor and enthusiasm as you would your classic Levi's jean jacket. Dress it up, dress it down, wear it to the markets on a Sunday morning, the office for casual Friday, or the bar on a Saturday night. You literally cannot go wrong.