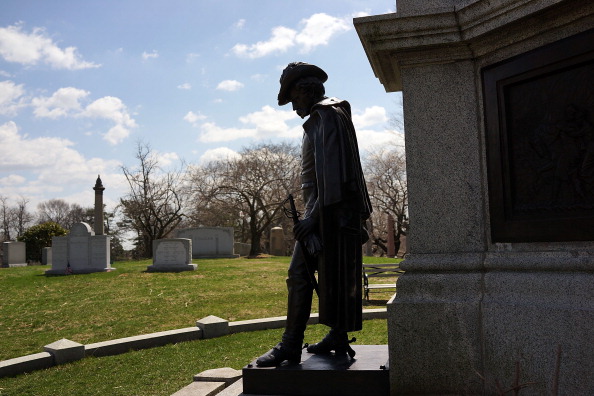 This Memorial Day weekend, Brooklyn's Green-Wood Cemetery will mark the 150th anniversary of the end of the Civil War with a special exhibition titled "To Bid You All Good Bye: Civil War Stories." The show and its concurrent programming is a collaboration with the Brooklyn Historical Society, and will run from May 23 through July 12 at Green-Wood's historic chapel.
"To Bid You All Goo Bye" will feature photographs, letters, gravestone images, swords, and historic objects from the cemetery's collections and archives, as well as many borrowed from public and private collections, that tell the stories of specific individuals buried at Green-Wood. A few of those stories include Kings County's first death, a 12-year-old drummer boy; two brothers who fought for opposite sides and died in the same battle; an astronomer who became a Union general and founded a South Carolina village for freed slaves; a female abolitionist and nurse, and many more.
Green-Wood Cemetery is the final resting place of over 5,000 service men, nurses, artists, and civilians who took part in Civil War battles and events. Findings from Green-Wood's "Civil War Project," led by historian Jeff Richman, have found that its grounds hold the most interred Civil War veterans of any cemetery north of the Mason-Dixon Line.
"Green-Wood's bond to the Civil War is profound. It is our duty to conserve and celebrate this important history," said President of Green-Wood's president, Richard J. Moylan. "Although this bloody conflict ended more than 150 years ago, we wanted this special exhibit to commemorate the bravery and sacrifice of those who fought to preserve our nation and our freedom."
Public programs for "To Bid You All Goodbye" include a grand procession in tribute to the war's end on Saturday, May 23, and a Memorial Day commemoration and concert on Monday, May 25. For more information and to purchase tickets, visit Green-Wood's website and exhibition page.