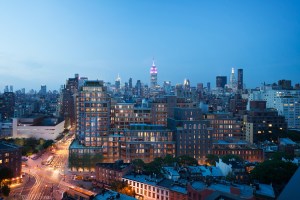 Last winter, Carroll Gardens resident Laura Mackall didn't turn the heat on in her home once. "We just didn't need it," she said, "And the house stayed between 68 and 70 degrees all winter." Ms. Mackall lives in a four-story rowhouse that she retrofitted as a Passive House last year. She stumbled upon the notion, which promises as much as a 90 percent reduction in heating and cooling demands, while researching green roofs.
Ms. Mackall was in the market for a contractor to renovate her rowhouse and asked for a bid from Build With Prospects, a construction and design company that specializes in sustainable design. After she saw the bid was priced similarly to more traditional contractors, she decided to go the green route.
"There are no downsides," she said of the final result. "I was just surprised how great it works."
Ms. Mackall is one of many investing in sustainable residential design in New York City. Today, sustainability takes many forms, from the Passive House retrofit of a brownstone to a LEED-certified mega-development. There are now an estimated 67 completed multifamily residential buildings in New York City that have been marketed as "green," according to BKSK Architects, a firm that practices "ecologically engaged architecture." Many other developments, not marketed specifically as green, still have green features or LEED—Leadership in Energy and Environmental Design—certification. But while green design is more prevalent and creative than it's ever been before, it still doesn't translate as a big priority for most buyers and renters—yet.
"I think that many buyers do see value in LEED certification, and might be willing to pay a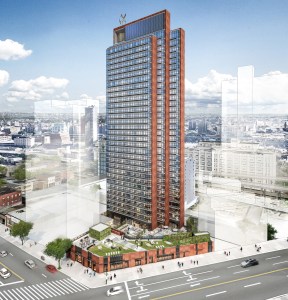 touch more for it if they can afford to," said Peter Comitini, a broker with Corcoran. "That being said, the buildings have to still compete across the larger landscape of available inventory of homes, in any particular neighborhood and price point."
While there are many ways to "green" a building, doing it through LEED certification marks the highest form of the practice and the most marketable. Since LEED debuted in the late '90s, the code has been revised four times to include different types of residential development, according to Scot Horst, chief product officer for the U.S. Green Building Council.
LEED residential buildings started appearing in New York City in the early 2000s. The Solaire, a rental in Battery Park City, was the first residential high-rise in the country to receive a LEED Gold rating in 2003. Rental developments like Tribeca Green and Verdesian followed, with features like air-filtration systems, Energy Star appliances, high-efficiency lighting fixtures and insulated windows. Today, there are more than 650 completed and certified LEED projects in New York, according to the U.S. Green Building Council.
---

'The concept of not paying an energy bill is not that crazy. And I wish people asked for it, because we could do it.'—Jennifer Preston, BKSK Architects

---
Alison Novak, vice president and director of fund investments at the Hudson Companies, noticed a significant market shift since the development firm built its first LEED building in Brooklyn, a 44-unit condo dubbed Third and Bond, in 2011. "Now, materials like low VOC paint are commonplace, and there are a variety of contractors who do this type of work," she said. With LEED design practices more prevalent, she said the upcharge to develop a typical LEED building is now less than 2 percent.
In LEED certification, developers earn "points" based on the building's energy use, water, materials, site issues and indoor qualities. The number of points dictates whether a building will be labeled as certified, Silver, Gold or Platinum. Buildings can earn multiple certifications. The Greenwich Lane, a complex designed by FXFOWLE that includes 200 condos and five townhouses priced up to $45 million, achieved LEED Silver and was pre-certified as a LEED Gold Neighborhood Development.
Ilana Judah, principal and director of sustainability at FXFOWLE, said this LEED process was particularly ambitious in its scale—the development spans a full block between 11th and 12th streets from Seventh Avenue to Sixth Avenue—and in pursuing the Neighborhood Development certification. This certification, the first given to a New York City project, measures sustainability within the context of neighborhood design. The development also includes the typical high-performance windows and lights, water-efficient fixtures, and a storm water collection system used for the building's cooling system and irrigation.
FXFOWLE is also designing a 40-story luxury rental at 44-26 Purves Street in Long Island City for Brause Realty that is expected to achieve LEED Silver certification. While utilizing common, LEED-approved materials, the development is unique in that there will be both wind turbines and solar-power screens on the roof. FXFOWLE will also optimize the glass facade—a popular pick for developers building luxury buildings—to minimize heat loss.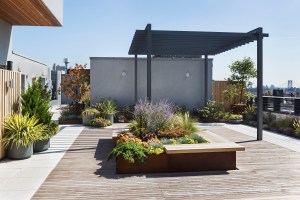 Hudson Companies, meanwhile, is aiming high with a 23-story, mixed-income rental tower under construction at 626 Flatbush Avenue in Brooklyn that will seek LEED Gold. This is the first project in which Hudson will include a cogeneration system, a single energy source that generates electricity on-site, then uses the heat byproduct to create steam heat. The efficient system cuts utility bills by as much as 50 percent.
Despite the lower electricity bills, Ms. Novak is not convinced that LEED is essential to the marketability of a development. "Our firm is divided as to whether it makes a strong difference," she said. "People just want to live in a good building."
Stephen Kliegerman, president of Halstead Property Development Marketing, noted that "the green design doesn't necessarily add a dollar value. But it's important for a buyer deciding between two different properties."
Mr. Comitini echoed the sentiment, saying that he has only had one or two clients specifically ask for units in LEED developments. In his experience, some clients find that sustainable elements are worth a small premium, but not as much as the location of a unit. In 2008, he held an unscientific online poll on whether buyers would pay a premium for green features; 72 percent of respondents said yes. But Mr. Comitini remains skeptical. "People say that, but if it were true we'd see more developments marketing LEED as the main perk," he said.
Mr. Comitini cited green roofs—often designed to absorb rainwater, provide insulation and combat heat—as a "win-win," something both sustainable and attractive as a building amenity.
Jennifer Preston, sustainable design director at BKSK Architects, found that air quality, interior environment and comfort are the most marketable benefits of sustainable design in the Manhattan market. At the Jefferson, an 82-unit condo building at 211 East 13th Street in the East Village, BKSK designed a green roof system that could be accessed by residents and also filter rainwater.
But still, Ms. Preston said, it can be hard to sell energy-conscious design to a developer when buyers aren't specifically asking for lower energy bills. "The concept of not paying an energy bill is not that crazy," said Ms. Preston. "And I wish people asked for it, because we could do it."
Indeed, the Passive House movement promises dramatically lower energy bills, and a winter where the heat isn't required. While LEED provides a set of regulations and prioritizes sustainable materials, Passive House focuses on air quality and insulation. The house-wide energy system uses insulation and effective, insulated windows to create an airtight building. Very little energy is required to heat or cool the building, which is continually supplied with a low volume of filtered fresh air.
Michael Ingui, partner at Baxt Ingui Architects, is on his eighth certified Passive House. He says the cost is roughly the same as a traditional renovation and that the final result looks like any other interior design project.
For now, Passive House development is most common with single-family residences. But it translates to multifamily structures as well. Nava Companies, a development firm based in Manhattan, started marketing its condo development at 210 Pacific Street in Cobble Hill, Brooklyn as a Passive House. All eight units are distinguished by extensive insulation and triple-glazed windows.
"We weren't interested in LEED; we felt it was too paperwork heavy," said Stewart Osborne, chief operating officer of Nava. "We wanted to focus on the energy efficiency rather than the materials."
The firm is already in contract for a Greenwich Village property with plans to design another Passive House.
Mr. Osborne said that while the location of 210 Pacific initially attracted potential buyers, many ended up "intrigued and impressed" by the benefits of the Passive House design.
"For now, the important factors are still the finishes and location," said Mr. Osborne. "Having said that, we're going to go ahead and design the Passive House anyway."