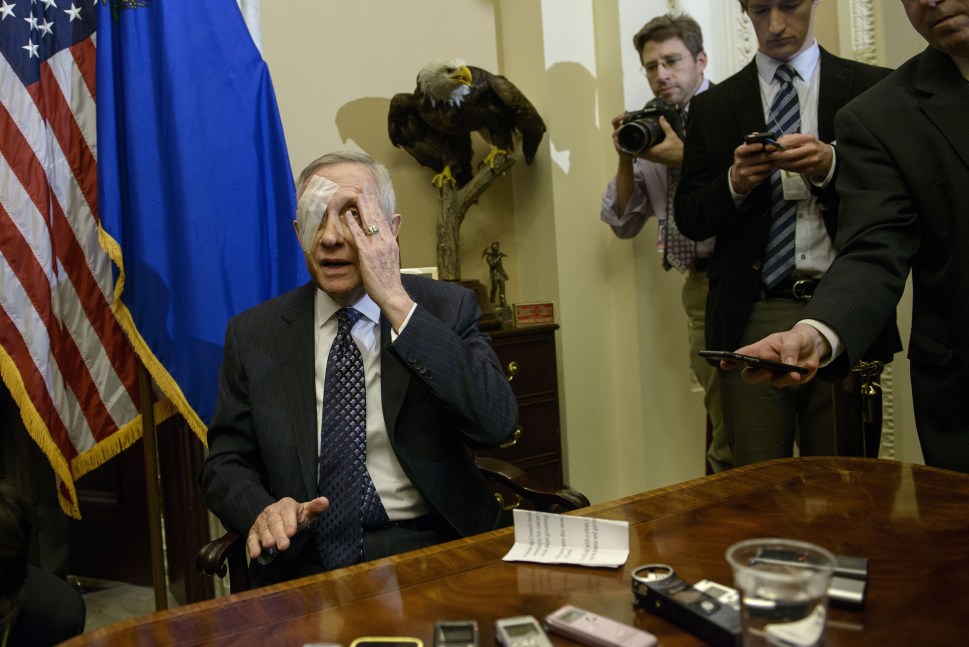 Last weekend, a Las Vegas man named Larry Pfeifer came forward to claim credit for spreading a rumor that the facial injuries sustained by Senate Minority Leader Harry Reid were not caused by an exercise mishap as the senator had claimed but were instead the product of a beating by Mr. Reid's brother.
According to Mr. Pfeifer, he made up the story as a ruse to reveal how gullible the right-wing press is and to prove that they'd spread rumors about a prominent Democrat no matter how outlandish or unproven the story.
Indeed, Mr. Pfeifer, using the pseudonym "Easton Elliott," did manage to have his version mentioned by the influential conservative blog Power Line and then mused about on air by that site's editor, John Hinderaker, when he was guest-hosting Laura Ingraham's radio program. WND ran a story headlined "Was Harry Reid really pummeled by a relative?" Even the dean of conservative radio, Rush Limbaugh, mentioned the rumor on the air. Both Mr. Hinderaker and Mr. Limbaugh expressed skepticism about the story's veracity and made clear that the story was just some guy calling them up to tell a story. Still, they mentioned it and others ran with it.
Mr. Pfeifer claimed victory for having punk'd the right-wing media, telling the Las Vegas Sun, "It was just so outrageous … The fact that someone can say something completely false that can destroy somebody's life, it's just wrong."
For embarrassing conservatives with his phony story, Mr. Pfeifer has become something of a folk hero to the left. TalkingPointsMemo ran an interview that upbraided Mr. Hinderaker for his gullibility. Huffington Post reporter Sam Stein wrote a thorough recap of the prank, which reveals some journalists to be much more skeptical than others—everyone from Todd Zwillich at "The Takeaway" to Las Vegas reporter Jon Ralston to blogger Charles C Johnson expressed doubt about "Easton's" trustworthiness, while Breitbart's Michael Patrick Leahy joined Mr. Hinderaker in wanting to believe. A loving interview with ThinkProgress concludes with Mr. Pfeifer tsk-tsking about the state of the craft: "Journalism is supposed to uplift society in a moral way. Not turn it to shit." To the Sun, the man who told Rush Limbaugh his name was "Easton Elliott" mused, "Where's the moral compass?"
Well, that's a good question. It turns out that Mr. Pfeifer's own moral compass hasn't always pointed true north.
It's already been reported that Mr. Pfeifer went to prison for, as he described it, "financial crimes in the early '90s." Mr. Pfeifer elaborated on this to the Observer: "It was forgery and I think wire fraud and it was basically I was working at the Board of Trade and I let some brokers put tax through my accounts so they could avoid taxes. When it all happened—and I was paid for it, too—and what I decided to do with the money, there were two cases. The first case they let me off with probation and they did that because I proved I gave a lot of the money away to homeless people like Salvation Army. I took people out from that and got them apartments and stuff. I was trying to be like Robin Hood. And the second case happened because while I was going to court for the first one it continued, and I did not want to tell on the people who I did this for because they had families and a lot more to lose than I did. And I thought if I do a year in prison what's the big deal?"
According to records obtained by the Observer that seem to corroborate Mr. Pfeifer's description, Mr. Pfeifer's "financial crimes" refer to a Class 2 Felony in Illinois for theft of between $10,000 and $100,000.
Years later, Mr. Pfeifer had two different liens placed against him in Las Vegas. According to records obtained by the Observer, one was for $392,243 and another for $156,508.
In a telephone interview with the Observer, Mr. Pfeifer said that the liens are tax-related. "Yeah, that's the IRS and that was from my gambling days. When I gambled, and I haven't gambled for over five years, I never used a player's card and I lost a shitload of money. … I lost $3 million if not more."
One would fear that owing that kind of money in taxes may call into question Mr. Pfeifer's suitability as a progressive hero. But the fun doesn't stop way back when—there are several other weird incidents that reveal a pattern of phone call fun.
On March 17 of this year, a report was filed at the Hollywood Community Police Station on Wilcox Avenue alleging that Mr. Pfeifer had made "threats and outrageous claims," repeatedly phoned a relative at her place of business and home, prank-calling and threatening the relative and her husband.
According to someone close to the family, this was triggered because the target of the threats had been providing financial assistance to a member of Mr. Pfeifer's immediate family but changed the terms of aid when Mr. Pfeifer was rumored to be benefitting. Angry at the new financial arrangement, Mr. Pfeifer allegedly prank- called the relative's office masquerading as a bystander who witnessed her spouse's involvement in a near-fatal car accident.
The Observer has obtained an email chain among five people in which Mr. Pfeifer, who goes by the email sobriquet "larrythegreat2002," uses threatening and generally nutty language to intimidate his relative:
"you are the least powerful person I have ever known- talking about restraining orders. I've never been subject to that"
"your like a puppet … Remember who your talking too"
"you have the choice of clearing things up – and apologizing to [redacted] … I hope you don't clear things up- I will not let anyone hurt [redacted] without – well you can imagine my reactions
"
"repeat that to my face – of course he wouldn't because you are a coward and so is he"
Then there was the time Mr. Pfeifer, who told the Observer he moved to Las Vegas from Chicago in 1995, ran up a gigantic gambling debt and had to be bailed out by family members. Friends of the relative who provided the funds, who declined to be identified or comment for fear of harassment and retribution by Mr. Pfeifer, say that six years ago he bilked her out of money to pay a gambling debt to avoid jail. Earlier, Mr. Pfeifer had said he had cancer and then said he had been misdiagnosed at Promises Rehab in the early 2000s and had a major payment forthcoming from a lawsuit victory that would pay the relative back. The monies never came. The Observer obtained a copy of a money order dated Feb. 3, 2009, made out to "County of Clark District Attorney Restitution" for $37,500.
Mr. Pfeifer told the Observer that he does "brand building consulting—I do motivational speaking for people, groups in recovery from addiction." Now, his star turn on the national stage has also opened a new opportunity—media critic.
Mr. Pfeifer told the Observer he is "getting into holding those in the media responsible for reckless stories, spewing lies and hate all for advertising dollars. They're poisoning our great country. Journalism and media are supposed to uplift the morals of society, not try to bring it down. So my brand-building skills and motivational skills fit this, too."
To this end, Mr. Pfeifer has started a website, cleanupthemedia.com, at which visitors can "read the story of how one man, Larry Pfeifer, punked the Conservative Media by telling them Harry Reid's brother Larry beat him silly."
Family members and right-wing commentators are not the only ones who have had reason to keep their distance from Mr. Pfeifer. At least three well-known, successful people in Mr. Pfeifer's world have withdrawn from associating with him. Robert Kondrk, the senior director of Apple credited with creating iTunes; George Maloof, the former owner of the Sacramento Kings; and Michael Morton, the son of legendary restaurateur Arnold Morton and brother of Hard Rock founder Peter Morton who himself operates steakhouses in Las Vegas and elsewhere, are all former friends of Mr. Pfeifer.
According to Mr. Pfeifer, he and Michael Morton used to run the rock club Voodoo in Chicago's Lincoln Park neighborhood in the '90s. "Michael Morton and I along with 12 others owned it."
Mr. Pfeifer alleges that Mr. Morton and Mr. Maloof parted with each other—and with him—over an ugly split involving the Drink nightclub, which Mr. Morton and Scott DeGraff (a close friend of both Mr. Morton and Mr. Pfeifer), had opened inside The Palms, which was owned by Mr. Maloof. Mr. Pfeifer told the Observer that it was he who introduced Mr. Morton to Mr. Maloof.
"Michael and Scott were my best friends. I stood up for them at their weddings. We lived together, came out here together. I introduced them to George Maloof. I actually brought the idea to George about bringing the N9ne Group into the Palms."
That deal ended tragically when DeGraff committed suicide amid disputes and lawsuits.
"The Palms thing kind of split everybody up as far as George, Michael and I because I was kind of stuck in the middle because George was my best friend at the time and so was Michael and they were both fighting over something, and I really didn't want to take sides, so neither one of them appreciated that."
None of the three still talks to Mr. Pfeifer, according to someone who knows him. (Mr. Kondrk passed an email to a spokesperson who declined to speak to the Observer; emails to Mr. Maloof and Mr. Morton were not returned.) For Mr. Pfeifer's part, he said, "If I saw them we would be friendly to each other. Robert I correspond with, I see him if I'm in California."
One longtime friend—possibly a former friend—who spoke to the Observer but only on the condition of anonymity said, "Larry has been making phony phone calls and telling lies since he was a young kid. Don't be mistaken, he is not doing this to elevate anyone's consciousness or tread a moral high ground; he is doing it because he is a diabolical liar who craves attention. And the very media who are paying it to him are his victims."
Whatever his motivations for his new role as a media critic, Mr. Pfeifer does not seem to have a particular political ax to grind. He told the Observer, "I had never heard of Powerline, John Hinderaker, Breitbart. I've heard of Rush Limbaugh, never listened to his show. I've never voted in my life ever. I have better things to think about, like music and how to get the TV show Dallas back on the air."
Mr. Pfeifer has a philosophical point of view. He emailed the Observer, "I think this whole thing happened for a reason. And that one man can make a difference."
In a later interview, he expanded on his motivation: "I was really pissed about the University of Virginia Rolling Stones story too, that nobody took any responsibility. I mean nobody got fired. She didn't even get her mouth washed out with soap. And these kids – I don't care if Abe Lincoln jumped out of the grave and said, 'These kids never did anything,' they will be labeled as gang rapers the rest of their lives. So I am just thinking how irresponsible this all this, and this guy John Hinderaker, I didn't look at his thing like a bog. That Powerline looked like a newspaper to me, not a blog."
One of the surprising things about this story is that Mr. Pfeifer's first contact with the Rush Limbaugh show was when El Rushbo himself spoke to him. That brush with stardom did not faze Mr. Pfeifer. "I did a deal for iTunes; I wound up talking to Steve Jobs first. I tried to do something with Virgin and I talked to Richard Branson first. Really I've been very lucky in that way. When I do something I usually start at the top with things."
According to Mr. Pfeifer, Mr. Limbaugh was at least partly motivated to run with the story because of animus toward Sen. Reid, dating back to a controversy in which the majority leader took to the floor of the Senate and said "[Mitt Romney] hasn't paid any taxes for 10 years." Ironically for a story about media truthfulness, Mr. Reid declined to identify who had told him this tale, and The Washington Post awarded Mr. Reid's claim "four pinocchios," its most severe rating for mendacity.
Mr. Pfeifer told the Observer that Mr. Limbaugh "started talking about Harry Reid. He says, 'You know he deserves this after what he did to Romney.' Now I had heard about that Romney tax thing like vaguely and I'm like, 'What are you talking about?' So of course I get a five-minute orientation from Rush about how Harry supposedly lied about some tax thing with Mitt Romney and Rush said, 'Whatever he gets he deserves now.' … I'm thinking, 'So this is what it's come to.' If you think someone has lied you're going to lie about that?"
In a sign of how nicely Mr. Pfeifer's life has turned around since he lifted the curtain on the Oz of right-wing media, the senator applauds his defender. Mr. Reid told Politico, "I wish I'd meet this guy and pat him on the back." Despite the conviction and the liens and the police report, that back-pat might happen sooner than later. Mr. Pfeifer told the Observer, "I'm supposed to meet [Sen. Reid] for lunch this weekend. Bizarre—a week ago he probably didn't like me—now he applauds what I did and wants to meet."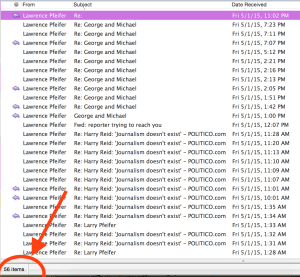 While reporting this story, the Observer got a taste of what it's like to be on the wrong side of Mr. Pfeifer's intentions. Over the course of less than 36 hours, Mr. Pfeifer bombarded a reporter's in-box with 56 email messages. These emails rapidly seesawed from charming to angry and back to charming, and included epithets: "Your a bullshitter," "I've already caught you in many lies," "your not as smart as you think," as well as threats presumably aimed at the Observer for being as corrupt as the media he is committed to reforming: "You don't mind if I use our recording on my website do you." Mr. Pfeifer also gets very specific about what he intends to do to hold media accountable when they run afoul of his high standards in the future. He promised the Observer there'd be "physical demonstrations and phone harassment."
Yep, phone harassment. That's his thing.
One final detail. Mr. Pfeifer shot down the Observer's theory that he had chosen his pseudonym to honor Elliot Easton, the left-handed lead guitarist of '80s new wave band The Cars.
"It had nothing to do with The Cars. But I dig their music. And how could you not like Ric Ocasek, who gave us all hope that anyone can marry a supermodel!"