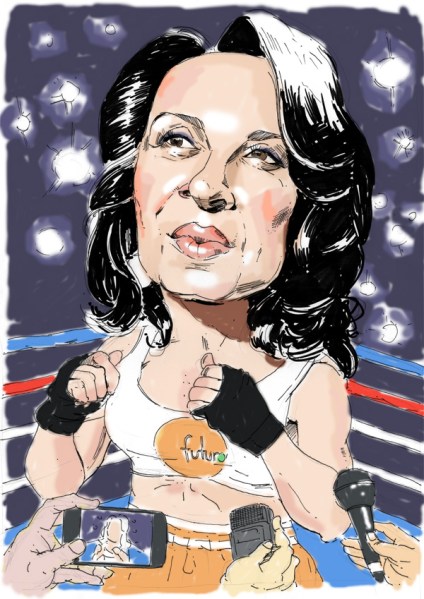 Maria Hinojosa is as colorful as the bright orange and red walls of her Harlem offices. The former PBS, CNN and NPR journalist now runs a nonprofit, The Futuro Media Group, and goes straight in for the cheek-to-cheek air kiss. She boasts often about her young team's accomplishments with motherly pride. And toward the end of our chat, she turns her attention to my Brazilian heritage. "My daughter was made in Rio, you know?" Ms. Hinojosa says with a sly grin.
How did you decide to become a journalist? I was born in Mexico City. In the early '60s, we moved to Chicago where my father was a professor. So, we were a Mexican family suddenly transported to the Midwest, to a city in the front lines of the Civil Rights battles. We were very typical Mexicanos en la casa and outside we were Americans. We were big consumers of news. I remember watching the protests during the [1968] Democratic National Convention. I remember the grape boycott. I remember Vietnam. But there was no one talking about what our experience was. I felt invisible.
I never thought about doing this job. In fact, the first Latino journalist that I saw doing national reporting was Geraldo Rivera, who, at the time, was doing phenomenal investigational journalism. If there was an epiphany, it was when he was doing a series about heroin in the Bronx. And I just remember thinking he is clearly Latino, but he made it somehow. There may be a door for me someplace.
Your series, America by the Numbers, had a massive audience. Do you get recognized? It freaks me out. I was in a cab, and [the driver] was like, "Oh my God, you're so famous. I have to tell my son!" And at that moment me encanta, me siento chulo [I love it, I feel attractive], but I didn't decide to become a journalist for the fame.
Define Futuro's mission. There are things that are complicated for us to talk about. We can't walk away from the fact we have some very bad statistics [in this country]. For the world's greatest democracy, we have fewer than half of our people voting, children and the mentally ill behind bars, sexual assault and abuse on campuses. I believe it is the role of a journalist to put those things in front of us in a way that is hopefully building bridges.
You constantly deal with heavy subjects—the episode about forgotten veterans in Guam comes to mind. How can you still be so upbeat about doing this job? It's hard. Particularly with Guam, because, unexpectedly, I ended up developing some mild PTSD myself after 9/11 when I was working for CNN. It was definitely not severe. Being with soldiers, veterans who have severe PTSD, I connected on a deep level with them. … When I came back, I remember having a really emotional moment with my family, and my son in particular saying, "mom, you go to these places and you see these things. Then you come back and we are just waiting for when mom is going to have her moment of sadness and crying." It is true, and I needed them to understand that this is hard on us but that there are people who are dealing with much bigger issues.
Running a media company today is challenging. How do you overcome the pressure? I've thought about dropping everything and moving to Punta Cana. But I also often think, "Who else is having a tough day?" And I will usually be like, "Ah, Oprah is probably having a rough day." You just have to hunker down.
What keeps you motivated? Here's the good part about fame: Inevitably, when I'm feeling [frustrated], somebody will pop up saying, "I love what you do! Gracias." That's when I know I have to keep on going. These moments of recognition help to feed me, because I realize I feel a particularly duty about being present in American history at this moment.