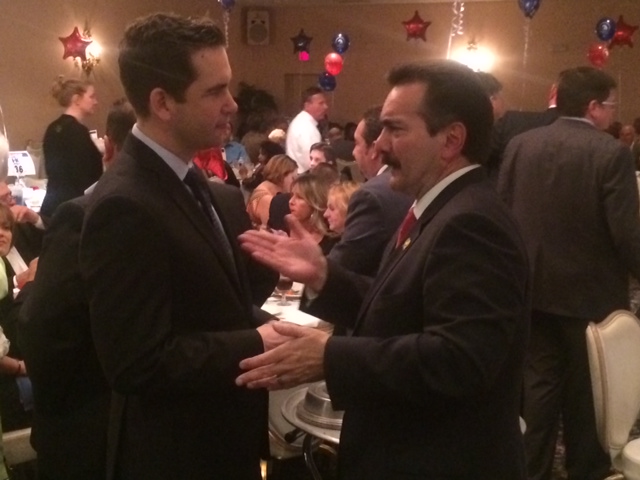 JERSEY CITY – State Assembly Speaker Vinny Prieto (D-32), in his role as chairman of the Hudson County Democratic Organization (HCDO), assessed his local position in terms of a sports analogy on Tuesday night.
"I consider myself as the quarterback," said Prieto, HCDO chair since 2013, before more than 250 people gathered at the organization's annual spring gala at Casino in the Park in Jersey City. "I'm there just to be able to hand the ball off."
While the Hudson Democrats assembled on Tuesday to bang the drums of war before municipal elections in North Bergen and West New York on May 12, followed by a key Assembly primary election in the 31st Legislative District, split between Bayonne and Jersey City, in June, it could be argued that in recent years, the once-vaunted HCDO has experienced a series of fumbles.
In 2011, Felix Roque, now the HCDO-backed incumbent mayor of West New York, defeated Mayor Sal Vega, then the HCDO's candidate of choice, in a bruising insurgent campaign.
In 2014, Hudson County Freeholder Anthony "Stick" Romano beat off his primary challenger with a stick, holding on to his seat with the help of his Hoboken base despite running off the line after being dropped by the HCDO.
In North Bergen, incumbent Mayor and State Senator Nick Sacco (D-32) and his mayoral race challenger, Larry Wainstein, are exchanging accusations of voter fraud. Meanwhile, two North Bergen Department of Parks and Recreation employees were charged with theft by the state Attorney General's Office late last month. The charges came weeks after the Attorney General's Office raided North Bergen Town Hall in March, the same day that Sacco's reelection campaign officially kicked off.
In West New York, incumbent Mayor Felix Roque, now an HCDO ally, is fighting off a challenge from West New York Commissioner Count Wiley. Roque and Wiley have accused each other of voter fraud. Wiley also laces his rhetoric with remembrances of Roque's legal troubles.
Roque politically survived after federal charges were filed against the mayor and his son in 2012 for allegedly hacking a website set up by then-Hudson County Freeholder Jose Munoz that aimed to recall him. Munoz testified against Roque and his son at a federal trial. Roque was acquitted of the charges in October 2013; his son, Joseph, was convicted of a misdemeanor.
Even more serious legal problems are now facing the New Jersey politician most closely associated with Hudson County, U.S. Senator Bob Menendez (D-N.J.). In a 14-count federal corruption indictment filed against him last month, Menendez was accused of advocating for a friend's personal and business interests in exchange for travel and political and legal-defense contributions, as well as failing to disclose gifts for the friend, Dr. Salomon Melgen, a Florida eye doctor. Menendez has publicly asserted his innocence and has expressed his willingness to fight the federal charges.
In addition to all these concerns, the HCDO is reportedly $300,000 in debt.
In an interview with PolitickerNJ, Prieto admitted the landscape wasn't perfect, but said it was still salvageable.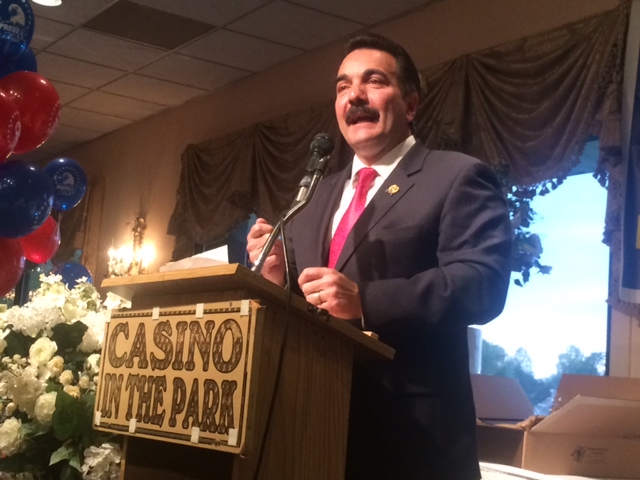 "I inherited that debt, but I've lowered that debt since I became chairman," said Prieto. "It's been a daunting task, because in part there are a lot of pay-to-play laws. But you have to play by the rules, and it won't happen overnight. We may have debts, but I'm very confident that we have the funds to get out the vote and do what we have to do. The candidates all still yearn for the line. Whoever tells you that it doesn't matter, they're lying.
"Felix Roque was found not guilty, and he has put a great coalition together," added Prieto about the West New York mayor. "If you've been vindicated, why should there be any residual embarrassment? That's why this is the greatest country in the world. You're innocent until proven guilty, and he was proven innocent."
Jersey City Mayor Steve Fulop looked at the HCDO's recent rocky road as part of the periodic potholes of politics.
"This is cyclical, like everything is," Fulop said. "What we're looking to do is rebuild. Are we at our absolute peak yet? No, but we've got room to grow, and that's a good thing. Speaker and Chairman Prieto is assertive and is building relationships with other counties, which lends itself to a stronger Hudson County. But when people say constantly that statewide office runs through this county or that county, the truth of the matter is that it runs through all of them."
Prieto and Hudson County Executive Tom DeGise referred to statewide office in their remarks, saying that they wanted Hudson to play an important role in picking the next New Jersey governor while Fulop, a potential 2017 Democratic gubernatorial candidate, looked on.
DeGise, who has secured the support of all 12 Hudson County mayors as he seeks a fourth full term in office, offered some veteran wisdom to the Hudson politico crowd that had a simple focal point on the eve of key elections.
"These mayors are the backbone of the party. They're the warlords. They're the ones who get out the vote," DeGise said. "They're the ones who are passing up the dinner at the Casino in the Park because they're ringing doorbells in North Bergen and in West New York right now."