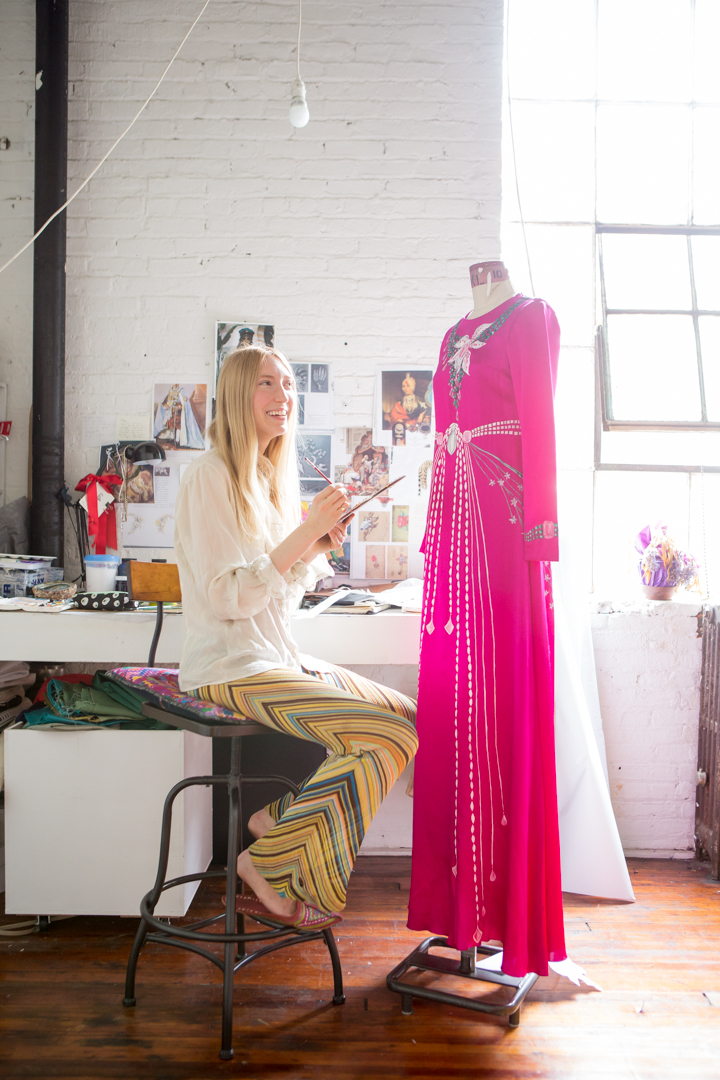 "This is the biggest thing ever for me," fashion designer and artist Holly Fowler told the Observer from her Greenpoint loft and design studio. The young creator, talent-spotted by society fashion influencer Lauren Santo Domingo, was hard at work on the day we called.
The big event that British-born Ms. Fowler was referring to was the Metropolitan Museum of Art's annual gala—arguably the most important fashion spectacle of the year—for which she dressed a  very high-profile attendee. Ms. Fowler's symmetrical, voluminous, hand-painted trompe l'oeil dresses and separates are coveted by a select group of private clients in Beverly Hills, Calif., Brooklyn, the Upper East Side and other points where money gathers.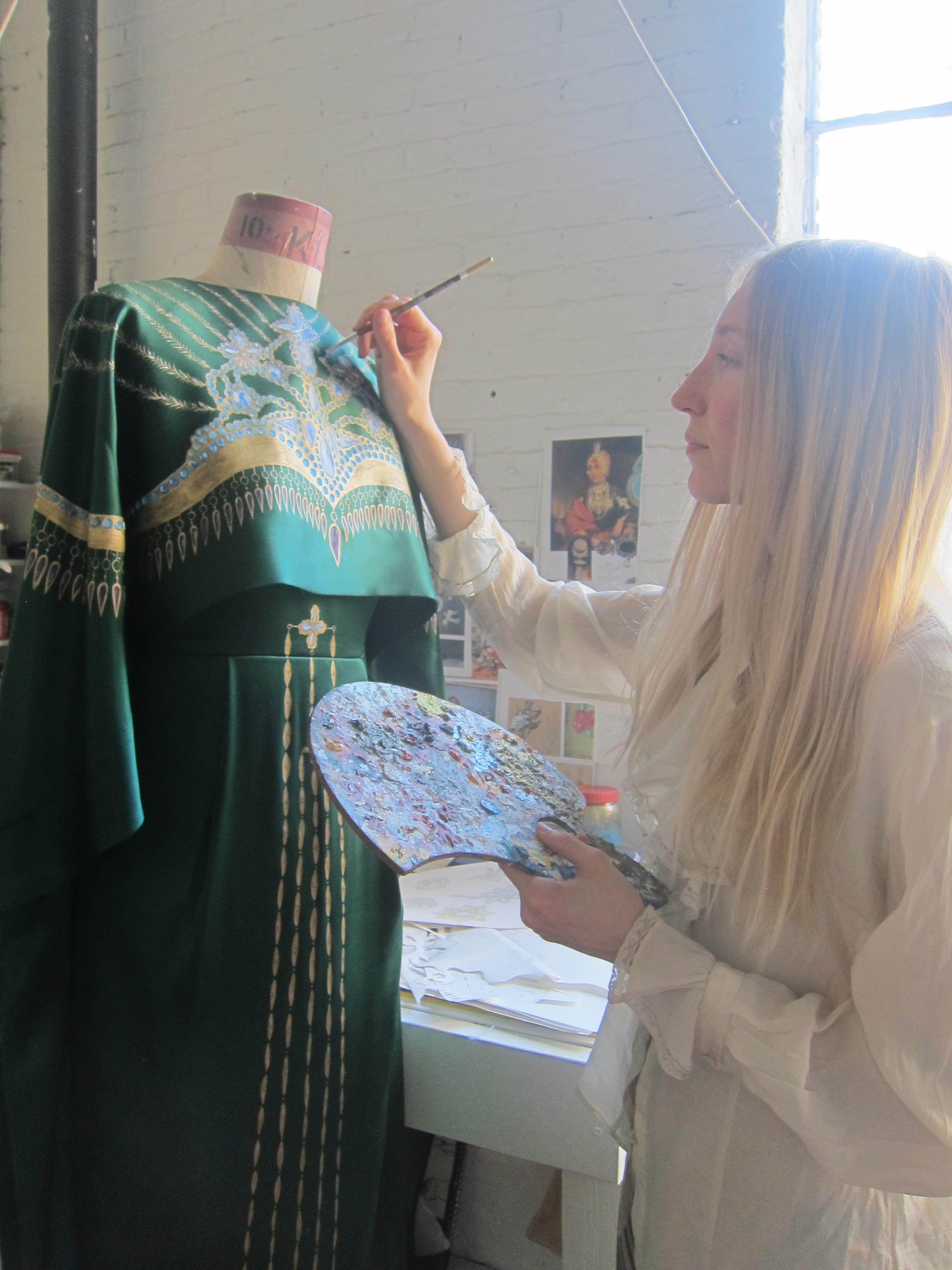 ---

'I love Brooklyn. My block is full of artists in painting clothes, smoking or having coffee. I feel part of community which I love.'—Holly Fowler

---
It is in Greenpoint's growing artist's enclave that Ms. Fowler, who trained at Chloé, Louis Vuitton and with John Galliano, feels at home—it reminds her of Hackney Wick, an East End London neighborhood. "I love Brooklyn. My block is full of artists in painting clothes, smoking or having a coffee. I feel part of community which I love," she explained.
Inspiration oozes from the white walls of Ms. Fowler's studio, where fuschia-pink hangings and jewels hung from nails cascade down. A green silk, backless caped dress, bejeweled and patterned en chinoiserie stood phoenix-like on a dress form.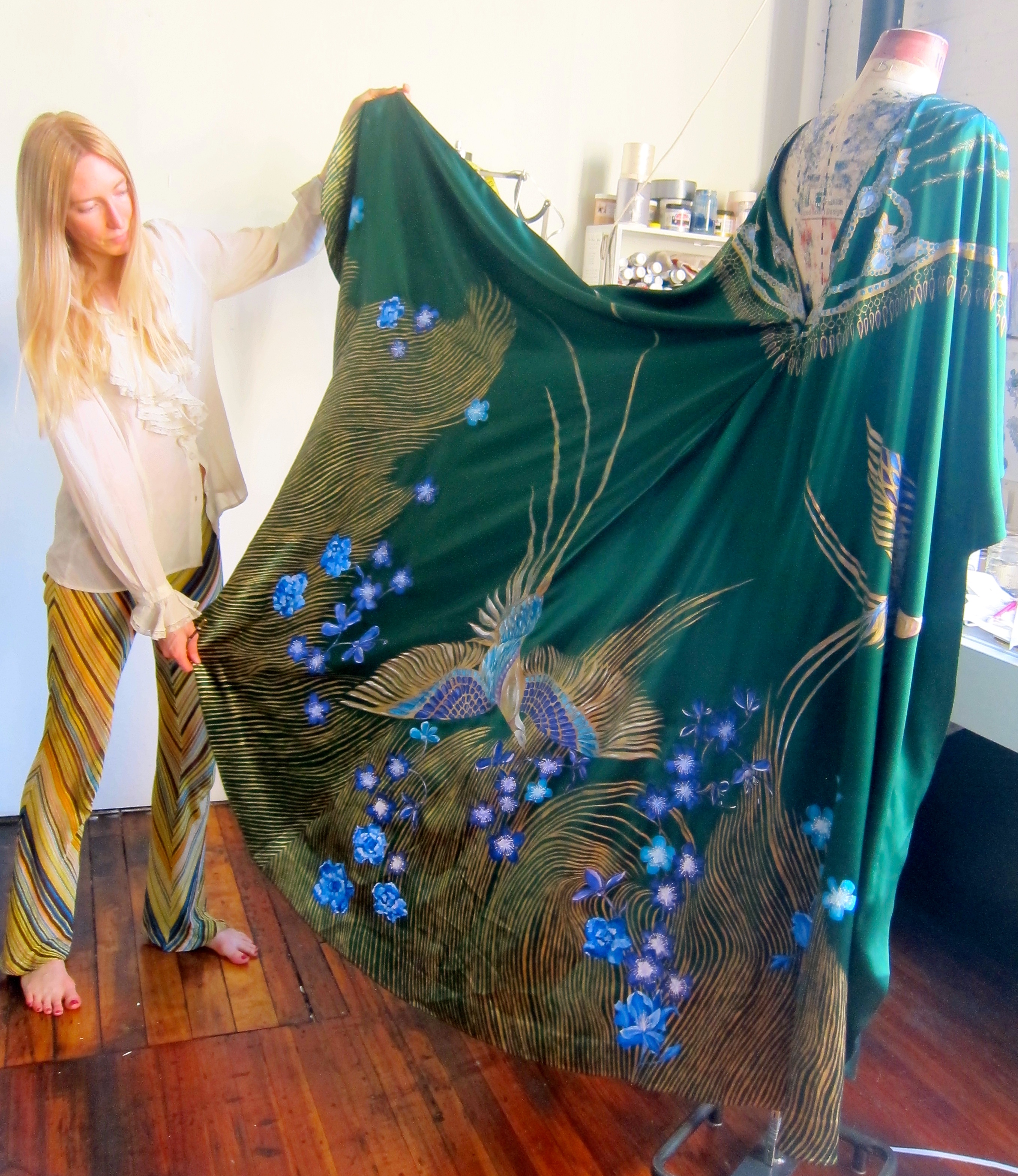 This dress, it turned out, was quite a big deal; Samantha Boardman, M.D., a high-profile art patron, commissioned Ms. Fowler to create her a dress in homage to the Met's exhibition, "China Through the Looking Glass." Dr. Boardman was introduced to Ms. Fowler through Ms. Santo Domingo, whose e-commerce site, Moda Operandi, features the collections. "I swooned over the idea of a dress as a painted canvas. With Holly, art and fashion collide," Dr. Boardman told the Observer.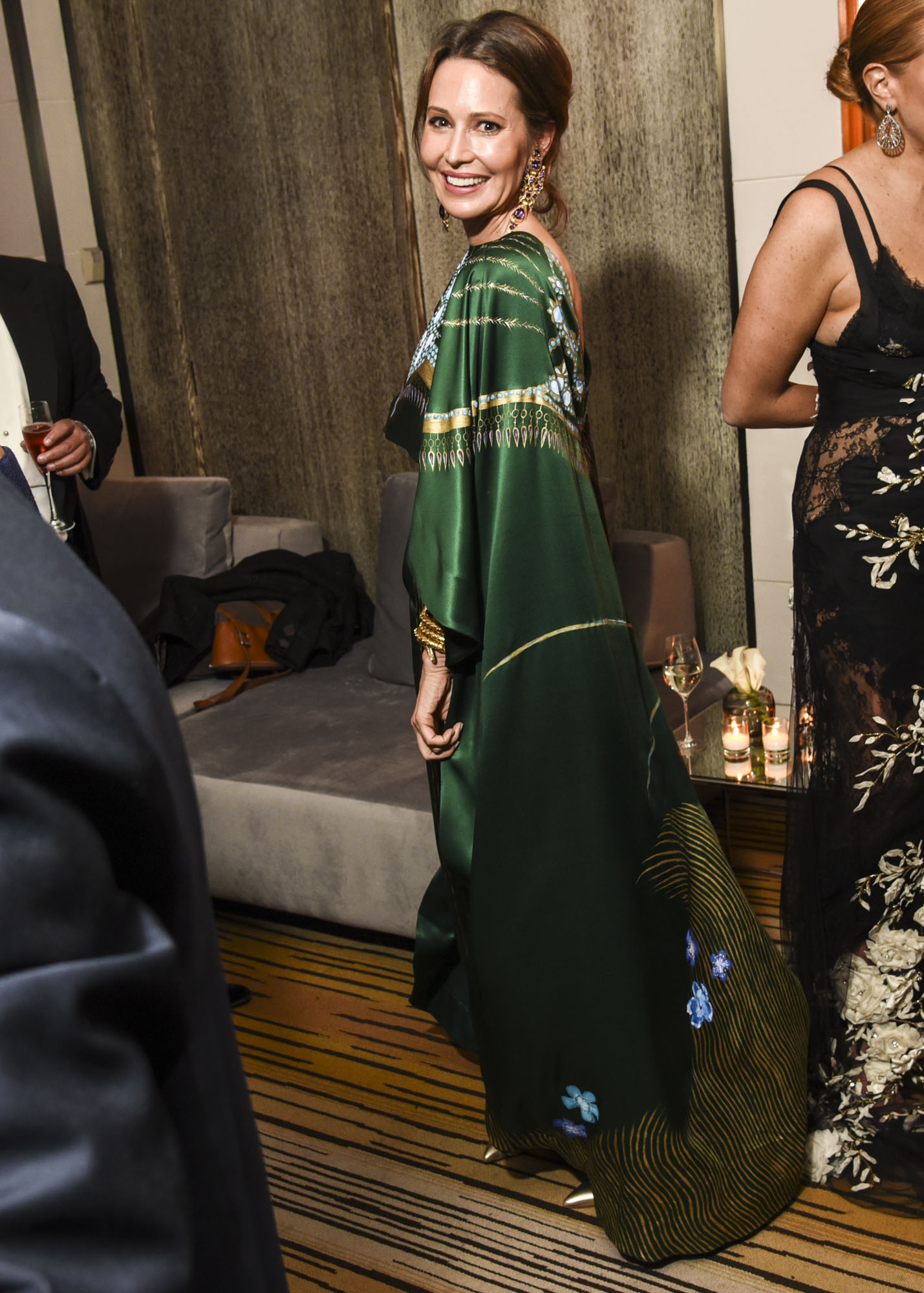 After studying painting, printmaking and textile design at London's Central St. Martins, where Ms. Fowler confessed she "realized the idea of wearing a canvas is like wearing a piece of art and fashion in the same moment," Ms. Fowler formed a signature idea. Using the illusion of trompe l'oeil to impart volume and symmetry, the designer expanded the flat two-dimensionality of a canvas into dioramic 3D. She has a penchant for jewelry patterns which are faithfully reproduced in her prints. "For a second you might think that someone is actually wearing a Cartier, Bulgari or Buccellati necklace. All these different emblems and ornaments move with the wearer." the designer explained.
Ms. Fowler's clients have asked her to reproduce personal treasures in bespoke prints, in order to create new heirlooms. A few have even had their dresses framed. One client asked Ms. Fowler to paint her Hermès Birkin onto a dress. "I have been able to make a path in fashion and art, though I really think of myself as a painter first," said Ms. Fowler of such projects.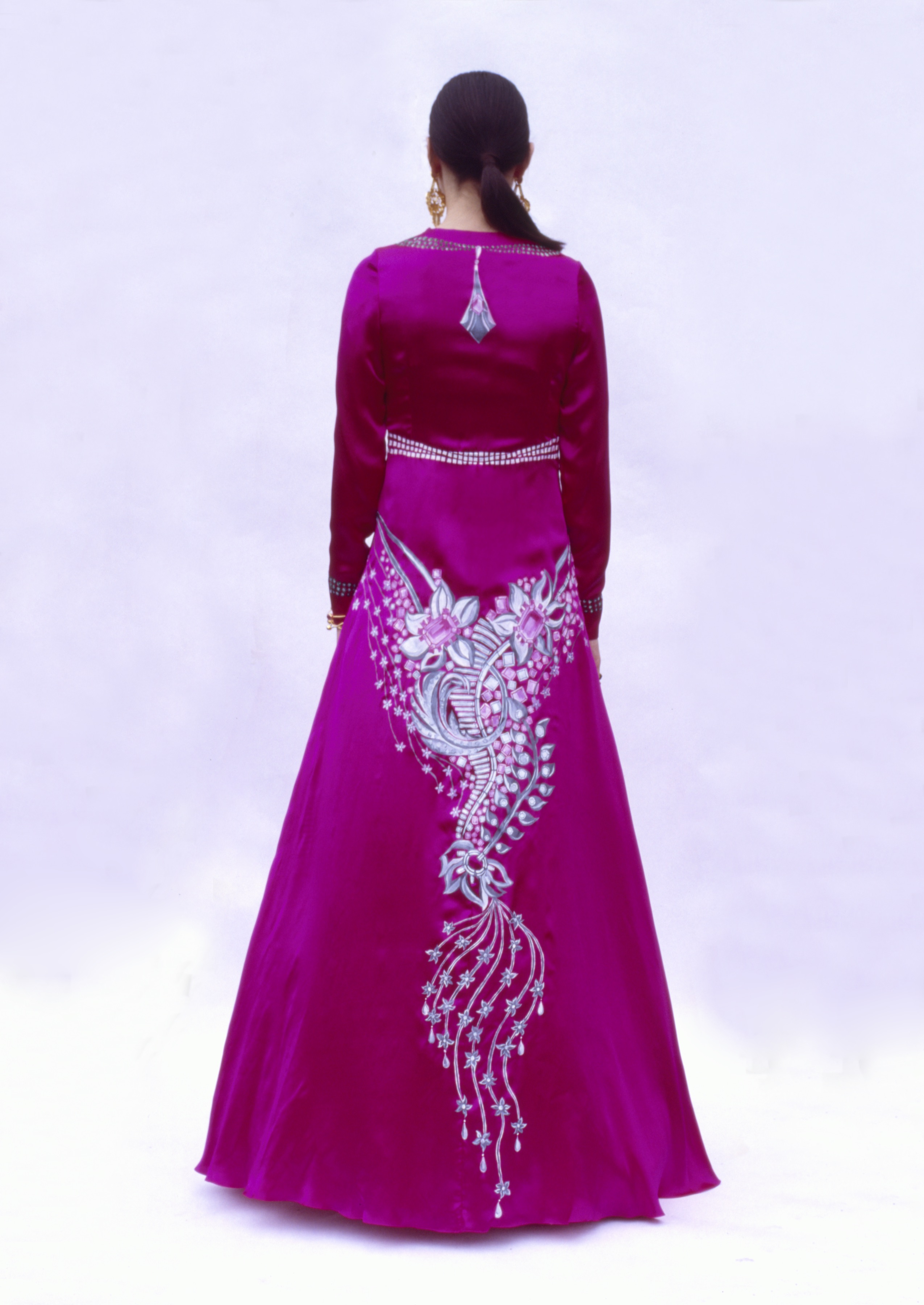 ---

'I swooned over the idea of a dress as a painted canvas. With Holly, art and fashion collide.' —Samantha boardman, m.d.

---
To prepare for the creation of Dr. Boardman's dress for the Met Gala, Ms. Fowler toured the museum's Asian galleries, studying porcelains and Ming dynasty vases. "The Chinese put so much emphasis into the painted images on their work," she said. Visits to Dr. Boardman and husband Aby Rosen's Upper East Side home for dress fittings provided an additional trove of inspirational ideas. "When Holly first came over to talk about the dress," said Dr. Boardman, "We didn't look in the closet for inspiration. We looked around the house at furniture and art instead. In our dining room there is a pair of 19th century French commodes with 18th century Chinese Coromandel lacquer panels, with a design motif that we loved for the dress." Following these paths of inquiry, Ms. Fowler rendered in her own specially mixed oil-based paint, a Chinese pictorial grammar of birds, chrysanthemums, plum blossoms and peonies. The front of the cape displayed a crown and the finely painted lines that striated down and fanned out at the hem represented a flow of energy from earth to sky, a beautifully mystical tableau Ms. Fowler felt narrated elements of Dr. Boardman's persona. As an artist who works closely with clients to realize their imaginative powers, Ms. Fowler places a premium on lived experience in her art. "I aim to represent a part of a client's life and what they want for their future," she added.
Designing a dress to traverse the hallowed corridors and galleries of the Metropolitan Museum during the gala was an invitation for Dr. Boardman to express and reflect her environment as she passed each object, absorbing its beauty and externalizing its significance through her outward appearance. "It's like bringing a canvas to life in which every angle of the dress is a canvas," Ms. Fowler explained. After the gala, Dr. Boardman echoed that view. "Seeing the clothes in the context that inspired them enhanced the experience for me," she said. "So many elements of my dress echoed in the works surrounding us. The exhibit took me into another world and the dress gave me wings to fly there."