A few years back, Arnold Lehman—longtime director of the Brooklyn Museum—was cruising the aisles at Art Basel Miami Beach and stopped short.
"This Mickalene Thomas was in a gallery booth and it literally stopped traffic," he told the Observer as we strolled through the halls of "his" museum on a recent afternoon. We were in front of Ms. Thomas' 2007 work A Little Taste Outside of Love, a nine-foot-tall, three-paneled painting of an afro-ed reclining nude female rendered in acrylic, rhinestones and enamel.
---

The director to a dealer at an art fair: 'You're holding that for the Brooklyn Museum, right?'

---
"I personally had acquired work by Mickey years before and thought she was a wonderful artist and we had nothing in the collection," he recalled. "I tried to skirt all the other people who were looking at this, there were a lot of collectors that I knew, and sort of ran up to the dealer from Chicago and said, 'You're holding that for the Brooklyn Museum, right?' She looked at me and said, 'Are you sure?' and I said, 'Oh, absolutely. I'm going to bring the donor, the person who's going to buy this for us, and I'm going to be back in a half an hour.' I ran to find that person—who was wonderful and bought things for us that we really wanted—she came in and said, 'Of course.' We acquired it that way."
That anecdote tells you a lot of what you need to know about Mr. Lehman, and why he's very different than the average museum director. He's passionately involved in contemporary art, not too snobby to be seen shopping at an art fair, and able to call upon donors to open their checkbooks swiftly. He is resoundingly not a "hands off" museum director.
---

'We are always thinking about taking a more global view … It's not a narrow-trade-route world.'

---
Mr. Lehman steps down in June after 17 years as head of the Brooklyn Museum. By virtually all accounts, he's beloved—even though he's ruffled a few feathers over the years. He made headlines and divided the city when he made a foe of Mayor Rudolph Giuliani with the display of Chris Ofili's Holy Virgin Mary (1996), a painting featuring elephant dung and pornographic imagery, in the 1999 exhibition "Sensation: Young British Artists from the Saatchi Collection." Criticism also rained down on the museum for its relationship with the British collector. In 2004, a renovation project gave the museum's Beaux-Arts entrance a modern facelift, and, in 2008, protestors chanted "Brooklyn Museum Sells Out!" outside the building as the museum gave an award to Atlantic Yards real estate developer Bruce Ratner. Then there was that controversial decision to transfer the museum's famous costume collection to the Metropolitan Museum of Art's Costume Institute.
But through it all, he's endured, and will be missed. His departure is being marked by the special exhibition "Diverse Works: Director's Choice, 1997-2015," a selection of 100 objects from the stunning 10,000 or so that were acquired by the museum during Mr. Lehman's tenure. The show spans thousands of years of art history, from the museum's world-renowned Egyptian collection to its growing holdings of contemporary art by women and artists of color.
We walked through that show with him, as it told a tale not only of 17 years at a museum, but 17 years of a life surrounded by art.
Tell us the story of some of these objects. Were there some that really were the "Director's Choice," that you proposed the museum should acquire? 
Sometimes, on the rare occasions I have enough time to go to the galleries or other museums, I'll propose objects. Sometimes there's push back there. That's not really the director's job.
We're in front of at least two objects that I proposed. There's Mark Bradford Jheri Now, Curl Later (2001), because I happened to be in his very first gallery show in New York and I fell head-over-heels in love with that painting. It's made with curling papers. He worked at a salon that his mother and aunt ran in South Central, L.A. My only mistake is that we didn't buy everything in the show. If I wanted to acquire that today, we would be looking at 20 or 30 times what we paid for it originally.
In the room straight ahead, there are a large number of Kehinde Wiley paintings. I was at an exhibition that a dealer had organized for a then very young Kehinde Wiley who nobody had heard of. I happened to see his show at the Studio Museum of Harlem in the early 2000s. I thought those paintings were fabulous. At the exhibition I walked up to the dealer and I said, "We want that one and that one." And he said, "Wait, I have holds from individuals on these," and I said, "What's more important? The work in the museum or the work with the individual?"
I think the first time I ever saw his work was here.
That is important—for the artist and the dealer as well. So, we have Pepón Osorio, the great Puerto Rican installation artist. [Mr. Osorio's sculpture Fear and Denial (1997), features two larger-than-life orange cats on top of a table covered with a white cloth. Two large pendants are fixed to their chests, connected by chain, which read "Fear" and "Denial."] I saw these at either Art Basel or the Armory Show. There was always a crowd around them and I was just knocked out by them. They're quirky, but so are some of my tastes, and they are incredibly unique.
We actually had them in the lobby when we first acquired them and there were a lot of people who were afraid of them. It wasn't to all of our curators' tastes, I have to say. But, I think at this point, they're kind of a signature, and they're not seen very often because they have a fragile exterior. When they do come out, people are drawn to taking photos.
Has organizing the show brought up memories for you?
Huge memories. We try very hard to acquire an object from every temporary exhibition, if there are objects that can be acquired. In the other room, there's this wonderful [Luigi Lucioni (1928)] portrait of Paul Cadmus, who's the great American painter from the 1920s and 1930s. It's the most sensitive, beautiful painting. We acquired that and it became—over a period of three or four years—a centerpiece of our great show called "Youth and Beauty" about those two issues and how they informed the whole American arts scene.
This little wonderful Indian work brings back memories of the donor. [An ink and gold watercolor on paper depicting two riders atop stalling elephants, mid-17th century]. That was Bert Schaffner. He was a non-trustee who sat on our collections committee, which was very rare, and he was an incredible collector of Indian art. This is an object he proposed as a gift that everybody loved, but to me the reason it is here is because of Bert. It's not just about the objects … it's also about where they came from.
Have there been money issues surrounding acquisitions? Have you run into issues where funds were really tight? Or years when more objects were coming in because your budget was larger?
You know, that's a terrific question. And it points to many different issues that are front-and-center for museums. We never have sufficient budgets for accessioning and for purchasing objects. At the same time, there are many areas which have grown in value so dramatically that they are beyond our means. For instance, Impressionist and Post-Impressionist painting. We collect only by gift at this point. Certain areas in contemporary art are very far beyond our means to collect by purchase. That doesn't mean we don't still collect, but it's often because people have made a gift of it or we want an object really badly and we will go to a person, or more than one person, to talk about if they would help us acquire an object. Sometime you will see on our labels name after name.
Other things that have allowed us to do a lot of acquiring over the years is we have many restricted funds and endowed funds, some have been at the museum for a hundred years or more.
For instance, there will be a fund to allow you to buy ceramics and that is a restricted fund from the 1920s. Then, they probably wanted to buy a lot of teacups, now we might use that to buy a ceramic piece by Rachel Kneebone … which is one of the most beautiful works in the exhibition here. [A white porcelain tower of limbs and vegetation, piled atop one another like tiers on a cake].
How does the museum go about adding a work?
We don't seek out objects to fill holes, we seek objects that tell a story. When something is proposed for acquisition by a curator, it first goes through our chief curator. Then it's often discussed with a larger group of colleague curators because we encourage collaborative acquisitions.
The important objects, because of their high value or the high cost of purchasing them—because they have come with a sort of complex issue—will come to me. Once I approve, then it goes to a meeting with the collections committee of the board of trustees, held four times a year, where the curators present the individual object. Usually a very strong case is made. Then the committee makes a decision to approve. It could take three or four months before an object actually goes through the process.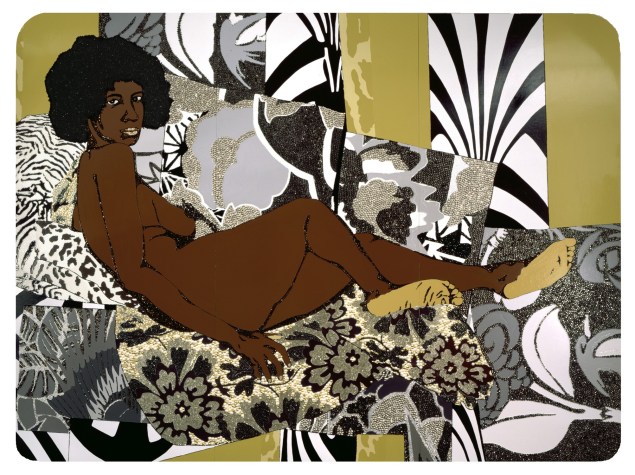 Typically, what kinds of objects does the museum look for?
Every time we make changes in the galleries, we are always thinking about taking a more global view, a way to let our visitors know that there are influences from all over the world. Persia provided so much design influence in China, in Iran, and then to Europe. All that blue patterning…[he gestures at a tile work on the wall] it's not a narrow-trade-route world.
You manage to get out and go to art fairs. How often does a work from a fair make it into the museum's collection?
I go to art fairs to look at art but mostly to talk to people who are important to us, whether they are trustees or artists or donors. It's hard and takes me about five times as long to go through a show as it takes any other human. One of our curators, in a booth far away from me, saw the skateboard work by Mounir Fatmi in the other room [Maximum Sensation (2010)] and said, "You have to hold this. I don't know where the money is coming from, but I think I saw the director over there and he will be here in fifteen minutes." They already had about a dozen people who wanted them. The joke is that it took them 45 minutes to make me walk 45 feet to get to the gallery to say, "Go ahead, we'll take them and we will figure out how to get the money for it afterwards." It's also a burden on the dealer because they have to wait all these months for the final approval.
Arnold, I understand the piece we're sitting next to is one of the newest additions to the collection?
You are sitting right next to a magnificent, standing 1500-year-old Buddha from China, which was a gift at our last collections committee's meeting. I've known it myself for years because it sat in the board room's conference room, at the Arthur M. Sackler Foundation, where I would have meetings or visit and always look at this object, sort of wishing, "Mmmm, one day wouldn't that be lovely if that came to the museum."
You may know that the chairman of our board is Elizabeth A. Sackler, who is the head of the Sackler Foundation, and just became head of our board this past July. She and the other members of the Foundation decided to give us this object, and I have to say I'm a little embarrassed, but they gave it in my honor.