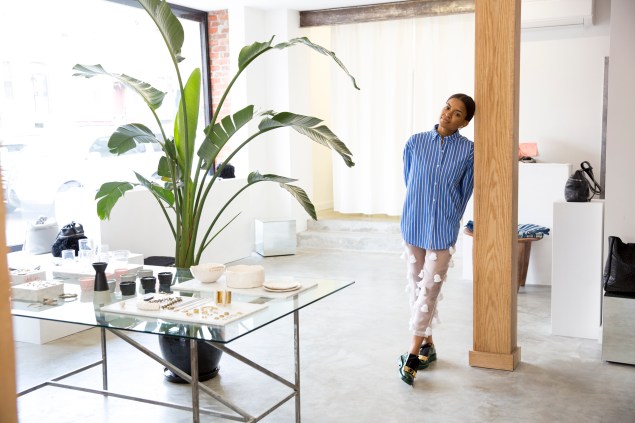 On a street dominated by delis and laundromats, a concept fashion store stands out with its clean white-washed walls and fur-draped chairs that aren't for sitting on. Sincerely, Tommy, which launched in the once troubled Brooklyn neighborhood of Bedford Stuyvesant, is a strange juxtaposition for a part of the city better known for its "Do or Die" history of crime rate than its fashion aesthetic.
The boutique, which opened on Tompkins Avenue last year with an in-store coffee counter, is the only one of its kind in Bed-Stuy earning owner and lifelong Bed-Stuy resident, Kai Avent-deLeon, the title of fashion pioneer. Hand-picking pieces from the world's best emerging brands that aren't carried in New York City or even the U.S, 26-year-old Ms Avent-deLeon has a strong idea that's a hard sell in an area people would rarely choose to go for their shopping. But she's not perturbed and says she chose this area over SoHo to showcase not just new designers but an underserved community that has yet succumbed to the gentrification that has swept over other parts of Brooklyn.
"There's definitely a disconnect between what we're selling, even in the cafe," she said. "It's not something people in the neighborhood are used to." But, Ms. Avent deLeon says, "it's kind of unfortunate to live in the neighborhood that only offers one thing. We should have options and those options should come from within."
Sincerely, Tommy, she says, already has a steady following despite being off the beaten track, with most of her customers coming from WIlliamsburg, Bushwick and Park Slope for the store-slash-cafe's mix of up and coming designers. Taking inspiration from her recent travels to Morocco, Ms Avent deLeon's Spring/Summer inspiration of plants, textures, natural fibres and loose, comfortable clothing—the kind you want to wear during New York's hot, sticky summers—dominates. Budapest-based womenswear line Nanushka offers a pastel and rust orange color palette, psychedlic prints and tailored shorts, while Loza Maleombho, a designer from the Ivory Coast, showcases splashes of lime-green in a palm-tree print and a sprinkling of navy with Mataano, a line designed by Somali twins Ayaan and Idyl Mohallim.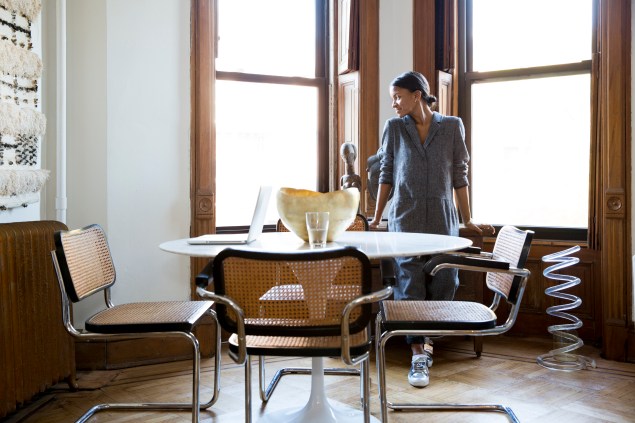 But with most of the futuristic garments selling from $200, minimum, moderately priced to the fashion community, but high-end to the locals, Ms Avent-deLeon's challenge now is to convince the neighborhood to walk in and buy.
"The focus now is to make sure that people in the neighborhood know about us. It's a learning process. I don't put a lot of pressure on myself because it's a lot of trial and error."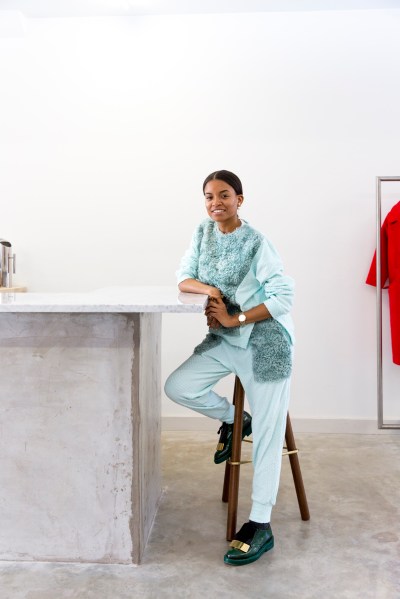 The store's online sales, mostly from Japan and New Zealand, have helped push revenue, and the coffee counter helps keep the store "pretty consistent." "Everyone needs coffee," says Ms Avent-deLeon. "But people don't need clothes per se, there's options." A series of Summer events are planned in the coming months, when Sincerely, Tommy, will celebrate its one-year anniversary.
A couple of yards away, the owner of a pop-up store selling African-inspired clothes, jewelry and furniture is hopeful. Atim Oton, the Nigerian-born owner of Calabar imports says Sincerely, Tommy "is what it is." "The notion that it has to be on Atlantic Avenue or Smith Street is discrediting Harlem and Bed-Stuy. She's ballsy, but we should celebrate her ballsy-ness."