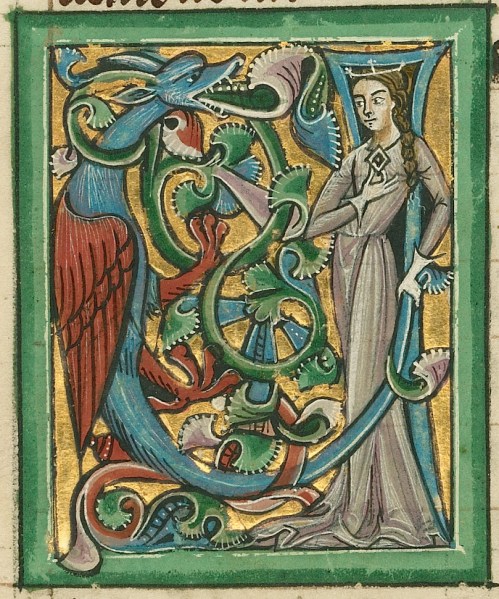 Each Monday, Game of Thrones recaps flood the Internet, but the J. Paul Getty Museum of Art's are probably the most creative and historically accurate—at least if you count yourself a fan of art history. Getty Media producer Sarah Waldorf and manuscripts curator Bryan Keene have been rolling out recaps of Season Five on the museum's Tumblr, telling each week's narrative through items and imagery from its collection of medieval art. The result is a brilliantly fun tour of art and a unique analysis of the real historical inspirations for scenes and settings of the show.
"It's a way for us to look really creatively at the manuscript collection, share images that have never been shared, and entice people to look for the first time."
Recaps have featured pages from illuminated manuscripts, medieval Christian iconography, European painting from the era, and a wide array of decorative arts.
"With each preview, I try to jot down some things from the book I know are happening," said. Mr. Keene. He's read all of the books and it's safe to say his expertise well extends beyond manuscripts. "While watching, I've got the Getty's collection pages open on my computer, and I'm constantly searching images that will be good. I take at least two pages of notes on what happened, the major characters that appear, and recurring tropes that are mirrored in the artwork from the collection."
Mr. Keene pointed out that the Game of Thrones Universe is ripe with real historical influence, most often sourced to the England's War of the Roses. But cities like Meereen call to mind the Muslim conquest of North Africa, Winterfell nods to the history of the Anglo-Saxons, and references to the 12th-15th century Iberian peninsula and the Ottomoan and Persian empires are woven into the mix. (In 2014, Ohio State University even hosted a day-long conference for scholars and fans about the historical and cultural themes explored in the book.)
The Getty's Tumblr currently boasts 220,000 followers, and the recaps have been among its most popular. Other Game of Thrones-related posts have included "Medieval Reading for Our Favorite 'Game of Thrones' Characters." For Arya Stark, Mr. Keene suggests The Flower of Battle (Fior di Battaglia), a guidebook for weapons fighting. And for Joffrey Baratheon (who we not-so-sadly said goodbye to at the end of season four), it may have done him some good to consult Feudal Customs of Aragon, the especially harsh law code established by King James I of Aragon.
A wildcard image is added from a different museum's collection each week. Last week, a print from the Museum of Fine Arts, Houston depicting the apocryphal story of Phyllis and Aristotle was used to reference the deadly whip skills of Prince Oberyn's bastard daughter Nymeria.
"We have lots of dragons in our collection, but our collection is finite. This was one way to encourage collaboration beyond the Getty, and look cross-culturally. So, we set up a list of things we wanted to look for in other collections, like women in power, even more dragons, and images of violence."
Below, the Getty's full recap of Season Five, episode four, "Season of the Harpys," in which so far(spoiler alert!), Cersei schemes, the adolescent King Tommen realizes he has no power, we meet the Sand Snakes, Sansa gets in the game, Jorah ferries Tyrion to meet Daenerys, and Ser Barristan and Grey Worm are ambushed and severely injured. Notice anything familiar? Cersei Lannister's goblet perhaps?
All of the images in the collection are accessible through the Getty's Open Content program, free of charge.