On Sunday night, I saw one of the best shows I think I've ever seen. Mexrissey, a Morrissey tribute band comprised of some of Mexico's leading musicians, rocked BAM for the final show of WYNC's RadioLoveFest Festival. They sang only Morrissey songs—from the Smiths years and the solo years—in Spanish, and rearranged to the distinctly Latin beats of ranchera, mariachi, danzón, mambo, norteño, and cha cha cha—and of course, rock. The result was nothing short of extraordinary.
Morrissey—or as the well acquainted prefer, Moz—is perhaps best known as the lead singer and songwriter for the U.K. rock band the Smiths, but has gone on to have a highly successful solo career in the years since. Who are his fans? Well, a large swath of his most devoted happens to be Mexican and Mexican-American. He knows it, they know, and it seemed inevitable that they'd produce a love child at some point.
Mexrrissey is just that. It's lead by Mexican producer Camilo Lara of the electronica group Mexican Institute of Sound (MIS). Inspired by his own love of for the singer, he reached out to some of the most talented musicians in the game, all of who were more than willing to play. Joining Mr. Lara on stage was French musician and actor Adanowsky; producer, singer, and jack-of-all-trades musician Jay de la Cueva, who has played with the likes of Micro Chips and Fobia; L.A.-based Ceci Bastida, of Tijuana No, whose album The Age of Violence has garnered her critical attention; Sergio Mendoza of Calexico, and a rotating cast of many more.
I've known for a while about Morrissey's Mexican fanbase, even heard about the annual Morrissey tribute concerts on the West Coast. The phenomena was first written about at length in a 2002 essay for Spin by Chuck Klosterman, and has been dissected by many others since, and in 2014 Gustavo Arellano beautifully broke down the Mex-Moz musical connections song-by-song for OC Weekly.
But Mexrrissey is next level. They are not a cover band. In case you haven't already read that elsewhere, I'll just repeat it, because it's that important to note.
The first track, "Cada Dia Es Domingo (Everyday Is Like Sunday)," was sung with a smoky voice by Ms. Bastida, who added a flair of punk grit as she danced across the stage. It didn't hit me right away; in fact, it took a few moments to find the familiar melody while I attempted to translate the lyrics in my head. A similar realization spread like wildfire across the crowd at the beginning of each song, and reactions ranged from laughter to jumping to wild dancing to screams and tears. Ms. Bastida played keyboard for a large duration of the show, but her big number later on was "International Playgirl," a tongue-in-cheek gender play on Moz's "The Last of the Famous International Playboys."
Mr. de la Cueva sang a majority of the songs, from "El Chico de L'Espina Clavada (The Boy With the Thorn in His Side)" to "Dime (Ask)" and "Mi Novia Esta En Coma (Girlfriend in a Coma)" to "Estuvo Bien (Suedehead)." His voice was a perfect compliment to Ms. Bastida: flawless, soft, and unwaveringly sweet. He delivered a powerful rendition of "Girlfriend in a Coma" that would have made Moz proud, as he sang "Mi novia esta en coma/I know/I know/Es muy serio," crooning the last line through the reverb as the crowd erupted in joy.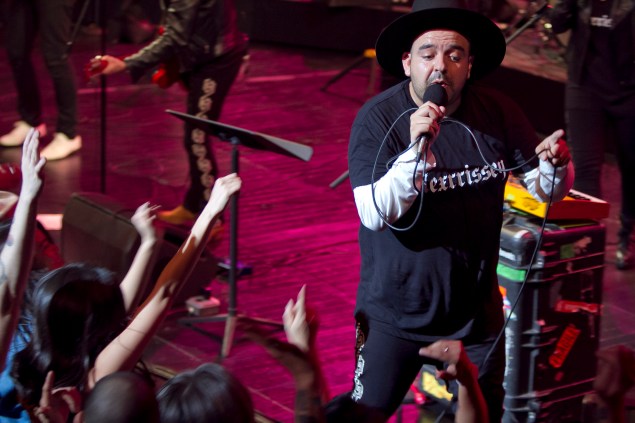 That song, and many of the others, playfully swirled English and Spanish translations of the songs with pop cultures references, humorous plays on words, and Mr. Lara's own take on Moz's often-opaque lyrics. With "Ask," instead of the Bomb bringing us together, it was "La Bamba." And just how does one translate "Suedehead"? Mr. Lara had a hard time with that one, and settled on "Estuvo Bien."
My emotions may be punctuated by the fact that it was a totally singular experience—there is no album for me to download (save for two songs on Soundcloud), no future tour dates to look forward to. What I heard Sunday night exists by itself for the moment, and I was lucky to be a part of it. There was laughing, there was a little crying, and now I see Moz in a whole new light.
For a taste of Mexrrissey, a sampling of their performance at the Barbican in London in April 2015 below: