Painting wasn't exactly what I'd planned to do today, but that's what I did within the first hour of walking through Frieze New York. Dressed in my finest—because that's what you do on VIP day—I stumbled upon a true happening unfolding at the Gavin Brown's Enterprise booth, and made $20 painting a black dot.
Artist Jonathan Horowitz has set up a painting workshop and is recruiting fairgoers to create 700 paintings of black dots on white canvases. Mr. Horowitz has done multiple iterations of the project over the last two years, the final number of paintings contingent upon the amount of space given to exhibit the work. It just so happened that Booth B38 has enough room for 700 12-by-12-inch white canvases.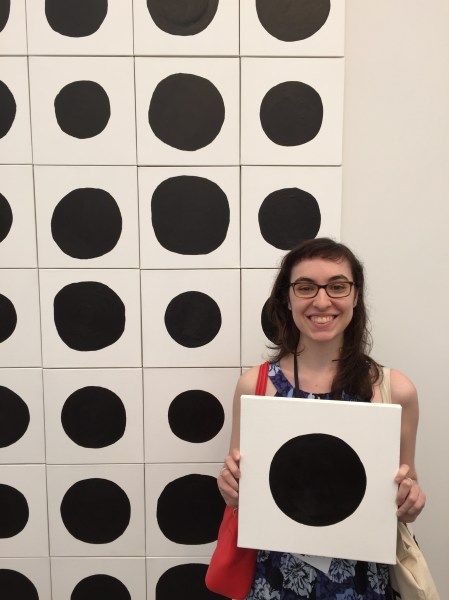 I was ushered to my seat to join collectors in suits and dealers in summer skirts at a long folding table. The table was stocked with brushes of all sizes, jars of acrylic mars black matte paint, napkins, and cups of water. My helper gave me the spiel: I was to paint an eight-inch perfect black dot on the 12-inch canvas. The surface had to be flat, and the edges had to be crisp. I could use nothing to measure or aid me in my mission. I could use the water to clean my brush, but I was not to water down the paint. I'd have 30 to 40 minutes, and he'd come check on my progress and let me know if I was on track and when my dot was perfect enough to make the wall. (A gallery attendant on a ladder was hanging barely dry paintings behind us).
Firstly, the whole "you can't water down the paint" thing is ridiculous. I won't be constrained by my materials, thank you very much. But OK, I'll play along, but I recognize this as a ploy to make the end result harder to achieve. I started with a wide flat brush. I figured I'd fill in the bulk of it faster this way, and map out the general shape.
My strategy worked beautifully, and within five minutes I felt pretty done. But the painters around me seemed to be spending a good deal of time perfecting their edges, and in the interest of the exercise I decided to spend some more time. I worked on layering black paint to the interior of the dot. With thick paint—especially acrylic, which drys fast—it's pretty tough to get a smooth surface without the aid of water. After a while, the repetition of painting the same area became relaxing—hey, I could do this all day!
When the interior seemed thick and smooth enough, I switched to a smaller, pointed brush for the edges. This would be my key to success, my golden ticket to the perfect black dot. Carefully, and slowly, I turned the canvas and painstakingly touched up the edges. I snapped a photo. Perfection! Grumbles came from the side of me.
"I'm over this," a man to my right told me. "Yours turned out really well. What did you do?"
I shared my multi-brush technique with him. Anything to game the system.
Another helper asked me if I was happy with my dot. I was, I did pretty well for being so rusty with a brush. The painting was whisked away, next in line to get added to the wall. I signed some formal paper work regarding my participation, and was handed a hand drawn check by Mr. Horowitz for $20. I'm assured the bank will take it, but if not, someone owes me cash for labor. And Damien Hirst, I'm around if you need me.