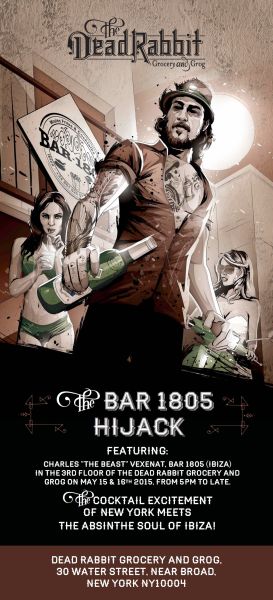 Named for the date it officially opens each season, Bar 1805 (which in the US would be 0518) is the hottest spot on the Mediterranean party mecca of Ibiza. Not that you need to be on any kind of list to get in, or are likely to rub shoulders with the A-listers who now flock to the hedonists' holiday hotspot.
Tucked away in the shadow of Ibiza's historical Dal Vila in the island's Old Town, 1805 is an islanders' place—and as we all know, where the locals drink is where you really want to drink. And now you can sample the vibe for yourself when proprietor Charles Vexenat brings his D.I.Y. vision to NYC for a two-day take-over of Wall Street institution The Dead Rabbit this weekend.
Friday and Saturday night the charismatic Frenchman, an award-winning mixologist with a penchant for absinthe, will be manning the bar himself, standing in for Irish owners Sean Mulddon and Jack McGarry.
"They first invited me to guest bartend when they were running The Merchant Hotel in Belfast," he remembers. "It's becoming more and more common for bartenders to swap places for a few shifts to show off what they do at home. I like to call it a hijack."
So what exactly will M. Vexenat be showcasing this weekend? Promising a revamp of the space itself, "I'll bring a few Ibiza faces too," he says, name-checking celebrity tattooist Neil Ahern of island outpost Incadelic (he's inked Naomi Campbell and Kate Moss) and author of authentic guidebook My Ibiza & Formentera, Hjordis Fogelberg.
Of course, it's really all about the drinks. Sponsored by Pernod, the brand will have its place – but as always when M. Vexenat is around, it's absinthe that steals the show. His specialty is a lethal punch named the Green Beast (absinthe, lime, sugar, water and cucumber), while a new concoction for summer '15 is the Absenta Colada (absinthe, watermelon, coconut cream and a pinch of salt).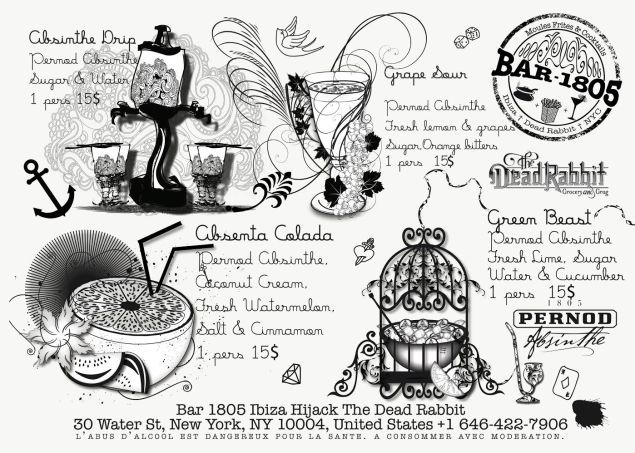 All to be soaked up with a bowl of Bar 1805 Ibiza's signature Moules Frites (you save the fries until last and then tip them into your leftover sauce), and served to a soundtrack of what M. Vexenat describes as "gypsy jazz."
The Frenchman first experienced the NYC bar scene guesting at the then fledgling PDT in the East Village several years back. "That opened my eyes to a whole new bar scene concept, as hidden speakeasy bars were booming at the time," he remembers. And as for whether his Ibiza posse will out-party us New Yorkers: "I think New Yorkers know how to party – and if not, I'll teach them!"
Bar 1805 hijacks the Dead Rabbit from 5pm on May 15th and 16th. 30 Water St, New York, NY 10004. http://www.bar1805ibiza.com/