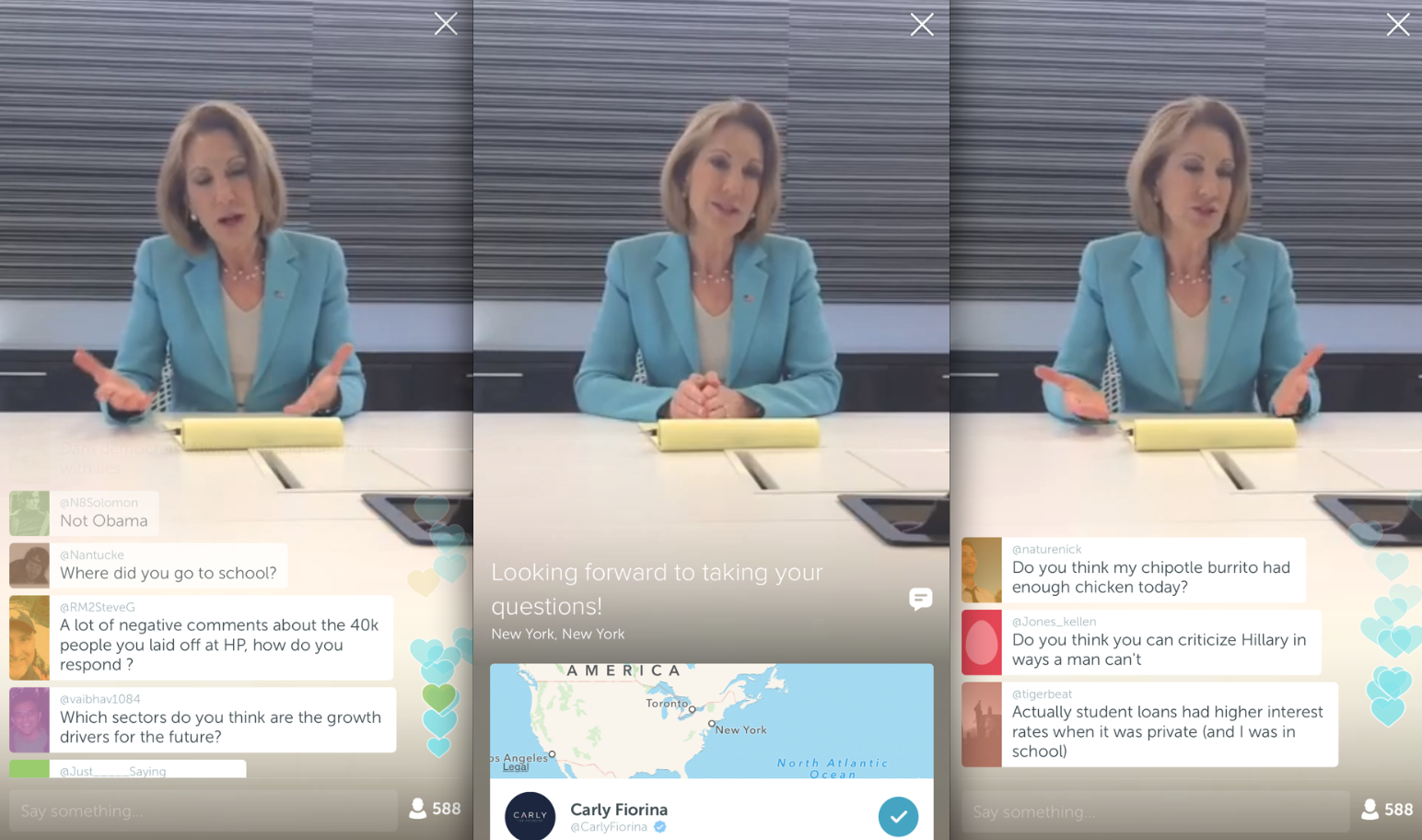 Every time someone turns on Periscope to stream a live news event or major media spectacle, someone finds a way to declare it the future of Periscope, live-streaming, technology, humanity, whatever—even if it makes no sense as a practical application of mobile streaming. But the thing all of those Future-of-Periscope articles miss out on is the only thing people actually care about on Periscope: personalities. Human beings. Real people.
Yesterday, former Hewlett-Packard CEO Carly Fiorina finally announced that she will run for the presidency. Only a few hours later, she announced that she'd be doing a Periscope Q&A:
Sure, most of the questions were either troll-y or terrible, and went completely unanswered. And sure, Ms. Fiorina had a campaign staffer hold the phone and curate the conversation instead of going directly to comments and staring into the camera in her own hands.
Still, It's a relatively brave move—the Observer has spoke with marketers, flacks and corporate shills who wouldn't let their clients get anywhere near a live-streaming platform. Just the idea that someone might sully an otherwise pristine feed of their candidate with something as inane as "Do you think my Chipotle burrito had enough chicken today?" or as sobering as "A lot of negative comments about the 40k people you laid off at HP, how do you respond?" is enough to launch 1,000 panicked emails through through the hallowed halls of any in-house PR department.
But if Periscope wants to hold onto its momentum, this is the exact sort of ideal use-case they should focus on. Periscope is at its best when the audience can come in, see real people and reach through the camera to dig in and provoke them. Where most politicians are manically managed, scripted and molded, Ms. Fiorina opened herself up to be manipulated and surprised by an anonymous crowd. If Periscope wants something to drive downloads more than a media hype-cycle, that's precisely what they could use.
Finally getting around to dropping their Android app wouldn't hurt, either.