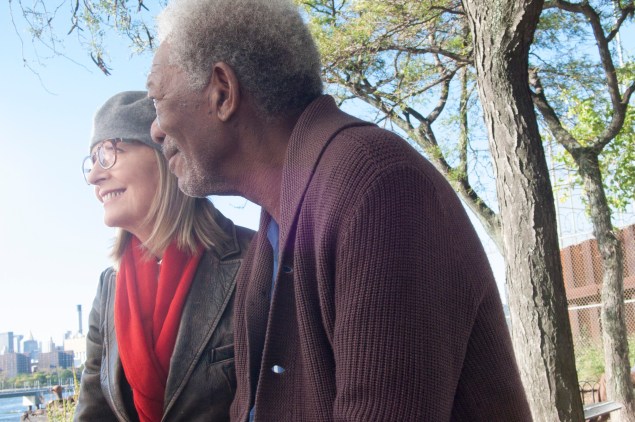 5 Flights Up is a slight but ingratiating movie about love and real estate. Slight because nothing dramatic, traumatic or consequential ever happens, but ingratiating because it stars two very far from ordinary people—Diane Keaton and Morgan Freeman. That's worth the price of any admission, any time, anywhere.
---

5 FLIGHTS UP ★★★
(3/4 stars)

Written by: Charlie Peters
Directed by: Richard Loncraine
Starring: Morgan Freeman, Diane Keaton and Carrie Preston
Running time: 90 min.

---
The theme is the high cost of living in New York City and the overwhelming odds against changing it for the better any time soon. The two dynamic above-the-title lures play Ruth and Alex, married for 40 years, and tired of living in a five-floor walk-up in Brooklyn. She's a retired teacher, he's an artist, and they met when she was a student earning extra money for college expenses by doing part-time modeling. He hired her to pose for a painting one day and she just sort of stayed forever. That was back in the day, when interracial couples had problems. (In flashbacks, we see her family's objections: "What about your children?")
But times have changed. The old crime-riddled neighborhood of Williamsburg is now chic, instead of children they have an ailing 12-year-old dog that needs a $10,000 spinal operation, and the flat they bought for $5,000 is now worth a million (probably a conservative estimate in today's housing market). That kind of sale could net enough money to finance a move to Manhattan, a comfortable old age in an elevator building with a doorman and closer proximity to Zabar's. Despite the fact that their old home still has five flights of stairs to climb and one of the selling points is a view of a bridge that is gridlocked in traffic from a stalled truck the media is playing up as an act of terrorism by a man from Uzbekistan, prospective buyers are standing in line.
And so the ordeal begins as the broker from hell (Ruth's niece, played crisply and obnoxiously by the excellent Cynthia Nixon) drags a motley parade of shoppers and browsers looking for free wine and cheese through the home they love—people who hate the fixtures, demand crown moldings, make rude remarks and bring their dogs and their brats along for their reactions.
A once-contented life suddenly turns into a succession of offers, insults, open houses, counteroffers, cellphone interruptions and bidding wars. Like so many New Yorkers (including myself), Ruth and Alex count their blessings (he's got a perfect studio already; she will miss the garden on the roof where they grow tomatoes), cut their losses and lock their doors. The only one who goes up in flames is the aggressive realtor, who will never forgive her Aunt Ruth for wasting her time and cheating her out of a hefty commission.
Better films about senior citizens displaced by a greedy housing market have been made. (Anyone for Vittorio De Sica's Umberto D, or Ira Sachs' recent heartbreaker Love is Strange, about a homeless elderly gay couple?) But the humorous script by Charlie Peters (based on a novel by Jill Ciment), fluidly directed by Richard Loncraine, makes this an agreeable experience. It's good to see first-rate artists devoted to a film that doesn't pander to an unsophisticated audience with a thirst for violence and smut. It's unsettling to realize Brooklyn is as expensive now as Palm Beach, but you can't go anywhere anymore. You might as well stay home.