NORTH BERGEN — The race here was destined to go negative since day one, but the insanity arguably culminated on Saturday, at a North Bergen Public Library-sponsored Taste of India event off Kennedy Blvd.
A stubbornly grandfather-like figure who makes it a point to attend every little league awards ceremony, incumbent Mayor Nick Sacco had just come from the North Bergen Recreation Center, where he had spent the morning taking pictures with 5 and 6-year-old participants of the town's T-ball program. Parents sat in bleachers watching as coaches announced each child's name and the incumbent handed out, one by one, small plastic trophies.
Across town, on Bergenline Ave., a loud and animated rally was underway for Sacco's challenger, local businessman and longtime establishment agitator Larry Wainstein. Horns blared and Latin music emanated from the open windows of cars gathered in the lot, and supporters crowded Wainstein as police showed up to issue summons and noise violations, shouting "Larry, Larry."
Forced to disperse but still hyped up on pre-election day excitement, and with their cars still bedecked with campaign signs and colored balloons, the rally-goers formed a caravan that eventually made it's way to Sacco's next stop: the Indian-themed event outside the Kennedy Branch Library, where residents gathered to nosh on tandoori chicken and naan and watch young women dance the Bharata Natyam. The mostly tranquil affair was momentarily disrupted with the arrival of vehicles plastered with Wainstein's face, honking and shouting as they swarmed the venue.
It was a prime example of exactly what sort of race this has become — one full of dramatic confrontations, defined by comic press releases, and fueled, mainly, by vitriol.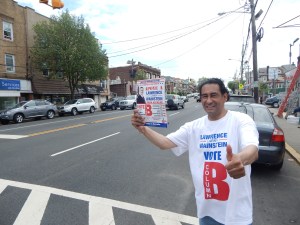 Today, the two team's are at it again, though supporters on both sides have managed to remain relatively civil in the sweltering heat that has swept this North Hudson borough on election day. Both Wainstein and Sacco have taken to the streets to tour polling places and press the skin of voters, while canvassers can be seen posted up on street corners, dishing out campaign literature and waving signs with their respective candidate's faces printed on them.
The most action seems to be taking place on John F. Kennedy Blvd., a street that runs north-south along the steep Hudson Palisades that give North Bergen its sloping topography. White shirts (Wainstein supporters) and yellow shirts (Sacco supporters) speckled sidewalks on both sides of the route, lightly patrolled by police who say they've had to respond to only a few incidents. One group of officers, for example, were forced to take down a Wainstein campaign poster after it was tied to a nearby stop sign.
David Toledo is a particularly enthusiastic Wainstein supporter on the beat today. He is the president of the Peruvian American Coalition of New Jersey, a political action committee that is supporting the mayoral hopeful in this year's election. Flagging cars with his "Larry Wainstein For Mayor" campaign sign, he explained to PolitickerNJ why Wainstein is his — as well as his organization's — choice.
"We are supporting Larry because he's a wonderful option for the city of North Bergen. He's been working for the population for a long time, and his commissioner slate is a good body of candidates — one is Peruvian, another is Colombian, another is Dominican," Toledo said. "So they know the people who live in North Bergen. They are in contact with these people, and they know the needs of these people. And that's important for change."
Toledo's testimony highlights one of the major ideological divides, seemingly driven by demographic changes North Bergen has undergone over the past several years, between the Wainstein and Sacco camps. Home to a continually booming immigrant population, North Bergen ranks third among those New Jersey cities with the largest Hispanic populations, with its Indian and Arab population growing quickly as well.
Toledo suggested many members of these communities, most seeking a change in the status quo, see a Barack Obama-like hope in Wainstein, the son of Argentinian immigrants who speaks both English and Spanish. Wainstein is the founder of North Bergen Concerned Citizens, an advocacy group through which, he claims, he's worked to increase the number and quality of social services offered to residents.
"After 30 years, with Sacco as mayor, we feel that we need a change. Like Cuba — 50 years with the same president, and they never change, never improve," Toledo said. "Something like that is happening in North Bergen."
Toledo's not the only one who's drawn the parallel between Cuba — which critics say has suffered under the leadership of former prime minister Fidel Castro and his brother, Raul Castro — and North Bergen. Ingrid Chilito, a native of Colombia who's lived in North Bergen for the past 15 years, also likened Sacco to the two Communist dictators, echoed critics who see him benefiting off a culture of cronyism and corruption.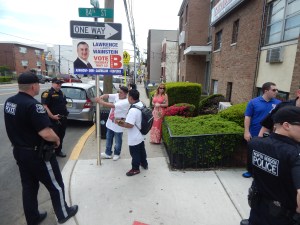 "The U.S. doesn't want dictators in Cuba or Argentina, why allow one here?," Chilito, who was present at Wainstein's car rally on Saturday, told PolitickerNJ. "I believe Sacco is a dictator, who has been in power for 30 years, and has three different positions. He's mayor, senator, and superintendent, and he's receiving a salary from each. How much money is he making? I noticed the change. Before, the streets were clean. Now I don't see the streets cleaned, it's a lot of mess right now."
Sacco supporters, of course, have a different opinion of their fearless leader. A state senator and former school principal who's presided over town hall for the past 25 years, Sacco has done a fair job keeping taxes low relative to surrounding municipalities and improving the quality of education in the local elementary and high schools, they say. He also makes it a point to show up at public events — such as Saturday's little league award ceremony and Taste of India event, they add.
"He's great for the town, he's always there. He's always showing his face," said Gretta Hernandez, a local mother who was at the ceremony this weekend. "The streets are clean when the snow is here. The schools are great. We pay small taxes, honestly, compared to a lot of towns around here. He's always here, and there's all sorts of sports. We love him here and want to keep him here. He's perfect."
Gladis Ibela, also a local mother and longtime North Bergen resident, concurred. She praised the local school system, classified by the New Jersey Department of Education as being in District Factor Group "B", the second-lowest of eight socioeconomic groupings, as well as Sacco's commitment to it.
"I've been here for 20 years, you know, and he's been a great mayor. Even for my daughter, who has been in the PEAK program since she was eight years old," she said, referring to a local school program for gifted and talented students. "There were a few parents [at the most recent meeting], and Mayor Sacco showed up to show support for the parents that were there. You know, you don't see that often."
One thing that has been clear over the course of this year's mayoral race, as attacks issued from both campaigns these last few weeks highlight, is just how ugly things have gotten. Asked if the negativity has impacted local residents, Hernandez said yes — but argued that it ultimately won't keep Sacco from securing another term when the polls close tonight.
"Everybody has gotten a sense of that," she said. "I just think it's going to be a piece of cake for him. We were able to manage the school board election, so this is going to be easy. Nothing to be worried about."