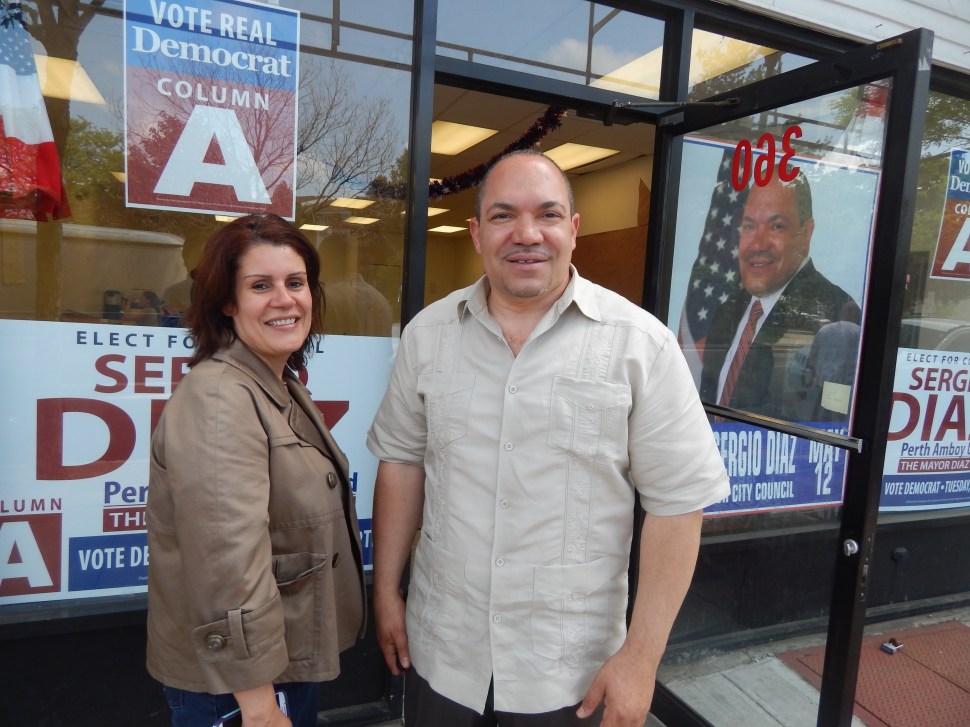 PERTH AMBOY – You can almost hear the ABBA soundtrack in the background in the earliest campaign trail evocations of the shared political lifespans of Mayor Wilda Diaz and former Councilman Fernando Gonzalez, but those guitar-accompanied revolutionary strains from the days when the two of them took on then-Mayor Joe Vas have soured and all their common chords for change turned into a bruising collision course.
After a superior court judge threw out some absentee ballots from last year's election and ruled a rematch between Diaz ally turned critic Gonzalez versus the mayor's candidate, Sergio Diaz, it comes down to tomorrow for Gonzalez, who's hoping to remain that lone dissenting voice on a council Mayor Diaz now controls 4-1 (technically 4-0 since the judge declared the seat in question vacant pending the election). Diaz wants to squeegee out of political existence the clinging remnants of that grumbling group otherwise known as her toughest critics.
For Gonzalez, the onetime grassroots animal Diaz has become the face of the new power structure, which is really just the rearranged order of the very Vas colossus they mutually once sought to overthrow. "It's actually worse now than it was with Joe Vas," said the councilman, irritated that Diaz is backing a man who formerly worked as a Urban Enterprise Zone [UEZ] representative for Vas. "It's an atmosphere of fear and repercussions around City Hall that's worse than it was with Vas."
He sat in his dining room in his home on High Street this afternoon with his wife and son, Daniel. "Their goal is to exercise pure control and have no dissenters," said the latter, who serves as his father's campaign manager.
Gonzalez wants to embody a different point of view for the people of the city, and is in fact running what he sees as the same kind of local, grassroots campaign he and Diaz once successfully ran against Vas.
They're eating punches in this cycle from a well-financed operation assisted by state Senator Joe Vitale (D-19), Woodbridge, a key Diaz ally, who's putting resources behind Sergio Diaz to once and for all clear the deck of Gonzalez, a move that could strengthen Diaz for a third mayoral run come 2016. "I see Wilda at this point becoming a puppet," Gonzalez told PolitickerNJ, referring to the influence wielded by Vitale, including an $8,200 special election contribution from the senator to council candidate Diaz, and an additional $2,000 check from Vitale's district-mate Assemblyman Craig Coughlin (D-19).
"On May 12th, we have the chance to elect a strong leader to our City Council with the candidacy of Sergio Diaz," Vitale, Coguhlin and Assemblyman John Wisniewski (D-19) co-wrote in a bilingual letter to voters.
While Gonzalez has been forced in this special election cycle to run his campaign out of his house, the establishment-supported Sergio Diaz possesses the financial support to maintain a downtown campaign headquarters, which hummed this afternoon as the candidate and Mayor Diaz (no relation) prepared for the final hours of the campaign.
Candidate Diaz said he's not a bossed candidate. "I grew up in this town," he told PolitickerNJ. "I've been here for over 40 years. Too many people know me. They know me through work and they know me through church. I am willing to work with everyone but that doesn't mean that I will follow everyone." He applauds the direction of the city under Mayor Diaz's leadership, recognizing a "strong lady with strong values."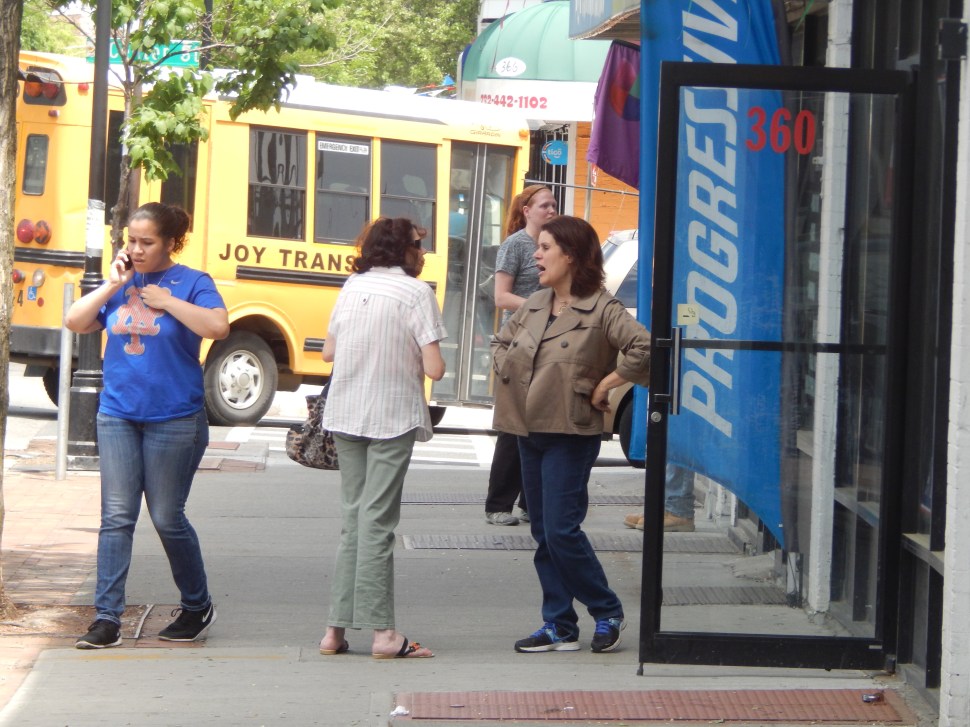 "I'm no one's puppet," added the challenger, who said he's more concerned about Gonzalez's unwillingness to denounce the actions of Gonzalez's ally, which led to the special election tomorrow in the first place.
Nine votes separated Gonzalez from Diaz in the 2014 election. Party Chair Leslie Dominguez Rodriguez backed Gonzalez. After the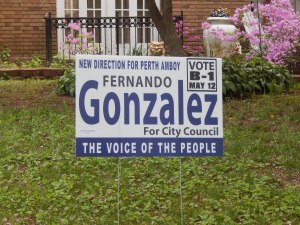 election, candidate Diaz, who appeared to have lost, filed a lawsuit, alleging that associates of his opponent perpetuated voter fraud to win last year's city council election. Having determined the illegal casting of at least 13 ballots., Middlesex County Superior Court Judge Heidi Currier ordered a new election to be held in 45 to 50 days. "A sad day in democracy," the judge proclaimed, noting her unhappy presence in an election meant for voters to decide.
"It would be very hurtful to me if someone did the same thing to my parents," said Diaz, before leaving campaign HQ for another round of campaigning in the wharf front city of 51,000.
Mayor Diaz remained in headquarters.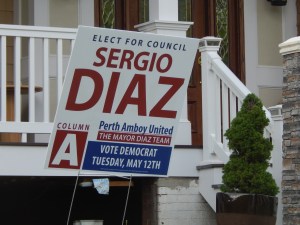 "Fernando Gonzalez came onto office being divisive," said the mayor. "He did not want to work with the administration and the council. This is a man who once recommended to me that we should let the city go bankrupt. This is someone who refuses to denounce a case of voter fraud perpetrated against the voters by one of his allies. He has more allegiance to those friends of his than to the voters of Perth Amboy."
Diaz defended her political alliance with Vitale, arguing that the relationship has produced good results for Perth Amboy.Most recently, the senator's work enabled the construction of a fence on the Route 35 bridge south out of the city to help curtail bridge-jumping suicides. She points also to the Middlesex County Freeholders' decision to build a $10 million county park in Perth Amboy, the end result again of strong relationships with the establishment that remain too tough, she says, for the hardest core of those old allies to digest. Diaz noted the financial condition of the city: an A plus grade from S and P.
"We need a cohesive council that can continue the progress," said the mayor, referring to a vision Gonzalez once shared, but that now means yet another stare down, once a revolution turned mutually exclusive resolution, come 8 p.m. tomorrow when the polls close in Perth Amboy.