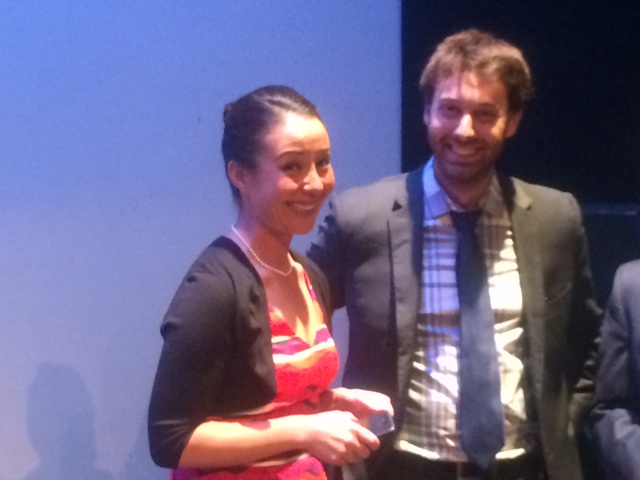 SOUTH ORANGE – Sheena Collum was all smiles as she banged the gavel for the first time as South Orange's village president on Monday night.
"So here we go! I've got so much energy right now, I'm having a tough time containing it. Last Tuesday marked a historical night in South Orange, as we elected our first female village president," said Collum, 31, moments after she was sworn in by outgoing Village President Alex Torpey, 27, who was the youngest head of government in South Orange's history, at the South Orange Performing Arts Center. "We may have gotten 70 percent of the vote and won all of the districts, but when one my friends asked me if this feels like a mandate, I said I think that my focus is on the 30 percent of the voters who weren't on board with this direction. It's about bridging what we offer with people who don't necessarily agree with us and making sure that we move forward."
Moving forward was on the mind of perhaps quite a few of the elected officials in the crowd at Collum's swearing-in ceremony along with the three trustees elected with her earlier this month for four-year terms. Among those present included Essex County Clerk Chris Durkin, East Orange Mayor Lester Taylor, Essex County Freeholders Lebby Jones, Rolando Bobadilla, Patricia Sebold, Wayne Richardson, Leonard Luciano and Brendan Gill, as well as state Assemblyman John McKeon (D-27) and state Assemblywoman Mila Jasey (D-27).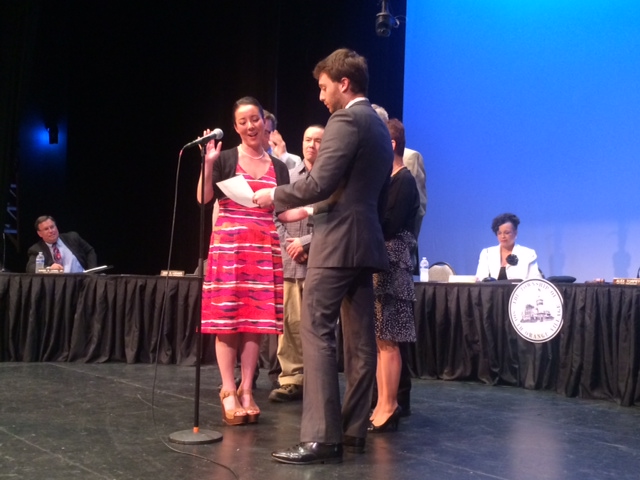 Given Collum's youth and voter popularity, some political observers see her victory in South Orange as a stepping stone to higher office. But in an interview with PolitickerNJ, Collum said her feet are firmly planted in her hometown.
"My presidency is not going to be defined as being a good first female to do the job, but as being good at the job," said Collum, the executive director of the New Jersey chapter of the American Planning Association, a not-for-profit, urban planning professional organization. "We're a first suburb, so our infrastructure is pretty old. Our property taxes are high because we don't have any big commercial ratables. Our opportunities will come from building up our internal efficiencies, economic development around transit and shared services. Maplewood is likely our greatest partner, because we already share the school system, and the lowest hanging fruit for consolidation in the long term. Where we lack political will on the local level, I hope we start seeing the state come down a little bit stronger in forcing municipalities who are similar and that already share so much to really be aggressive about consolidation."
One South Orange Democrat at the swearing-in after-party said that there was no need for Collum to be aggressive about moving up politically, including a potential 2017 state Assembly run.
"She's next. She's everything that we're looking for. She's smart, she's got a diverse background," said the South Orange Democrat who requested anonymity, referring to Collum's half-Korean, half-Irish family background. "She's got economic development experience, she's going to grow this town, and she's got time. You can already see that she's too talented to be the village president forever. The question is what is she going to do next."
For now, Collum insists she wants to only do one thing in politics.
"My focus is 100 percent on South Orange. It's about busting my ass for four years for this town, " Collum said. "If that delivers good results, I won't shut the door or anything in the future. But I will fill this entire term here. This is where my heart belongs. This is what I want to do. And I will give this town fire for the next four years."