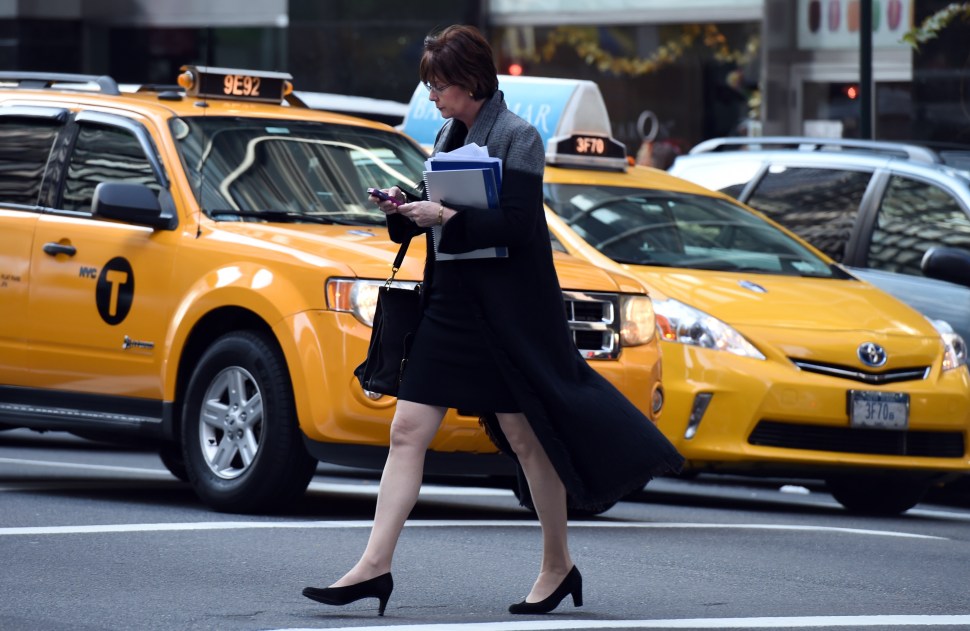 The Observer has been chronicling the skirmishes that have become a daily feature of the battle between the traditional taxi service providers and the ride-sharing apps like Uber, Lyft, Via and Gett that are disrupting the business model.
On Thursday, the Observer ran a story headlined (somewhat grabbily, as is this publication's tradition…) "The Taxi Industry Is in Total Collapse." Hyperbole or not, the story was based on a shocking fact: the City of Philadelphia has been trying to unload a crappy 45 medallions since fall. Since these were the first new medallions to hit the market in 15 years, the city was hoping to snag $475,000 apiece for them. After about six months, three of them finally sold—for only $80,000 each—17 percent of asking price.
So yeah, things aren't great in that business and that's why the biggest holders of medallions in New York City have been angling for a bailout and even arranged a secret meeting with their banks, who have begun to make noises about foreclosing on the medallions, formerly worth about $1.3 million and now in the $725,000 to $920,000 range.
The medallion guys have pushed back furiously. They and their political allies claim that the disruptors have appeared on the scene and refuse to play by the rules. In an epic email to the Observer, Ethan Gerber, executive director and general counsel of the Greater New York Taxi Association, made a compelling case that describes an uneven playing field:
"For decades, we had the exclusive right for legal street hail; we received that right in exchange for not only paying millions into the city coffers but also by operating in one of the most regulated environments of any private industry. Every aspect of our business is regulated—the types of vehicles, their markings, their equipment, when they must be retired, the rates charged to passengers, the  leases to drivers, the locations we operate, the technology we use even the wording and content of the contracts we sign were all specifically regulated and enforced by the TLC, with grave consequences from severe fines to revocation of our valuable medallions if we do not.

Today we are competing with virtual street hails with companies that have almost none of these restraints. Not only should the playing field be leveled by having these app companies compete with the same type of regulations we do but those of us with the foresight to innovate should be allowed and encouraged to do so. While app companies are free to constantly update their products, we are required to submit each and every innovation to the TLC to go through elaborate regulatory labyrinths and dead-ends."
In short, the taxis have paid into the seven figures for the right to pick up some shmoe and deposit him at LaGuardia in a car that has to be painted this color and accept that credit card and must be driven by a "safe and courteous driver who obeys all traffic laws" (and who's paid $75 for the privilege of being fingerprinted) and also "speaks English and knows city geography."
That's a pretty high bar. And from their point of view, some guy in his mother's basement borrows a Yukon and all of a sudden he's an Uber driver.
In fact, in New York City, Uber drivers are required to meet many (but not all) of the requirements ordinary taxis face. Their drivers must have a TLC license, the vehicle is required to have TLC plates and be affiliated with a base and have enough insurance to merit a FH-1 (for hire) card.
Unsurprisingly, the app companies see the situation very differently. And they've hired an army of former government officials who are skilled at telling their side of the story.
Uber spokesman Matthew Wing, who until recently performed the same function for Gov. Cuomo, told the Observer, "Uber is changing New York City's transportation ecosystem for the better. Drivers have new opportunities to earn a better living, discriminatory hailing is a thing of the past and New Yorkers in the outer boroughs can finally get a reliable ride to and from their neighborhoods. It is not surprising that the taxi industry would try to stop this progress and any effort to offer more drivers better earning opportunities, but what's best for powerful special interests is not generally the best policy for New York."
So which is it? Are taxis hopelessly resistant to change and unaware that they are becoming Blockbuster Video? Or are the ride-share apps rogue actors who parachuted into a highly regulated industry and simply skipped the inconvenient step of paying a million bucks for the privilege?
It's war and both sides are well armed with talking points and persuasive public relations people. After Thursday's "taxi collapse" story appeared, several people in the industry got in touch to add a fact or shade of gray. But the most interesting thing we came across in further reporting is this:
It's one thing for Uber (and the others, but Uber is the dominant app player here) to flout the byzantine regulations that taxi drivers must follow. But the taxis maintain that Uber flouts even the laws that all drivers must follow.
Take a look at the above two photos.
You're looking at rows of Ubers at JFK airport illegally parking in no standing zones so they can get as close as possible to receive a "ping" when a deplaning traveler is ready for a ride.
As you can tell from the yellow hood, the photo was taken by a cabbie – so this is not an impartial observer. But equally clear is the "No Standing; Active Loading and Unloading Only" sign, as well as the rows of black cars waiting for passengers.
Even more surprising is the below photo. The fellow in the burgundy vest is supposed to maintain traffic, but instead of
shooing away Ubers, which are not allowed to pick up street hails and thus cannot congregate there, he was actually directing the Uber drivers where to pull over and wait for passengers to ping them. As you can see, the app-share driver in the Suburban even blocked out the little gray Scion so it didn't get into the "Uber lanes."
One taxi driver who proved his identity to the Observer but declined to allow his name to be used because "I'm not trying to have the TLC randomly lose my license renewal papers" told the Observer that he doesn't particularly mind Uber's presence because he believes their drivers make very little and thus burn out quickly. He said that while the economics for the medallion holders may have indeed "collapsed," the industry itself—meaning the demand and the drivers—is doing fine.
"I can say with confidence my income hasn't changed. I know drivers and their incomes haven't changed. Obviously, when people ask drivers about it, they all say that their incomes dropped but a lot of drivers tend to just complain. But speak to the drivers on that [Uber] forum and they will explain to you how their incomes have drastically dropped."
This driver confirmed that the airports often have two rows—he estimated "at least 30 cars"—of private ride-share vehicles waiting to be pinged and are seldom chased by the authorities. He claims, "I even spoke with a dispatcher on it and he told me he was told not to push them away." That would be tough to believe except the Observer also viewed a video—too crappily shot to share, and it also potentially revealed the shooter's identity—that showed a yellow taxi dispatcher at JFK guiding the Uber drivers to pull in closer in "their lanes" whenever an Uber vehicle left. Obviously, even the dispatchers have concluded that the app shares provide a necessary supplemental service.
The medallion owners, who tend to be heavy political contributors and of course pour millions into city coffers via medallion purchases, will continue to use their political leverage to defend their turf. And the app companies will continue to hire former government officials at all levels and paint the electeds as dinosaurs beholden to campaign contributors. (Just this morning, Uber helped disseminate a strongly worded "letter to Mayor de Blasio" signed by two dozen tech giants including Facebook, Google and Twitter urging the city not to adapt proposed FHV Dispatch Application Rules, which Uber contends will "impose unbearably high costs.")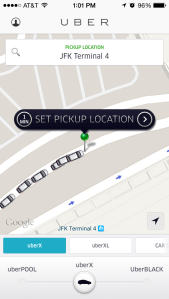 What's emerging is a sort of trench warfare in which neither side can advance much while the other still has some fight. Partisans on both sides have resorted to guerilla tactics. For example, every time an app-based driver anywhere in the country is accused of misbehavior, the Observer and other outlets are flooded with tweets that suggest those drivers are all drunken rapists. If an Uber with Jersey plates is spotted in Manhattan, other Uber drivers will protect their turf by photographing his iPad thingie to try to prove that he's receiving pings and not merely dropping off a passenger. It's nasty out there. And that's the direction the official rhetoric has taken as well, adding a personal tint.
Stu Loeser, a former Bloomberg official who now consults for Uber, told the Observer, "Uber's fare structure, in which drivers are paid for time and distance, incentivizes safer driving because drivers actually earn more if they don't drive like a lunatic to get to the destination. It's not the yellow cab drivers' fault that their fare structure incentivizes them to take crazy risks with passengers, but that's the result."
Likewise, Mr. Gerber dismisses the elitism of the apps. "Let the Wall Streeters and the one percenters have their Ubers and Lyfts—the rest of us need a for-hire option that has transparency, accountability and predictable fares—not ones set at the whim of companies or by some obscure and shifting formula."
It's heated and hateful, but there's a note of resignation that the streets will have to be wide enough to accommodate both methods of ferrying passengers. In a twist that will surely delight capitalists, this war between monopolists and the most off-putting strand of tech bros seems to be benefitting ordinary people who just want to get to the airport.