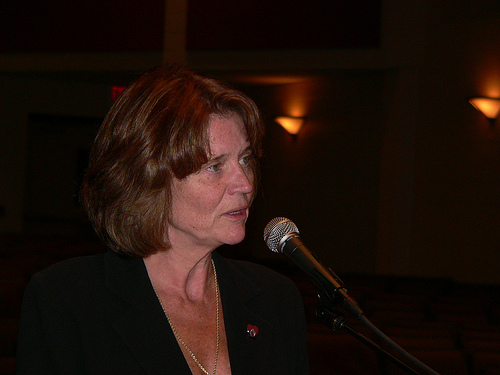 During National Nurses' Week, hospitals hand out roses, take out newspaper ads applauding their nurses, or offer a free lunch or small gift.   I think most nurses and other health professionals would prefer the respect, recognition and rights they've earned every day of the year.
Instead of roses, nurses want ratios – a simple slogan that means setting safe limits on the number of patients a nurse is assigned to care for at the same time. Staffing ratios not only save lives, they also improve patient outcomes and reduce nursing burnout and injuries. Nurses throughout New Jersey have joined together in a campaign to win a law setting safe staffing standards. Yet, hospitals fiercely oppose safe staffing standards, claiming they need flexibility. But flexibility shouldn't trump safety, and nurses want the right to add staff when needed for safe patient care.
Health care is a dangerous occupation – it has the 2nd highest rate of non-fatal injuries of any occupation. HPAE has fought and won state laws requiring violence prevention and safe patient handling policies, which reduce worker injuries. A recent survey we conducted showed a disturbing lack of compliance with these laws. For Nurses Week, I would challenge our hospitals to pledge to make their workplaces safer by providing safe staffing and working toward reducing worker injuries.
Instead of newspaper ads proclaiming their glory as unsung heroes, nurses want an authentic voice in their workplaces, with the right to speak up for themselves and their patients. In a unionized workplace, nurses have that right, and can speak up when they believe patient safety is at risk without fear of retaliation. That right can't be underestimated, both in the workplace and in the public. In NJ unionized nurses have publicly advocated for standards that keep both patients and workers safe, speaking out at public hearings against unsafe practices and for patient and worker safety laws. My union successfully advocated for safeguards such as an end to forced overtime, extended hospital stays for mothers and infants, public posting of nurse staffing, and safe patient handling and violence prevention laws.
More and more, hospitals act like large corporations, spending countless dollars fighting nurses' right to unionize.   But data backs up our belief that there is less turnover of nurses, better staffing, and even better patient outcomes in the years after unionization. So, another idea for hospitals – we don't want small gifts, just an end to spending precious patient care dollars fighting against our workplace rights.
Unionized nurses and health care workers also earn higher wages, have better access to health care coverage, and more secure retirements than non-unionized health care workers. This means being able to support one's family, stay healthy, send your children to college, and save for retirement. As nurses, we don't want a free lunch – we want the workplace rights we have earned.
Why does this matter to the public? Having a voice in the workplace, decent wages, and safe working conditions keeps qualified staff at the bedside, reduces turnover and provides continuity of care for our patients. Nursing satisfaction has been demonstrated to save money and improve patient satisfaction and outcomes as well.
So during Nurses' Week, please stop with the ads, flowers, and free lunches. Instead provide safe workplaces and safe staffing Stop fighting against our rights.  That's how to truly recognize and honor nurses and the nursing profession.
Ann Twomey is president of the Health Professionals and Allied Employees