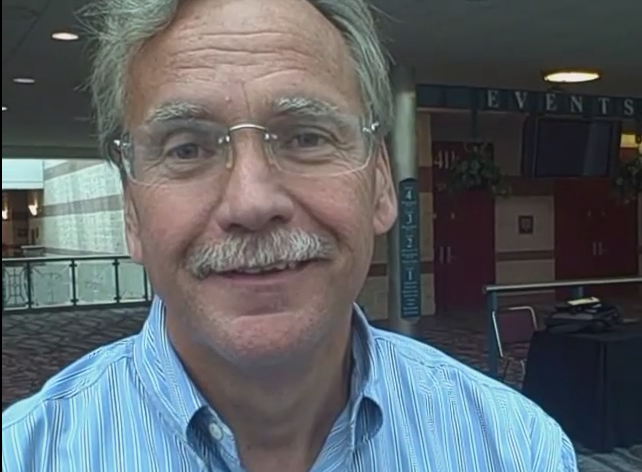 Jeff Tittel — yes, that Jeff Tittel — has come to the defense of Gov. Chris Christie.
The director of the NJ Sierra Club who is often one of the Republican's most vocal critics in Trenton, Tittel told members of the media today to take a joke and stop making such a big deal out of the remarks the governor gave at Wednesday's Correspondent's Club Dinner. The dinner, Tittel noted, is an "event to raise money for scholarships and what is said there is supposed to stay there" — not, ostensibly, be dragged through the press by some soundbite-hungry reporters.
"Very rarely do I ever agree with Governor Christie or defend him in the press. However, the recent hubbub over his comments at the Correspondent's Club Dinner causes me to write. The Correspondent's Club Dinner is a place where people make fun of those in power. Reporters tell jokes, sing songs, and do skits that are parodies and other forms of humor that if taken out of context could be misconstrued. The Governor, after being pummeled by dozens of jokes and songs making fun of him and his administration on everything from his weight to Bridgegate, had an opportunity to reply. What he said was not a tirade or nasty; it was actually funny. He did a parody of himself and of the caricature the media has created of him."
Christie seems to be taking some heat in the press after a recording of his performance at the dinner leaked to several media publications this week. Bloomberg was the first to have first picked it up, followed by sites like the Huffington Post, the International Business Times, and even the celebrity/feminist gossip site Jezebel. In some places his comments — laced with expletives and some pointed critiques of those in attendance, but understood by both parties to have been offered in jest –seem to have been taken out of context, made to appear more serious than they actually were.
Christie spokesperson Kevin Roberts, in response to media inquiries about the comments, suggested as much. And that's also the case Tittel ventured to make today — though he later noted that political observers would be naive to expect the two to agree on much else in the near future.
Tittel, as underscored by their disagreements over recent environmental issues, isn't exactly a friend of the governor.
"I've seen the Governor get angry and have tirades, this was not that. This was sharp and biting but it was also humorous. People are making too big a deal out of what the Governor said at the Press Correspondent's Club Dinner. This is a charity event to raise money for scholarships and what is said there is supposed to stay there. Unfortunately, everything becomes fodder for the media. This may be the only time I'll ever put out a statement that's in agreement with Kevin Roberts."