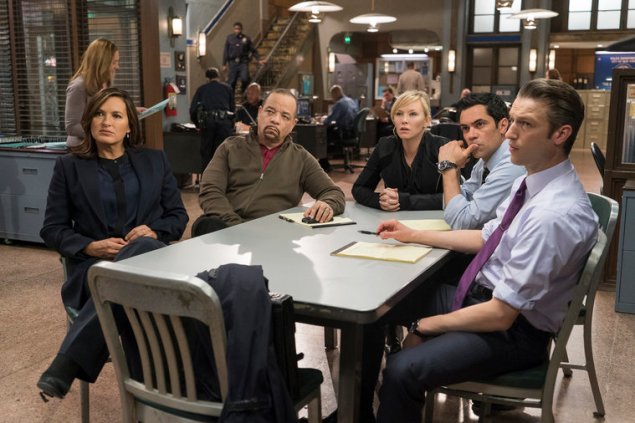 Just as a new man enters Olivia Benson's life, another leaves. That's the main takeaway from this episode of Law & Order: SVU, the final installment of Season Sixteen.
This transition didn't occur until the final moments of the episode and it felt completely organic given the events that led up to it, but everything that transpired reiterated the notion that the right thing to do is usually the hardest.
The intensity began as the trial of notorious sex trafficker Johnny Drake, aka Johnny D., drew near, with Benson and Barba working to synch their strategy in an effort to make sure the notorious offender would be convicted of his heinous crimes.
Unfortunately for the pair, this would prove more difficult than either could imagine. The proceedings were complicated by the fact that Olivia felt it best to disclose that Johnny D. was in fact the biological father of Baby Noah, the boy she'd been fostering for a year and was now attempting to adopt.
When several of Johnny D.'s victims wavered about testifying against him, Barba felt sure that a pimp named Timmer would supply the final blow in the case against the trafficker. But, Selena, another of Johnny's devotees, murdered Timmer, just before he could take the stand.
Benson, in an effort to save the case, gathered several of Johnny's victims and gave an impassioned speech about why that needed to not be afraid to take stand up to the man who hurt them who hurt them so horribly. Her efforts paid off when each of the young women give harrowing details about their abuse at the hands of Johnny D. in open court.
When Johnny D. realizes that things aren't going his way and that he's most likely go to jail for a very long time, he uses a scuffle in the courtroom to grab an officer's gun, fire a few shots and rush out into the corridor. Amaro is hot on his heels and the two exchange gunfire out of the line of sight. For a brief amount of time, it's unclear who's taken the brunt of this violent outburst. When the smoke clears, the death toll stands at two — an officer and Johnny D., with Amaro having taken two bullets.
Although having suffered serious injuries, Amaro survives, but it's clear that the bullet to his knee means his career as a police officer is in jeopardy.
As Nick recovers, Olivia with little Noah in her arms, meets with Judge Linden, who happily signs the adoption paperwork, officially sealing the deal for her to be the boy's mother.
Soon after, members of the squad gather at Olivia's abode to celebrate with her. The party takes a turn when Nick calmly, in a quite conversation with just Olivia, explains why he feels it's the right time for him to leave the squad and move to California where his ex-wife and two kids now reside. This announcement seems to catch Olivia off-guard at first, but as it sinks in she admits that their relationship extends well beyond simple co-worker status. The two share an embrace and vow to remain friends forever.
At the conclusion of the episode, everyone at the party raises a glass and collectively makes a toast to 'family,' in all incarnations.
While this episode resolved some things, there's still plenty of uncertainty to go around, with the main questions being — with Nick out of the picture, who will be Benson's number two? Someone currently within the squad or someone new, and just how will everyone handle Nick's departure?
Shake-ups are nothing new on this show. Oh wait, yes they are. Well, in the last four years anyway.
Executive Producer Warren Leight explained his thoughts on this, saying, "At the end of this season we'll have hit 94 episodes. 'Mad Men' just finished it's run with a total of 92 and that shows me that that number is kind of life-cycle within a show, especially a long-running one like this one. So let's think about who was here four years ago, who's left, who's arrived, and all of the changes that've taken place. We've gotten used to a certain group of players and the question now is, 'what will happen to them next year?' It was almost a necessity to make certain changes four years ago because of Elliot's departure. This year it's more about the natural journey that people are on."
Clearly, the biggest change this year has been Olivia finally becoming a mother, a storyline that Leight admits he had to fight to make happen, but one that he felt very strongly was the right direction to go. "When a show has been on as long as this one the actors are changing, so the characters have to change with them or they would appear out of synch," explains Leight. "An example would be Olivia at 35 living alone in that sad apartment. At that point you still had a sense that there might be something else for her, even if you thought it would be Elliot and he left, there was still hope for her future. The biggest discussions I've had with Dick Wolf about the show were about giving Olivia baby Noah. I wanted to do it a year earlier than we did because, as I said to Dick, 'she needs to start to have more of personal life and grow as a human being because what was watchable as a 35 year could be depressing for someone still living that way ten or fifteen years later.' If characters don't grow and change, everything becomes extremely stagnant and that's just very unrealistic. We didn't want to get to that point on this show, so let's just say that Dick and I had some very long, 'politely philosophical' discussions about Olivia's path." (Clearly, and thankfully, Leight came out on the winning end of those 'polite' discussions.)
For Olivia, nothing is the same as it was four years ago — She lost her partner, her captain and a long time coworker. She survived a brutal attack, moved (from said 'sad' apartment) in with a boyfriend, broke up with that boyfriend, advanced from Detective to Sergeant, and adopted a baby. Wow, that's a lot of changes. The desire to move through all of that had to be strong.
In this episode, when Olivia is working with the young victims of Johnny D., to help one of the girls overcome her fear of testifying against the sadist, Olivia gives the girl the necklace she's wore for years, the one that contains the word 'Fearlessness' on it. While this might seem like just a nice gesture, it can also be looked at symbolically as it appears that Olivia herself might no longer needs this touchstone, having conquered so much. She no longer needs to remind herself to be fearless. Now she just is.
When Judge Linden announces that Olivia's adoption of Noah is official, the new mother, having triumphed in this journey, clutches her son tightly and breaks into an enormous smile. What makes this so startling is the rarity of it. Never, in the history of the series, has Olivia's face contained this so much utter delight. It felt a little funny to see such a display from the normally stoic Sergeant, but that's what made it so special and truly heartfelt. (Putting her in that pastel dress didn't hurt either!)
Another breakthrough came as Olivia expressed to Nick her feelings about her former partner. It seems highly likely that she's thought about Elliot as she's been going through these life changes, possibly wondering how he would react to and fit in with the evolution of her personal life. In voicing her thoughts about her former partner aloud to Nick, it's as if she's admitting to herself more than anyone else, that much of her prior inability to make or accept change in her life was largely due to Elliot's presence and partly due to her own failure to consciously move forward. This concept feels like a hard truth to accept, but it appears that Olivia has, finally and graciously. Those tears that she shed when Elliot left were appropriate and honest at the time, but now it's clear that they'll be no more emotion of that sort on his behalf.
This gained strength of Olivia's was clear when she spoke with Nick about his impending departure. She related openly and truthfully about what their time together meant to her and while Elliot's tenure may have been longer, it's clear that the bond she and Nick share is just as strong, making his exit from her life no less painful. But, it's something that Olivia is now personally better equipped to handle. In short, they'll be no breakdown, no tears of loss for Nick, that's not her style anymore. But rest assured Nick, that doesn't mean she cares any less for you than she did for Elliot.
It's sad that Nick's time on the show had to come to an end, but it was handled well. The 'easy' way out would have been for him to either die in the shootout or have him teeter on the brink of death in the hospital for a while (or maybe the whole summer!), but to have him decide on his own that it was time for him to go was much classier and more believable.
It rang very true that Nick would be the first to run toward the gun-toting Johnny D. rather than away from the madness and one couldn't help but wonder if, as he was pursuing the criminal, while his first thought was securing the safety others, somewhere in the back of his mind he fired those shots knowing that the end of Johnny D. would clear the path for his co-worker and friend to have the family she's always wanted.
That the shooting would led Nick to re-evaluate both his personal and professional situations seems a given, but looking at Nick's history, the outcome of his thought process didn't seem to be so cut and dried. In all of his time with the SVU squad, it was always apparent that Nick felt he could bounce back from anything that came his way, expected or unexpected. This time, however, it was refreshing and on point to see him surrender in a way, realizing that sometimes you have to give in a little and accept your own humanity to get to path that you're really supposed to be on. (So the episode title could have been "Surrendering Nick,' right? I'm just saying….)
Nick may have been nudged a bit in this direction as he watched Olivia struggle so hard just to become Noah's mother, finally understanding that parenting his children is inherently more important to him than his job, thus calling for him to make some life-altering changes.
And with all of that, the stage is now officially set for Season Seventeen.
I think I speak for all SVU fans when I say thank you to everyone at SVU for a wonderfully creative and cohesive Season Sixteen. Clearly everyone brought their 'A' game all year and will no doubt continue to do so next season.
It should go without saying that we're all sad that the superb Danny Pino will no longer be with us each week, but let's speak up and all thank him for his giving his time and enormous effort to make Nick Amaro the wonderfully complex character that he was. It was obviously no easy feat and Danny did it with grace and style, both on and off camera.
Now, SVU fans, enjoy your summer as you can rest assured in the knowledge that there's more story to be told here. We'll reconvene in September.