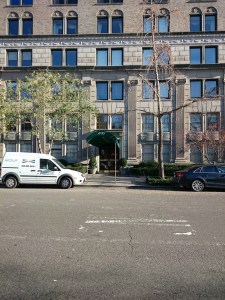 Common corollaries to the intake and production of real estate porn–be they unspoken or explicit–are, we think it's fair to say, jealousy and resentment. Indeed, it is difficult even in instances of the most purely aspirational and aesthetically appreciative property gawking to keep these unfortunate human tendencies from creeping in. But the case of Walter Eberstadt, who passed away last year, in his early 90s, and whose co-op at 1035 Fifth Avenue just sold for an even $9 million, according to city records, might just represent an exception to that pattern.
Born in Germany to Jewish parents, to escape Nazi persecution, Eberstadt immigrated as a teenager with his family to England, where he would join the British army and rise to the rank of major before World War II's end. He commanded a platoon at Normandy and, after being wounded, moved into psychological warfare, working for Radio Luxembourg and Radio Hamburg. It would be difficult to begrudge the man a reward. But mere heroism does not necessarily beget lavish compensation. After serving on the editorial staff of the Economist in the late 1940s and early '50s, Eberstadt moved to New York and embarked on a 60-years adventure in investment banking, making partner at Lazard in 1970–which position does, of course, necessarily beget lavish compensation.
In addition to springing for J.E.R. Carpenter-designed Fifth Avenue real estate, Eberstadt also made substantial contributions to the Frick, the New School and Sloan-Kettering, and his former apartment, as it appears in the listing held by Stribling's Patricia Farman-Farmaian, appears grand in terms of space and views, but rather spare with respect to adornment or flash. A three-bedroom unit on the 16th floor, it features a 25-foot living room that overlooks the Reservoir and the Metropolitan Museum, views that are also on offer from the apartment's bedroom wing. There's a great deal of light throughout, and what appears to be a reasonably modern kitchen. But the buyers, Ronald Guttman and Irene Cheng, are themselves already residents of a Fifth Avenue co-op–one designed by Emery Roth and formerly inhabited by Woody Allen–and will likely find some projects to tackle to bring the place up to their no-doubt exacting standards.