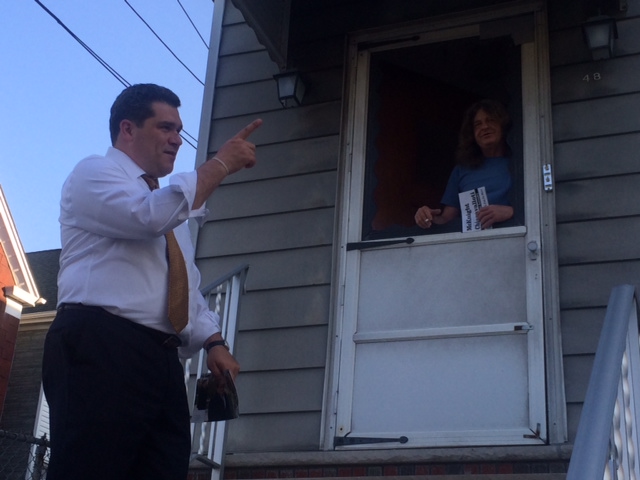 BAYONNE – As state Assembly candidate Nicholas Chiaravalloti knocked on doors in his native Bayonne, part of the 31st Legislative District, on Thursday night, he got an earful from one of his potential constituents, conveyed in true Hudson County style.
"I like you, Nick, and I'll vote for you. But taxes here are so ridiculous, I can't wait to get out," said a middle-aged man who chose to remain anonymous as Chiaravalloti campaigned on 36th Street between Broadway and E Street. "Bayonne is like 100 pounds of crap in a five-pound bag these days. It's unreal."
Chiaravalloti smiled as he shook the man's hand and moved on to the next doorway, his step lightened perhaps by the fact that Jersey City Mayor Steve Fulop said earlier in the day that he was going to fundraise for Chiaravalloti in advance of the June 2 Democratic primary. Chiaravalloti and his state Assembly slate mate, Angela McKnight of Jersey City, are running with the support of the Hudson County Democratic Organization (HCDO) going into the primary. The HCDO-backed duo is opposed by the team of Bruce Alston, of Jersey City, and Washington Flores, of Bayonne, among others.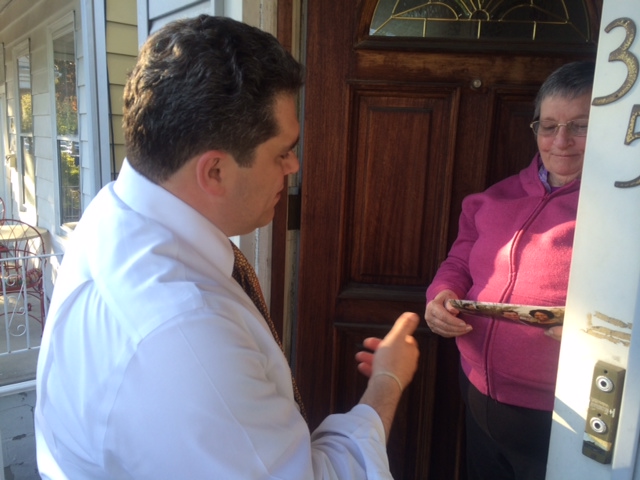 An attorney who was formerly the state director for U.S. Sen. Bob Menendez (D-N.J.), Chiaravalloti, of Bayonne, played a key behind-the-scenes role in the upset victory of Bayonne Mayor Jimmy Davis over then-incumbent Mark Smith in last year's mayoral election. As a result, Chiaravalloti became Davis' pick to replace outgoing state Assemblyman Jason O'Donnell (D-31), a Smith ally who is reportedly looking at running against Davis for mayor of Bayonne in 2018.
Fulop supported Smith over Davis, reportedly to help Ras Baraka, engaged in an ultimately victorious but vicious battle in his own mayoral race in Newark in 2014, get needed funds to win.
But Chiaravalloti confirmed that now, Fulop is firmly by his side.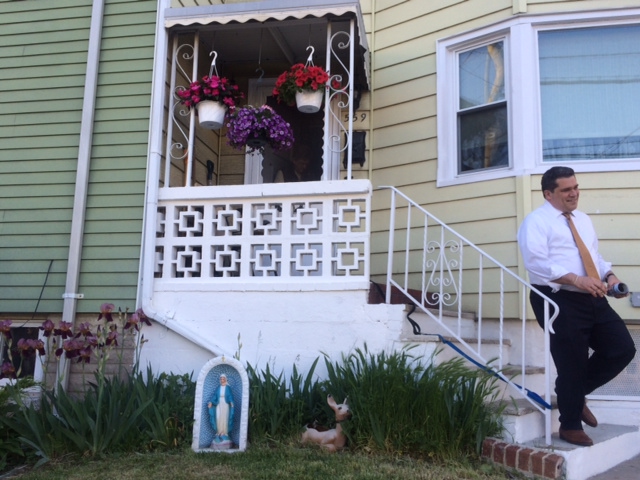 "Since [the 2014 Bayonne mayoral election] and since I decided to run for the Assembly, I've met with Mayor Fulop on several occasions to talk about issues important to him and to Jersey City. Quite frankly, Steve and I have always had a positive relationship," Chiaravalloti said. "I doesn't surprise me at all that he's supporting me."
Regarding the issues, Chiaravalloti said that he's hearing about a range of issues at the doors of Bayonne and Jersey City homes, but two concerns seems to stand out.
"The number one concern for residents in Bayonne has historically always been property taxes," said Chiaravalloti. "And part of the challenge that we have right now in Bayonne is that because the education formula that was agreed upon in Trenton hasn't been fully funded, Bayonne is losing about $6 million a year. That has a direct impact on property taxes and on the residents. In Jersey City, it depends on what community you're in. Sometimes it's about safety, sometimes it's about education quality. But overall, we also need to create long-term jobs in Hudson County that create a living wage, not a minimum wage."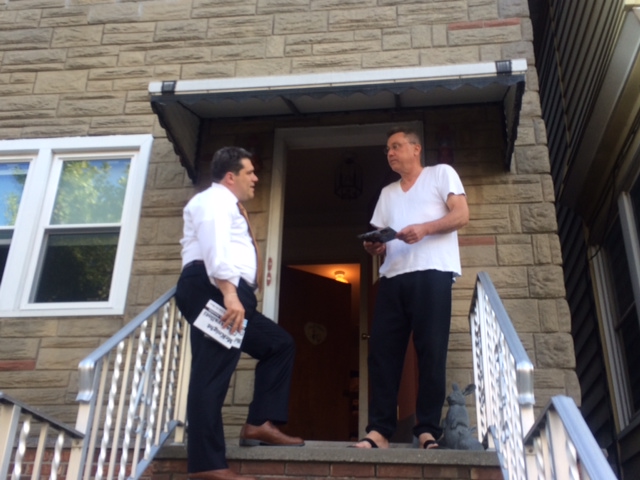 Chiaravalloti believes that although the HCDO has had a few hiccups in recent years, including a whirling pinwheel of LD 31 Democratic Assembly candidates from Jersey City before Angela McKnight was selected to join him, the organization label is still a positive factor.
"The HCDO is united, and I'm running on their line," said Chiaravalloti, who had a failed bid for state Assembly in 2007. "And the unity that [state Assembly Speaker and HCDO Chairman] Vinny Prieto (D-32) has brought to the party has not come easy, but it's real and it's a change. It's a good time for me to be out there. And we walk every night. We're running a full-out campaign.
"The only way you deserve someone's vote is if you reach out and ask for it," added Chiaravalloti, moments after a silver-haired man shook his hand on 36th Street and told the candidate "I'll do the right thing." "It may not be each and every individual, but it's each and every community. Quite frankly, that's also the fun part. That's when you engage with the people."