SPARTA — It's the primaries that more often than not serve as the real contests in bucolic — and heavily conservative — 24th legislative district, where a sprawling GOP come election time finds expression in a jockeying of candidates each with their own versions of the party's ideological core. Republicans outnumber Democrats by nearly double here, which means those who nab the party nomination on June 2 are all but ensured victory come November 4.
This year is no different.
On the Assembly level, the vacancy of one longtime incumbent has prompted a four-way primary in LD24, with two establishment candidates running against two newcomers. The issues at issue include those common to Republican political discussions statewide, but with local Sussex County flavor: funding for education, reforming pensions and benefits, and a controversy over the state-supported solar energy initiative that has sent rifts through not only the Assembly race, but also this year's down-ballot Sussex County freeholder race.
Incumbent Assemblyman Parker Space, up for reelection for the first time since being tapped to replace former Assemblyman Gary Chiusano in 2013, is running on a ticket with Sussex County Freeholder Gail Phoebus, who was selected by the county GOP to replace outgoing Assemblywoman Allison Littel McHose. McHose — a Republican of the Tea Party variety who was picked to fill the remained of U.S. Rep. Scott Garrett's term in 2003 — announced she would leaving the legislature this year to take a job with as an administrator of Franklin Borough.
Both are backed by the county establishment, which includes state Senator Steve Oroho (R-24), with Phoebus having received McHose's express endorsement.
Running opposite — though separately — Space and Phoebus are Republican hopefuls Marie Bilik and Nathan Orr. Bilik, a former town committeewoman and mayor of Green township, is the Executive Director of the National School Boards Association; Orr, a recent graduate of Centenary College. Of the two, Bilik might pose the greater challenge to the establishment candidates come election day, as she's received support from at least one of Sussex County's freeholders, Richard Vohden.
Diverging positions between the candidates are subtle but, in deeply red LD24, significant. Bilik, speaking to PolitickerNJ via phone, said that Republicans in Trenton have been too quick to abandoned discussions about further reforming an embattled pension and benefit system, arguing the state has a "moral obligation" to its public workers. She included Space in that critique, and suggested she, after working with the NSBA on another underfunded pension system last year, might be better equipped to offer solutions.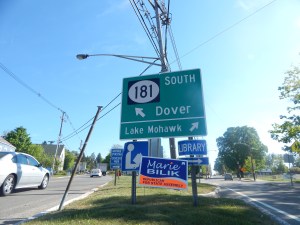 Fixing the state's underfunded pension is high on the priority list of Gov. Chris Christie, who held his most recent town hall in the Sussex County town of Sparta.
"He made it very clear — the money is not there," Bilik, referring to Christie's visit, said. "But there is a court ruling that says the money has to be paid, so that has to happen. The dialogue has to continue."
Education is another point of departure for the candidates. Bilik has been a supporter of Common Core education standards, the same ones driving the state's recent controversial implementation of its PARCC exams. And though she opposed that exam, the Common Core position puts Bilik in a minority among Republicans in the state, most of whom — including Space and Phoebus, but also, more recently, Christie — view the policy skeptically.
(Space has voted down bills in the legislature supporting the measure).
On other issues popular among voters in rural LD24, such as second amendment and pro-life rights, Space and Phoebus seem to  have the edge. The ticket was endorsed by the National Republican Association and New Jersey Right to Life, an anti-abortion group in the state, earlier this year. Space, who took a moment from cutting hay on his family farm in Wantage to talk to PolitickerNJ via phone, said that support will help drive voters to the polls on June 2.
"I think that's going to bring the people out, because they know there needs to be a difference in Trenton and we're voicing that difference for them," he said.
Probably the most interesting dynamic that has emerged in the race with just a week to go before election day, however, is the dispute over the county's recent settlement on a solar energy program that ran aground a series of cost overrun lawsuits between the contractor, Power Partners MasTec, and the developer, SunLight General, last year. Freeholder boards in Morris, Somerset and Sussex — the three counties that voted into the $28 million initiative to built solar facilities at schools and government buildings in 2011 — approved the settlement back in March, with each pumping in an additional $7 million for the project.
The issue is now serving as a wedge between candidates in the freeholder race, where four candidates are also gunning for two open seats on the board. Both incumbent Freeholder Dennis Mudrick, who voted for the settlement this year, and his unofficial runningmate, Frankford Mayor Gary Larson, have defended the move at recent debates as one that "invests in taxpayer money to save taxpayer money." On the other side, Fredon Mayor Carl Lazzaro and Sussex Borough Mayor Jonathan have criticized the settlement.
The issue has also reached into the Assembly race, serving as attack fodder for Bilik against Phoebus and Space, the latter of whom voted for the original project while freeholder in 2011.
"Why did Assemblyman, Parker Space in 2011, then a sitting Freeholder, vote "Yes" to involve Sussex County in the solar project?," Bilik asked in a recent press release. "He has been very quiet on this issue and has left his colleagues 'holding the bag.' If I was a sitting Freeholder at the time that this project was implemented in Sussex County, I would not have supported this risky financial model.  I would have voted 'No' on the solar project."
Additionally, while Bilik in the same release said she did not have enough information to support or oppose the final settlement, she did use it to ding Phoebus, who voted against the move when it came before the freeholder board in March.
Prior to its approval, Phoebus also asked the board to postpone the vote and give the public a chance to view the settlement's details, according to NJ.com.
"I am concerned and worried that Freeholder Phoebus is not accepting the terms of the settlement agreement. She was on the minority end of the vote. As a Freeholder, that does not mean that you are not honor bound to accept the majority vote.  Freeholder Phoebus is behaving recklessly," Bilik said.
The Assembly candidates are slated to face off at two more public debates before election day next Tuesday, with one here tonight and one in Newton, the district's rough geographic center, tomorrow.