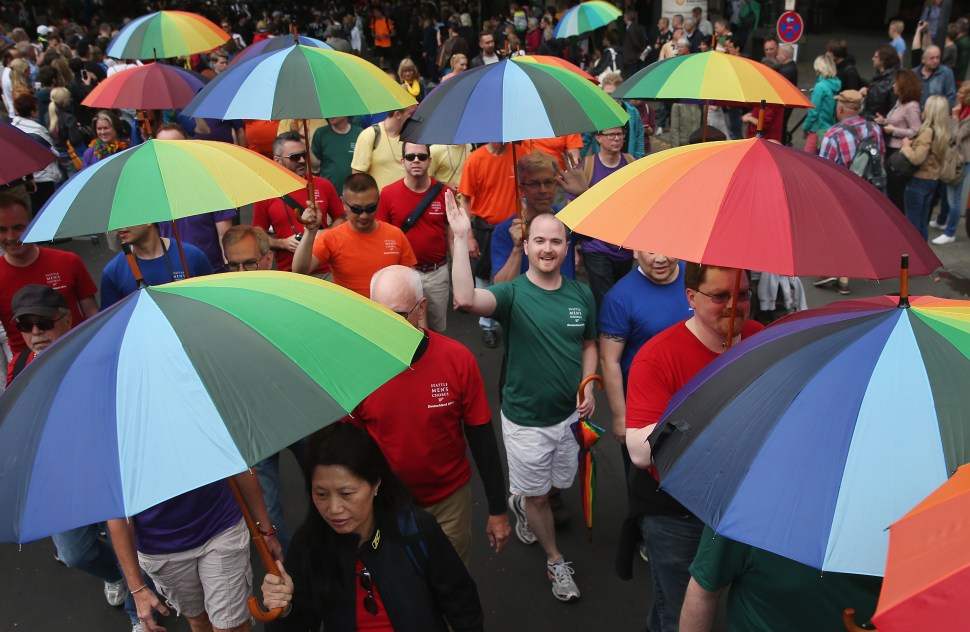 When pro-LGBTQ speakers are slated to address the world at a conference on LGBTQ rights and acceptance, one might expect to face some protests. After all, countless right-wing pundits have tried to block pro-LGBTQ events before. But in Seattle, some of the LGBTQ community members themselves plan to block their mayor's trip to the conference.
Why, you ask? Because of the conference's location: Israel.
On June 10, Seattle Mayor Ed Murray is planning to travel to Israel for the 40 Years of Pride Conference in Tel Aviv. But in the intersection between pro-LGBTQ and anti-Israel activists, Murray finds he is facing some unexpected criticism.
One such critic is Dean Spade, a professor at Seattle University who is part of the group Queers Against Israeli Apartheid Seattle, which has written letters to Mr. Murray asking him to cancel his trip. The paradox of this group's protest is amusing, to say the least. He calls the trip pro-Israel propaganda, similar to how anti-LGBTQ activists call it pro-gay propaganda.
Mr. Murray, who is gay himself and who led the successful push to legalize same-sex marriage in Washington, is slated to deliver the closing keynote address at the conference. Respectfully disagreeing with the protesters, he considers it an honor to speak and has every intention of attending.
---

Gay rights are not truly the first priority of Queers Against Israeli Apartheid Seattle. Their priority is to delegitimize Israel.
Israel's government building flew the gay pride flag for Tel Aviv's gay pride parade last year. Israel is the only country in the region that protects homosexuality by law. And Israel is home to one of the most gay-friendly cities in the world.
Yet Queers Against Israeli Apartheid Seattle believe that Israel's support of the LGBTQ community is meant to gain sympathy for Israel, covering up human rights abuses in the Palestinian territories. So Ed Murray is said to be "pinkwashing" (a coinage people use for Israel's pro-gay agenda in the context of Israel's security agenda).
This isn't the first time that Queers Against Israeli Apartheid Seattle protested pro-LGBTQ events related to Israel. Three years ago, the Seattle LGBT Commission canceled an Israel-LGBTQ event due to pressure from Professor Spade and colleagues.
As a Seattleite and gay rights advocate, I cringe when the LGBTQ movement shoots itself in one foot, especially in my home town which is supposedly one of the most gay-friendly cities in the U.S. Yet when it comes to their condemnation of Israel, the movement shoots itself in the other foot.
My message to fellow Seattle LGBTQ activists is simple: Gay rights are not truly the first priority of Queers Against Israeli Apartheid Seattle. Their priority is to delegitimize Israel, even if it means criticizing a movement they would otherwise support. True LGBTQ advocates support gay rights everywhere, not just in places that don't conflict with their prejudices. Being a good advocate means choosing one's battles wisely and focusing criticism to effect positive change. For the sake of the movement's credibility, rather than bashing Mayor Murray for promoting gay rights in Israel, fight for LGBTQ rights in the countries that actually need it.
Eliana Rudee is a Fellow with the Salomon Center. She is a Core18 Fellow and a graduate of Scripps College, where she studied International Relations and Jewish Studies. Follow her @ellierudee.