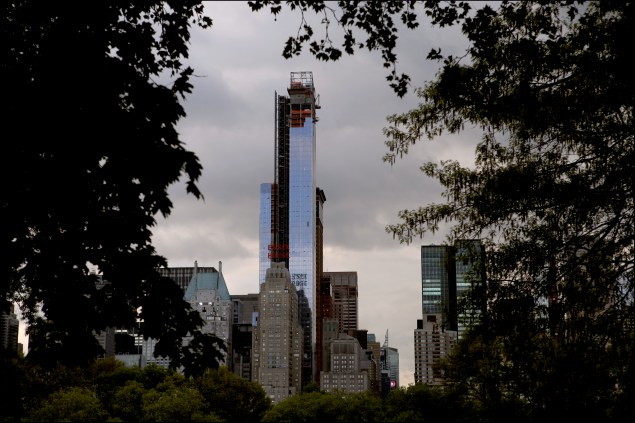 A pair of left-leaning advocacy groups criticized Mayor Bill de Blasio's plan to reform a controversial real estate tax break, calling on the progressive mayor to extract more concessions from the city's powerful real estate industry.
UP4NYC, a coalition of labor unions and contractors, said Mr. de Blasio's reforms for the tax break, known as 421a, fail to fix the program because they won't guarantee higher wages for construction workers. Alliance for Tenant Power, an organization representing a variety of liberal community organizing groups, knocked Mr. de Blasio for not calling for the end of 421a altogether.
"Efforts to fix or tweak 421-a in the past have been unsuccessful," said Delsenia Glover, the campaign manager for Alliance for Tenant Power. "The program primarily funds luxury housing for the wealthy elite while fueling gentrification and displacement. It yields little actual affordable housing and does more harm than good."
Pat Purcell, a member of UP4NYC and the executive director of the Great NY Laborers-Employers Cooperation & Education Trust with the Laborers, said Mr. de Blasio's plan "will not provide middle class wages to the workers employed on what will remain mostly taxpayer subsidized luxury housing, and it will not significantly increase affordable housing production for New Yorkers who need it most."
421a requires developers in certain parts of the city to subsidize 20 percent of their units for low and middle income New Yorkers in return for the tax abatement. Created 44 years ago to stimulate construction in a sagging economy, the program has been tweaked over the years.
Developers argue the tax break is necessary for the city to build affordable housing and meet Mr. de Blasio's ambitious construction goals, especially as the cost of land skyrockets. Critics say the program doesn't guarantee enough affordable housing and foregoes around $1 billion in annual tax revenue.
As a compromise, Mr. de Blasio today came out in favor of keeping 421a. He proposed requiring developers throughout the city, instead of in certain select zones, to make 25 to 30 percent of the housing in their projects affordable, a boost from the current level of 20 percent. The de Blasio administration is advocating for what it calls a mansion tax on sales of condominiums, co-ops and homes that cost more than $1.75 million. The plan would generate as much as $200 million a year in tax revenue, which would be dedicated to housing programs, according to Mr. de Blasio.
In addition, the mayor proposed scrapping tax breaks for condominiums and ending the practice of entrances based on income, or "poor doors." As a concession to the Real Estate Board of New York, the industry's lobby and a supporter of Mr. de Blasio's reforms, the mayor is calling for projects to receive the tax benefits for 35 years instead of 25.
All these changes need approval in the State Legislature, where Republicans hostile to Mr. de Blasio control the State Senate. But the arrest of their leader, Dean Skelos, adds a degree of uncertainty to the upcoming legislative fight.
Several Democratic elected officials, including Councilman Brad Lander and Assemblyman Keith Wright, the chair of the housing committee, backed Mr. de Blasio's plan. A few other left-leaning elected officials still had questions.
State Senator Brad Hoylman, a Manhattan Democrat, said he wants any renewal of 421a to be directly packaged with the strengthening of certain rent control laws.
"I appreciate the mayor's effort," Mr. Hoylman told the Observer. "I hate to endorse any proposal that doesn't have the strengthening of the rent laws as a component."