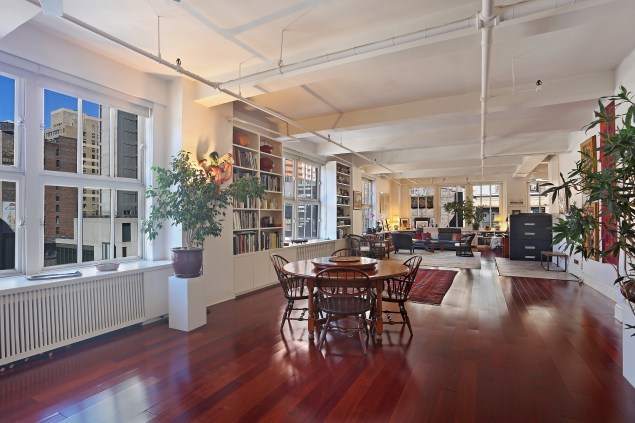 After threading through the hubbub of the Garment District and Herald Square, we stepped into the calm, verdant world of apartment 6W, in the southwest corner of 50 West 29th Street, a former factory building that had once been given over to the task of manufacturing "foundational garments," owner and photojournalist Viviane Moos told us.
Potted plants and global artwork dotted the sun-soaked expanse—a little over 2,200 square feet—which had been left as a loft in true artists' fashion, with the co-op's only bedroom concealed behind a sliding Japanese screen. "They were orphans," Ms. Moos said of her plant collection, which had flourished from Flower District discards. "I picked them up from the trash."
It was not, she said, nearly so easy to score discarded greenery as it was when she moved to the neighborhood in 1981. "I have competition now," she explained—a reference to the glassy condo towers rising nearby. Of course, luxury real estate never hurts when listing one's loft for $2.9 million, as Ms. Moos is, with Caroline Bass at Citi Habitats. (Though two income-producing commercial units on the ground floor keep monthly fees at a very reasonable $1,395.)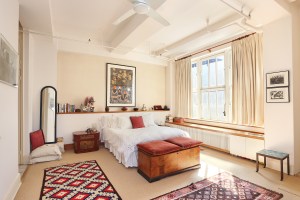 She has an advantage in that her apartment—though it retains some remainders of its industrial past, including a still-functional mail drop, a freight elevator (for garbage collection), and the original factory windows (there's also a sprinkler system, which helps to keep the insurance costs down)—has been renovated to a fairly pristine state. The Brazilian cherry floors required booties and bands of built-ins along the walls cleverly conceal a good deal of clutter. A back terrace flooded with afternoon sun, meanwhile, offered an ideal perch for sunbathing whilst taking in the backside of Tin Pan Alley (which a group of locals hope to soon see ensconced in a historic district).
"When I bought this place it was not elegant to buy real estate below 34th," Ms. Moos said, going on to describe just how inelegant the unit, with wall-to-wall industrial carpeting and linoleum, had been. "But I had done my homework and I knew I wanted it. Within 10 minutes of being here I had written a check," she recalled.
It was, she added, a bit of history that she would like to see repeated.