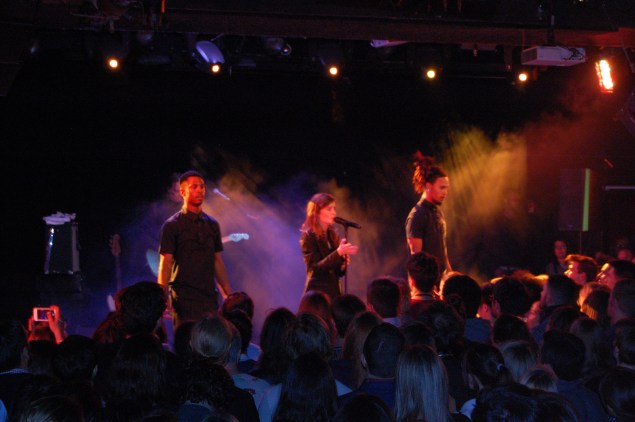 While the rest of Manhattan was on Tinder dates last Tuesday, an event of remarkable geo-political interest took place on Bleecker Street: Christine and the Queens, the band that fills up stadiums in France, sold out Le Poisson Rouge. There, in a nutshell, lies the intractable dilemma of the Franco-American paradox with its history frayed in contempt and secret mutual admiration. If only the French spoke English, would these two nations have discovered long ago how similar they are?
The first thing that comes to mind to an American on a date from Ashley Madison when France happens to be mentioned by the sommelier is philandering.
Christine's hit namesake song, a masterpiece of pop meshing the high and low culture of Pina Bausch and Michael Jackson, was introduced live to New York regrettably completely rewritten in English under the title "Tilted" to the infinite delight of Christine and the Queens' greatest fans, Madonna ("I love her music, she's cool. I like how she doesn't seem to care, I love her style. She's an incredible dancer." ), Lorde ("The song that I really like right now… It's by Christine and the Queens and it's called 'Saint Claude'. It's got this beautiful music video, it's really simple, the melodies are transcendent. I love it." ) and Mark Ronson ("I think her voice is amazing. I can see why she's killing it. It's exactly the sort of voice I like, it's gravelly and has texture. The video is amazing too. That's something the French do really well, visuals and aesthetics. I was thinking, 'Fuck, I'd like to steal that idea. I hope it doesn't become a hit in England.' Haha.").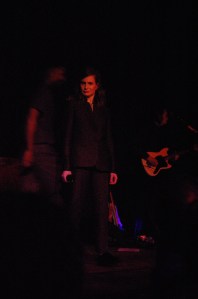 Alas, this is no accident.
During one recent trip to France, the GPS in our automatic rental was speaking English as Iggy Azalea's latest hit was playing on loop on a station subtly named "Fucking Good Radio." The highways on the Riviera were eerily reminiscent of I-95 down to the directional signs, the French bands on the radio were singing in English and the hostess of the farm that we rented in Grasse, Provence on Airbnb was American. But nothing could top the French cluelessness as much as their leading actress, Juliette Binoche, now in Paris in a stage production of Sophocles' Antigone entirely in … English.
Each evening we would go food shopping in one of the only grocery stores open late in the town of Grasse in the immigrant district, the majority of them from the Maghreb. The extreme niceness with which we were treated indicated to us that we were probably the only white people who had dared to venture in this district for a while. This reminded me of a scene I had lived in Clarksdale, Miss., a few years back while making a documentary on race relations in America. One night we went to see a film in the theater at the center of town. The movie was 45 minutes late and all of the sudden a well-dressed black man came and talked to us. He wanted, as the owner of the theater, to welcome us. A few days later we learned that the staff of the theater had called him at home and he'd interrupted his family dinner just to come talk to us, so surprised they all were that white people had dared to enter their designated space. White people in Clarksdale drive 30 miles south to find the first multiplex.
"France is crossing a very dark time right now," Christine, a.k.a. Héloïse Letissier, told the Observer before her show, "and although the subject of gender theory I deal with in my songs was met with hostility, thankfully young people are very interested in politics now and the questions of racism, homophobia, gender fluidity and religious freedom are very important to them."
The tremendously popular rapper Booba, who now lives in Florida, recently told the newspaper Le Parisien, to the horror of French people, regarding the Charlie Hebdo staff members killed this past January by terrorists wanting to avenge the prophet Mohammed who had been drawn on the cover on all fours butt naked, "If you play with fire, you died with fire."
"He is right," Christine said, "there's a subject that is taboo in France above all others: the racism of the left. My girlfriend has a new show called (the title in French is 'violent kittens' but 'chatte' in French also means pussy) and she talks about this and can't get any press."
There is another thing that is taboo in France: the meaning of freedom of speech.
After the attacks, many second-generation children of immigrants refused to respect the minute of silence imposed by the state in schools and some voiced their solidarity with the terrorists. They ended up in jail; amongst them was an 8-year-old kid. For all who saw the movie The Battle of Algiers, the recent reference of President Hollande to "French nationals" in a speech, meant to denounce those who had ransacked a Jewish cemetery, was obliviously meant to appease the voters of the seemingly unstoppable rising right wing party the National Front, as if children of immigrants from the Maghreb born in France, who at first were thought to have been the de facto culprits, were not themselves nationals. Such a speech is inherent to a society of reification, xenophobia, self-proclaimed hegemony that privileges orthodoxies and tries to suppress all dissonant voices. If France's anti-Semitism is notorious, its widespread Islamophobia is less well known.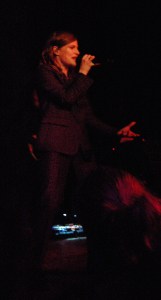 France, nation state par excellence with its welfare state, free education and health care, aging industry, workers' rights and hostility to globalization, is trying to catch up with a fiscally conservative Europe led by Germany where a balanced budget and low deficit are the rules. The prevailing discourse coming from intellectuals on both sides of the spectrum is that more than the American economic model, the German one that should be followed with its millions of $1-an-hour temp jobs. For most, Europe's austerity measures are sound and sane. Such a consensus is also built on the ashes of France's colonies. The values of the unique and exceptional French integrationist secular republic should be protected at all costs as they face an unprecedented challenge from the communitarianist forces of Islam.
With fears of loss of sovereignty to Brussels and identity to communitarianism, many former socialist voters now flock the anti-Semitic right wing National Front, which never misses a chance to blame France's ills on its population of Arabic descent. Many of those, even if not especially religious, see the constant attacks on Islam as a not-so-subtle reaffirmation of their status as second-class citizens. Being an Islamist becomes a de facto rallying cry, a badge of honor easily flashed in the face of a vastly racist country.
The Minister of Justice Christiane Taubira, herself a black native of the territory French Guiana still under France's dominion, tried to remind her fellow citizens of the Code de l'Indigenat with its forced labor and obligatory conscription for canon-fodder soldiers during the two World Wars. Her words encountered such an avalanche of indignation that she is still today paying a steep price with kids waving bananas at her as she passes by. France never came to terms as Germany did so successfully with its fascist past and this might be an impediment to its economic recovery as nearly 20 percent of its immigrant population is left ostracized.
French students, after the terrorist of attack of January 7, might soon wear a uniform in school while they sing every morning "La Marseillaise," the French national anthem, as a way to reinforce discipline but what they will never find in their textbooks is that forced labor in French colonies was abolished by a decree as recently as 1946.
Herbert Marshall McLuhan, Artavazd Pelechian, Gilles Deleuze, Serge Daney, Roland Barthes, Jean-Luc Godard and before them the dadaists and Dziga Vertov, all surprisingly still very popular amongst the French intellectual left, have for a long time demonstrated the perverse propagandist power of the editing of images and sounds by states, but where are the European versions of YouTube, Facebook, Instagram, Twitter, Reddit, Snapchat, Periscope, Soundcloud and Bandcamp?
The recent sale by France of the overly sophisticated Rafales planes to Egypt, which was celebrated as a national event, in the face of the panoptic militarization of data by Google, is indicative of a country out of touch with the world already revolutionized by the tech industry. Such shortsightedness might prompt French leaders to pursue archaic pseudo-colonialist goals at a time when Europe is slowly but surely working its way toward a common army. For a country that gave us Michel Foucault and Jacques Derrida who single handedly revolutionized American academia, it is remarkable that a few months ago Najat Vallaud-Belkacem, the minister of education, failed under the pressure of the old filthy reactionary France, which has never died and that one can learn more about in the documentary The Sorrow and the Pity, to impose gender studies in schools. It seems that Catholic France might very well be firmly anchored in the Occident, still searching for a quixotic primitivist power somewhere hidden in this ever-elusive Orient. The unedited image of the aftermath of the terrorist attack on January 7 will be that of millions of French marching in the streets and standing at attention singing "La Marseillaise," which calls French citizens to arms probably on their way to regain a lost empire.
Christine always dresses in an old masculine suit like Gilbert and George, trying to expose the muddy waters of gender. "Simone de Beauvoir said it best, being a woman is a construction of society. I feel much freer than that. I want to build muscle in my body, deflect the male gaze when I'm on stage." Her makeup on stage is bold and glittery and she could be taken under stage lights for a travesty. The show is closer to the British pantomime with its trouser roles, songs, dances and slapstick (her attempts at humor on stage are more goofy than comedic) than to Lady Gaga.
It was in London, after a suicide attempt, that she met the queens at Madame Jojo's who convinced her to abandon her theater studies and start singing. "I was always interested in cross-dressing in plays, Ascagne in Moliere's Lovers Quarrel, Shakespeare's As You Like It and Twelve Nights, Beaumarchais' Cherubino. I don't want to be a man but the fluidity of gender always fascinated me."
Last year France passed a law making gay marriage legal and millions of old angry French fascists took to the streets. "Paris is a very dead place to live in," she told us, "a beautiful corpse, people don't go out at night, it's very gentrified even in the suburbs now, it feels like living in a museum." Her song "Saint Claude," a massive hit on YouTube, is about a dirty junkie she saw on a bus in Paris being ridiculed by other riders, and her inability to find the courage to stand by him. She had to get off at the next stop, Saint Claude, so disgusted she was by herself and the passengers. "I have no friends and this song is about loneliness and how he and I were so lonely that we couldn't meet," she told us. She sings:
D'ordinaire cette ville n'offre rien
qu'une poignée d'odeurs tenace
que cette ville est morte
je sais bien toi seul garde de l'audace
il faudra que tu la portes loin
alors que d'autres renoncent
je descend deux enfers plus loin
pour que l'orage s'annonce
(Ordinary this city offers nothing
than a handful of stubborn odors
This city is dead
I know only you keep fearlessness
you should carry it further
While others give up
I descend two hells down
so that the storm comes)
It's about Paris she told us.
Christine's dissonant voice is rare coming from reactionary France and there's another chance to go listen to her as she's returning to New York this summer. In English.
Additional reporting and photos by Emily Lembo.
[youtube https://www.youtube.com/watch?v=BfZmFoEkSSk&w=560&h=315]