When Marc Jacobs floated onto the Met Gala's red carpet with Cher on his arm, we knew this dynamic duo was up to something. While we were hoping for some kind of delightful musical touring act from these two, we'll settle for the actual partnership they announced today: Cher is the face of Marc Jacobs' Fall 2015 ad campaign.
Shot by David Sims and styled by Katie Grand, the image of the chanteuse in a beaded and pleated frock made its first debut in the pages of Women's Wear Daily. Those without a subscription to the industry mag were able to catch a glimpse of the image on Jacobs' personal Instagram account.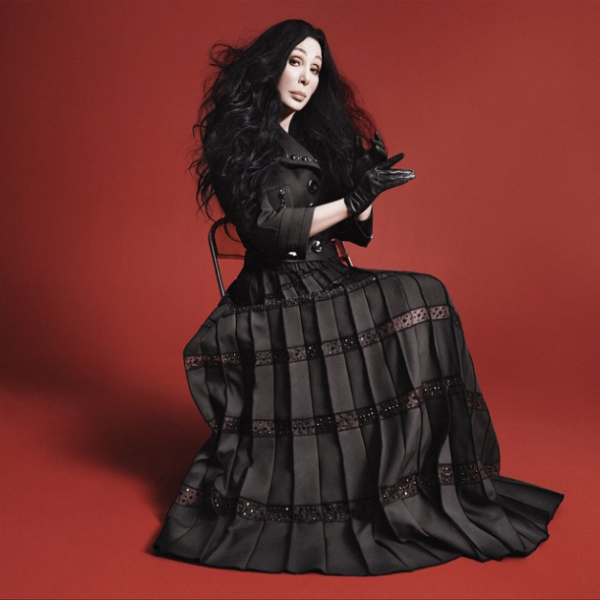 It's no secret that designers have been leaning towards older and wiser celebs to front their campaign as of late. Most recently, Joan Didion was tapped as the face of Céline and Saint Laurent included Joni Mitchell in their ongoing Music Project, both of which caused a flurry of media coverage.
But Jacobs has been thinking outside the box to keep his campaigns fresh and unexpected for years. Remember that image of Victoria Beckham posing from the depths of a massive shopping bag, which was released the same year she created her own range of clothing? There was also Miley Cyrus, brooding on the beach, during the moment in her career when she was famous for wearing almost no clothing. And how could we forget Winona Ryder's 2013 ad, which followed hot on the heels of her shoplifting accusations. Not only was a sweater from Jacobs among the loot that she lifted from Saks Fifth Avenue, but Ryder made many court appearances in pieces from the designer throughout the trial.
Based on Jacobs' track record, not only does the designer have a sense of humor, but he also has a particularly keen sense of timing. Perhaps this ad is foreshadowing for some big Cher news to come? We certainly hope so.