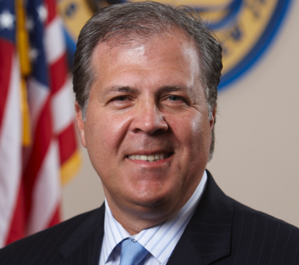 Morris Freeholder Tom Mastrangelo jumped feet first into the middle of the Republican Freeholder Primary today with a statement aimed squarely at his rival Freeholder John Cesaro, who's up for reelection and in a bitter fight with his former running mates Freeholders Dave Scapicchio and John Krickus.
Mastrangelo backs the latter two incumbents and rejected Cesaro's recollection of a public disagreement.
"Freeholder Cesaro's accusations against me are both false and reckless, and he owes the entire County of Morris, the State of New Jersey and me an apology," Mastrangelo said. "He embarrassed our county and himself in front of the whole state's political community," said Mastrangelo, referring to allegations of a near 'fist fight.'"
Mastrangelo also responded to charges that his fundraising was too aggressive, a controversy that pitted him against Morris County Republican Chairman John Sette. "Running for office in New Jersey is expensive and here in Morris County the party organization does not provide financial support to candidates in a primary," said Mastrangelo. "It is the responsibility of the candidate to raise funds and get his or her message out the voters. I make no apologies for excelling at doing that and receiving support from people who support good government in Morris County."
Mastrangelo called a disagreement between him and Sette on this point back in 2013 "old news" and added "Chairman Sette and I share the same goal — to grow and unify our party.
"Republicans raising money to elect Republicans shouldn't be the Chairman's concern. To the contrary, I urge him to continue to speak out strongly against this Democrat Super PAC infiltrating our Republican primaries in Morris County's municipal and county elections," added Mastrangelo.
Mastrangelo then turned his full attention to Cesaro.
"I find it very unfortunate and sad that John Cesaro has decided to personally attack the majority of the Morris County Freeholder Board and other elected officials including Governor Chris Christie in a recent PolitickerNJ.com article. Frankly, it is behavior like this that has left him isolated on the board and no longer affiliated with his former running mates," said Mastrangelo. "Freeholder Cesaro continues to promote a bogus narrative that I want to challenge the incumbent Assembly members in the 26th District. Nothing could be further from the truth. Party people here in the county know that it's actually Freeholder Cesaro who covets higher office. I can only assume his shots at me are because he considers me an obstacle to his endless political ambition."
Mastrangelo said he spoke to Assemblyman Jay Webber and Assemblywoman Betty Lou De Croce personally and insisted they know that he considers them "friends who he is proud to have represent him and his family" and he has no intention of challenging them. The freeholder also said he wore Cesaro's negative comparison between him and Governor Christie as "a badge of honor."
"The policies implemented by Governor Christie allowed us to achieve reductions in taxes and spending, and enact pension and health benefit reform during my two consecutive years as Freeholder Director," said Mastrangelo. "I suppose Freeholder Cesaro would prefer a big-spending liberal like Jon Corzine to replace Governor Christie in 2017. Given Freeholder Cesaro's recent public support for 'revenue increases' – which any real Republican and conservative knows mean 'tax increases' – I guess no one should be surprised that he is attacking Republicans and sounding like a Democrat."
Mastrangelo said that he attempted to recruit Freeholder Cesaro two years in a row to serve on the Budget and/or the Capital Committees. "He declined both times and claimed he was busy enough managing the Mosquito Commission," said the freeholder.
Mastrangelo added that wonders now whether his free time "was being consumed helping to plan and fundraiser for the Democratic Super PAC that is currently meddling in our Republican primaries on behalf of his friends in Parsippany."
"My only other thought for why Freeholder Cesaro may be upset is that he blames me for him being confronted with his own past during a recent Freeholder meeting where he proposed ethics reforms," said Mastrangelo. "Freeholder Cesaro exploded and became highly defensive when the discussion turned to he being a Public Defender in addition to his elected post which is contrary to a 1984 published advisory opinion from the NJ Supreme Court on Attorney Ethics."
Kathy De Fillippo, the current Board Director and Doug Cabana, the most senior Freeholder, provided the following joint statement about their running mate: "We have always known Tom to be a team player, both as his running mates in the last election, and serving with him on the Freeholder Board. Now and during his two consecutive years as Freeholder Director, Tom has consistently demonstrated a commitment to good government based on a respectful and collegial exchange of ideas."
Mastrangelo said he felt it best to not drag Freeholders Scapicchio and Krickus into a scrap with Cesaro.
"For two consecutive years as the Leader of the Board I was able to work together with Dave , Hank [Lyons], John Krickus , Doug and Kathy to get things done for the taxpayers of Morris County," said the freeholder. "We have worked on a number of tough issues together in delivering good government and three straight years of a zero tax increase, debt and spending reductions for the taxpayers of Morris County, while still investing in infrastructure like re-paving roads and bolstering education at the county college."