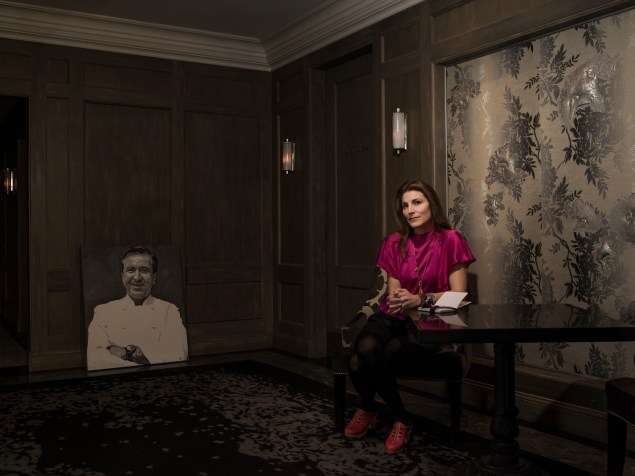 In late April, Blair Clarke opened her Park Avenue home for a 20-person dinner to celebrate Elisabeth de Kergorlay of Babeth's Feast, a French frozen-food purveyor whom she met through friends. "I thought, 'This is the best thing ever' and I asked Lis if she would like me to gather some people together to introduce them to the products," said Ms. Clarke. Seated around Ms. Clarke's living room, guests like Milly designer Michelle Smith, Christian Leone and Conde Nast publisher Bill Wackermann dug into Ms. De Kergorlay's chicken tarragon, haricots verts and chocolate fondant cake.
Just one day prior, Ms. Clarke hosted a champagne breakfast catered by Brooklyn's Sweethaus for friends like Pari Ehsan and designer Heather Clawson. This time there wasn't a reason, other than celebrating spring. "I much prefer gathering at home than to have to step out to a benefit," said Ms. Clarke.
With such a penchant for the party, one could assume Ms. Clarke is taking a cue from the bygone era of the Southern socialite. She speaks with a debutante drawl native of her Columbus, Georgia upbringing, one that conjures up idyllic images of colonial mansions flanked by sky-high oak trees. She's got the home – a prewar gem featuring décor that marries old and new, where a Tracey Emin neon work hangs alongside a dignified Louis XV chest. She's got the handsome husband, Alistair Clarke, head of English and European furniture at Sotheby's. And she's got the two adorable daughters. But from her perfectly manicured nails down to her Alexander McQueen motorcycle boots, Ms. Clarke is all business. She is the founder of the Voltz Clarke Gallery, an appointment-only space on 64th Street and Park Avenue, where for 12 years she has represented artists like Natasha Law, Mark Boomershine, Michael Marra and Sasha Sykes. But in today's world of luxury overlap, where fairs like Art Basel have become a crossroads of fashion, music and pop culture, Ms. Clarke is much more than one thing.  Between her vast social appetite and boundless Rolodex, she is the ultimate collaborator and connecter. She delicately tiptoes between the art, travel and fashion worlds and embodies a convergence of all things luxury.
For Ms. Clarke, this sort of blending comes naturally. "I'm always thinking of a way to get a person interested in your product by way of other avenues," she said, perched in her living room below an abstract painting by Karen Moody Tompkins. "If it's fashion, bring in someone to talk about art. If you're opening a book store, you host a wine tasting and put art on the walls."
Last year she organized Ms. Sykes' conceptual furniture exhibition, Encased, in the middle of the Max Mara store on Madison Avenue. Wife of British writer Tom Sykes, Ms. Sykes drew a crowd that ranged from scenesters like Euan Rellie and wife Lucy Sykes (Tom's sister), to It girls like Hannah Bronfman and Selby Drummond. And in 2007 Ms. Clarke borrowed space from Ferragamo to curate an exhibit, Abbondanza, for the likes of Aby Rosen, Peter Brandt and Leo Villereal. Artists included Will Cotton, Marilyn Minter, Ron Galella and John Waters. Ms. Clarke recalls how W Magazine at the time mocked the melding of such commercialism with art.
"Some people will make fun of it but there is more overlap now than ever and you can't deny that it exists, it's a sign of our times," said Ms. Clarke. "People shop in luxury places. They consider themselves citizens of the world and if they enjoy a certain level of taste, then it's all woven together. You're eating at the latest restaurant, you're traveling to an art fair and staying at this hotel. It's all blending."
Now in time for the Frieze art fair, Ms. Clarke is dipping her toes into the hospitality sector with an exhibition by Mr. Boomershine titled Revealed, debuting at the Surrey Hotel on May 14. Curated by Natasha Schlesinger and organized by Ms. Clarke, Revealed features colorful, oversized portraits of modern day icons like Taylor Swift, Christy Turlington and Eddie Redmayne set throughout the hotel lobby and in its VIP suites. "We thought what can we do to make our presence more well-known within Frieze, so we reached out to some players in the industry and they all told us to speak with Blair," said Troy Pade, general manager at the hotel. "She is the essence of the Surrey guest and totally gets what we are trying to achieve here."
What Ms. Clarke seems to understand is that no business is solely about what it is anymore, but that every hotel, restaurant or boutique is aiming for the entire "curated" experience. For a hotel like The Surrey, the art near the elevator is now as crucial as the marble in the bathroom. "It's not often our guests have their own Chuck Close in their home," said Mr. Pade. "For them it makes the stay that much more memorable."
Ms. Clarke also blends her worlds abroad. Last year, one of her sculptors Shane Bradford accompanied her to Le Sirenuse Hotel in Positano, Italy. After falling in love with the property, he created a piece that now hangs in the permanent collection in the lobby. Ms. Clarke is also in discussions to have Ms. Law exhibit her work there and have the hotel commission figurative painter Holly Cunningham to create food portraits on the menu cards for the dining room. "Blair brings together a deep knowledge of art with a sensibility that allows her to beautifully match talented artists with collectors," said Antonio Sersale, owner and manager of Le Sirenuse.
When Mr. Sersale and his Michelin-star chef Matteo Temperini visited New York last winter, Ms. Clarke brainstormed what she could do to help celebrate the hotel in its off-season. With nary a thought, she phoned some friends, opened up her home and threw, what else? A party.