Maybe it was the irresistible Red Velvet lips. Or the Venus palette eyes. Or hair the color of blue cupcake frosting. But Doe Deere, the icy-eyed CEO and founder of Lime Crime Makeup certainly caught the eye of 66-year-old artist Richard Prince of Gagosian Gallery. The artist took a screen shot of the image Ms. Deere had posted on her Instagram account (300,000-plus followers) of herself with a matching custom-made doll with luminous resin skin, clad in matching Lime Crime colors. Ms. Deere posted the image to give her doll maker friend, Joshua David McKenney, exposure. Mr. Prince tweaked the text, deleting any mention of the doll's designer and had a large 48-by-65-inch print made. The print sold at New York's Frieze Art Fair on Randall's Island for $90,000. Not as much as the $302,500 Barbie doll sale at Christie's auction house, but enough to put the contemporary Pidgin doll (44,000-plus followers on Instagram), and its creator, Mr. McKenney, in the celebrity limelight.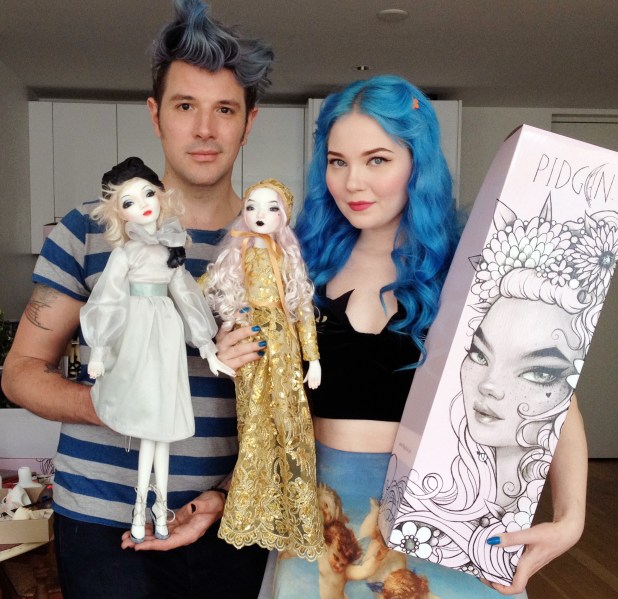 Mr. McKenney, 35, has blue hair like Ms. Deere. He is a doll maker in Brooklyn with a cult following that includes Grace Jones. Mr. McKenney has been crafting the 23-inch fashion dolls—what he calls his "art expression"—for three and half years, after making a name for himself as a fashion illustrator. His fans include Mariah Carey, for work on her Elizabeth Arden fragrances, Dita Von Teese, who posted a paper doll he made for her on her members only website, and Taylor Swift for her Wonderstruck scent.
Not the volatile type, Mr. McKenney's reaction to the Mr. Prince appropriation of the Deere image—what bloggers are calling "theft"—was calm bewilderment. "He stole that image from her and the whole point of the image Doe posted was to show that she liked what I'm doing," Mr. McKenney told the Observer by phone from a cabin on Lake Duchess in Holmes, N.Y.  "He took my credit off. The reason I want to do this interview is to give my art a voice. That image is dynamic and says a lot of things, and to have it co-opted in this way, it kind of takes that magic out a little bit."
Mr. Mckenney is more interested in magic and fantasy than controversy and quickly shifted the conversation to what he calls the most glamorous doll in the world: the Pidgin doll. But why Pidgin?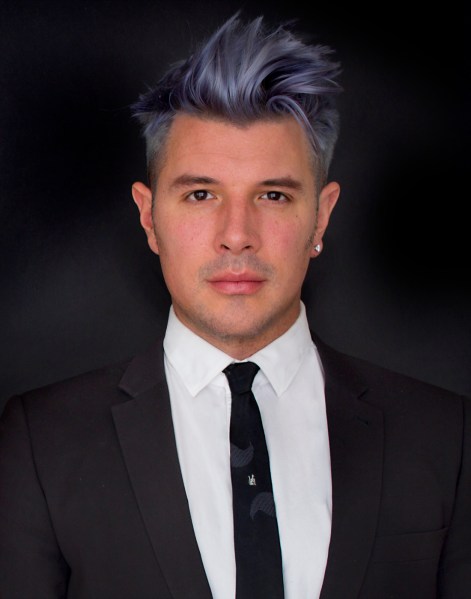 "Pidgin is a simplified language used for communication between people who speak different languages," he said. "She is how I communicate the parts of me that are feminine, gentle, and magical. I use her to express a very deep part of me to the world; much the way Jim Henson used Kermit to express a part of him. Whenever Kermit was on the Tonight Show, people who saw Kermit didn't think of him as a puppet, they were so caught in the illusion. I consider myself a kind of 'modern puppeteer' as well as a doll maker."
The silver lining to a scandal that revolves around a high-end artist deleting another's name, potentially making him invisible?
"The doll is being recognized as art, which is good for her image. Most people think of dolls as toys."
Pidgin's creator will stay in the spotlight if beauty queen Ms. Deere has her way.  Last week, Ms. Deere posted a new image of herself, posing with her doppelgänger.
"Just to clarify, this was my tribute to @pidgindoll, created by friend & artist @jdavidmckenney. @RichardPrince1234 removed my original caption, before printing and displaying it (without my knowledge) in the Frieze Gallery. I wanted to put the focus back onto where it belongs: the beautiful, hand-crafted doll."
"Pidgin is my love letter to the feminine, I want people to be inspired by her, she's very beautiful, very ethereal and sort of aspirational," Mr. Mckenney said of his doll which was intentionally created to be non-race-specific, adding that his inspiration includes "strong, glamorous women, fashion, fantasy, the mystery of mermaids, the work and life of Jim Henson, early Disney animation and the world of Alexander McQueen." Custom made with hand-painted faces and handmade clothes (he works with seamstresses) each doll takes three to four  weeks to make. Typically, he has five to six dolls in production at a time. Hardly Mattel's Barbie.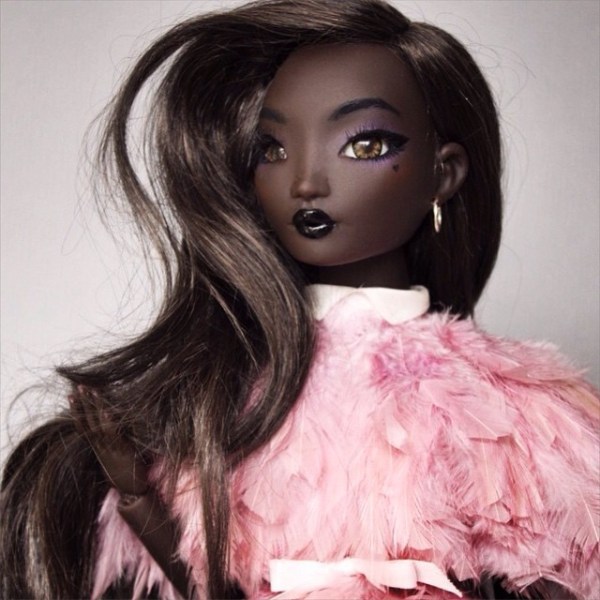 "Pidgin isn't a doll intended for children to play with, she's for all ages; with Pidgin I tried to create a universal platform upon which people can project personal expression. I want to clarify that I don't only make her for girls. Pidgin is for anyone that likes femininity, fantasy, and glamour. I think that's an important distinction."