The Metropolitan Museum's Anna Wintour Costume Institute unveiled the first look at its new exhibition, "China: Through the Looking Glass," this morning, ahead of its glittering spring gala this evening.
Oscar-winner Jennifer Lawrence leads the list of event co-chairs, which includes fellow actress Gong Li, Yahoo CEO Marissa Mayer, Wendi Murdoch and Vogue editor, Anna Wintour, after whom the Met's Costume Center is named. The evening's chair is Silas Chou, the Hong Kong fashion and textiles billionaire, whose holdings have included Tommy Hilfiger and Michael Kors.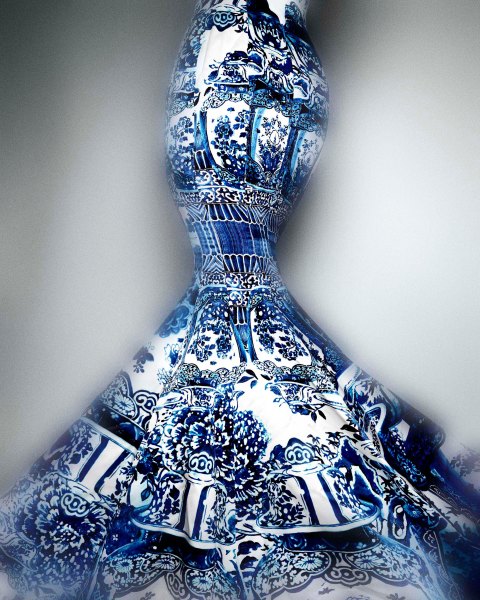 Guests attending at the Met's Chinese Galleries and Costume Center this morning found a vibrantly-curated exhibition of more than 140 couture and ready-to-wear pieces, displayed in juxtaposition with significant examples of Chinese art. The galleries are low-lit, each room having a screen displaying images curated or created by acclaimed Chinese film director Wong Kar Wei. One stunning chamber, showcasing more than half a dozen Dior couture creations, mimics a water-garden with a black tile floor while on the ceiling, a projection of a blood-red moon is animated by water dripping onto its surface and creating ripples.
Designers influenced by Chinese motifs include a who's-who of the Western canon: Ralph Lauren, Alexander McQueen, Coco Chanel, Christian Dior, Tom Ford, Marc Jacobs, Karl Lagerfeld and Rodarte's Kate and Laura Mulleavy are just some of the names represented in the show.
While the exhibition will open to the public on Thursday and run until August 16, much of the buzz this morning was about tonight's big party. Under the longtime stewardship of Ms. Wintour, the Metropolitan Museum of Art Costume Institute Gala has become New York City's premiere society event, surpassing even the Academy Awards as a showcase of American and international fashion. The gala's numbers are every bit as breathtaking as its outfits. Tonight, around 600 well-dressed guests will attend, at a cost of $25,000 per place. But even at that price, tickets are not for sale to the public: access is by invitation only.
"This event is the Costume Institute's main source of annual funding for exhibitions, publications, acquisitions, and capital improvements," said Costume Institute spokeswoman, Nancy Chilton. Behind the scenes, co-chair Wendi Murdoch was instrumental in coordinating the involvement of many Chinese cultural figures. Acclaimed filmmaker Wong Kar Wei serves as artistic director, contributing an original cinematic work to the exhibition. "China is a fascinating country first of all, and there's such an increase of interest in China," Ms. Murdoch said earlier, in conversation with Costume Institute curator, Andrew Bolton. "I am Chinese and I am very proud to be Chinese. I just feel always certain responsibility to talk about Chinese culture from fashion, art, film. It's interesting."
Mr. Bolton noted that the Chinese theme had a genesis in the fact that the Met's Asian Art department marks its centenary this year.
"Both Wendi and I noticed that the interest in China has just become amplified so much in the last few years," he said. "So many designers are creating capsule collections to show in China––Chanel, Dior, Valentino. So that was also a starting-off point for us, because a lot of designers who are looking to show in China are also engaging in Chinese history and creating quite the sort of thoughtful meditations on the history of China through their fashions. So that's also one of our jumping off points for the exhibition."
At this morning's preview  Anna Wintour chatted with event chair Silas Chou and former Secretary of State, Henry Kissinger, seated in the front row of chairs arrayed before the Temple of Dendur, set off by indoor potted cherry-blossom trees. 
"I'm just going to sweep the galleries," she said, taking her leave, as Suzy Menkes approached to take pictures of the two men on her iPhone.
During a personal chat, Joe Zee, Yahoo Style executive creative officer told the Observer, "It puts the international spotlight on fashion, so people can understand not just clothes but their history and the reasoning and the social impact." Yahoo CEO Marissa Mayer, in a floral spring dress, said Yahoo was honored to sponsor the "beautifully-curated content" of the exhibit.
At the introduction to the show Thomas P Campbell, Met Museum Director and CEO said "This is one of the biggest undertakings we've ever undertaken at the Met. This show brings together two of the Met's most innovative departments."
Costume Institute curator Andrew Bolton said the exhibit was "almost three time the size of our usual spring shows. The show is not about China per se, but a virtual fantasy of China.
The entire exhibition unfolds as a series of film stills…the pace of the show also unfolds cinematically. Each gallery contains a film or series of films that relate to its theme or content."
Wong Kar Wei described his work as "a celebration of fashion, cinema and creative liberty."
Tonight, Ms. Murdoch will be wearing  "Oscar de la Renta, by Peter Copping, the new designer." she told the Observer.  She is understandably proud of the Met Gala venture and the spotlight it will shine on Chinese influences on art and culture.
Ms. Murdoch will welcome the biggest gathering of Chinese talent and business leadership ever to assemble outside of Asia at this evening's gala. Chinese supermodels including Liu Wen and Sun Fei Fei will join movie stars Fan Bing Bing, Carina Lau and Du Jan to name just a few. Jewelry designers Wan Bao Bao and Cindy Chao will be among a spectacular line up of Chinese artists and creators, many brought together beneath the umbrella of Iconix China, the Hong Kong based brand management company led by Veronica Chou, daughter of Silas Chou, who will also be present.
Ms. Murdoch concluded, "We started talking about two years ago. It was very interesting and I'm very honored to be part of this group, to be one of the co-chairs. Andrew Bolton, Anna Wintour and Tom, they're all very supportive.
 Also Silas Chou and our friends in China were very generous to support this. I hope people will be inspired by this exhibition and will take away more curiosity about China, and I hope they will want to learn a bit more about Chinese culture."