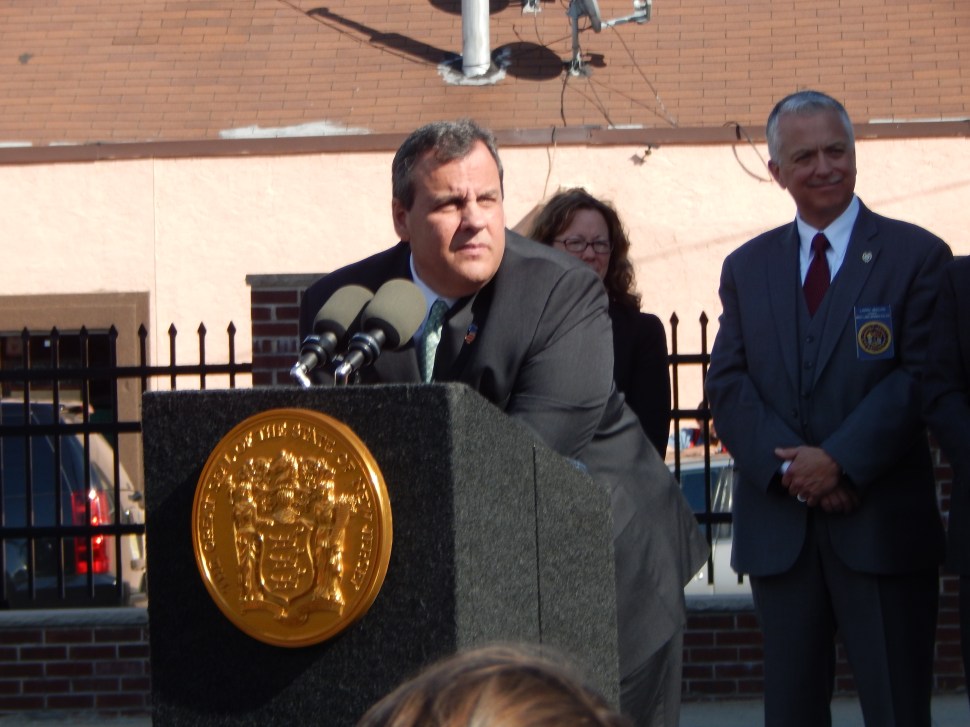 Few New Jerseyans believe Gov. Christie has the right temperament to be president and just 1-in-4 give him a decent shot at winning his party's nomination, according to this morning's Monmouth University Poll.  Garden State residents actually prefer to see the Oval Office occupied by Hillary Clinton, Jeb Bush, or Scott Walker rather than their own governor.
In a hypothetical match-up with Hillary Clinton, Chris Christie trails the Democrat 53% to 30% among registered voters in the Garden State.  Christie also trails his fellow Republican contenders as a preferred candidate.  More New Jersey voters believe Jeb Bush (42%) would make a better president than Chris Christie (27%).  Similarly, more Garden State voters believe Scott Walker (34%) would make a better president than Christie (24%).
Just three months ago, Christie was tied with Bush on this question 38% to 38% and he led Walker by a 36% to 28% margin among New Jersey voters.  New Jersey Republicans still prefer Christie (47%) over Bush (34%), which is similar to the 46% to 37% edge Christie held in February.  However, the state's GOP base has flipped when it comes to Walker.  More New Jersey Republicans now prefer Wisconsin's governor (44%) over their own (30%), which is a reversal of the 51% to 30% advantage Christie held among his fellow partisans just three months ago.
"The message from New Jersey voters seems to be as simple as ABC – anybody but Christie," said Patrick Murray, director of the independent Monmouth University Polling Institute.
Just 29% of Gov. Christie's Garden State constituents believe he has the right temperament to be president, while 67% say he does not.  Large majorities of Democrats (78%) and independents (64%) – as well as a majority (54%) of Republicans – say Christie does not have the right temperament to lead the country.  Just three months ago, a solid majority (66%) of Republicans believed Christie did have the proper disposition for the presidency.
Only 1-in-4 New Jerseyans give Christie a decent shot at winning the GOP nomination in 2016, including just 7% who think he can win the general election and 18% who say he could win the nomination but not the White House.  Another 31% say that he is a long shot for the GOP nomination but could still pull it off and fully 40% feel there is no way he will win his party's nomination.  There are no significant partisan differences in the results to this question.
"The state's presidential preferences may stem from public resentment that governing New Jersey has become an afterthought for Christie," said Murray.
Fully 7-in-10 New Jerseyans (70%) believe that Gov. Christie is more concerned with his own political future and just 16% say that governing the state is a higher priority.  Those saying Christie is looking out for himself include majorities of Democrats (75%), independents (73%), and even Republicans (54%).  Back in September, 56% of state residents felt that Christie was more focused on his own ambitions while 33% said he was concentrating on New Jersey issues.
Chris Christie has spent a significant amount of time traveling outside of the state in preparation for a possible presidential campaign.  Nearly half (47%) of New Jerseyans believe that their governor actually hurts New Jersey's image around the country.  Just 17% say he helps the state's image and 33% say he makes no difference to how New Jersey is seen by other Americans.  Democrats (57% hurts to 9% helps), independents (44% hurts to 19% helps), and Republicans (39% hurts to 26% helps) are all more likely to say the governor hurts rather than helps the state's image.
"The recent Bridgegate indictments do not shine a positive light on the state and many New Jerseyans put Chris Christie right at the center of these negative perceptions," said Murray.
The Monmouth University Poll9ng Institute conducted the poll by telephone with 500 New Jersey adults, including 441 registered voters, from May 1 to 3, 2015.  The total sample has a margin of error of + 4.4 percent and the registered voter sample has a margin of error of + 4.7 percent.  The poll was conducted by the Monmouth University Polling Institute in West Long Branch.